Meena Subramanyam was born a scientist – for as long as she remembers, she was always interested in math, biology and how nature works. She aligned her coursework at school to ensure that she attended as many science classes as she could, and then pursued a degree in microbiology, with a focus on human anatomy, immunology and physiology in college which prepared her for pursuing a career in applied research. She focused on understanding the development of resistance to tuberculosis drugs for her Master's thesis and shifted to studying the response of the immune system at the molecular level when she came to the USA to continue her graduate studies. From there, hard work, focus, a desire to learn about drug development and commitment to make a meaningful difference drove an impressive career and her current position as a VP and Global Program leader at Takeda.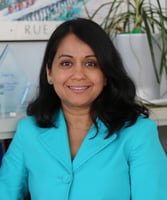 When I met Meena, I was planning to have a 20 min discussion with her about her life and influences on her career … but I couldn't stop myself from asking questions. I wanted to know about her motivation, her influences in life, her goals and way of thinking… and more about herself as a person. What I love about Meena is her natural ease of talking about her career path as if everything was well-choreographed and as if every transition came up naturally, although I know that behind everything was real hard work. She emphasized the role of mentors in her life including her mother - a chemist by training who encouraged, advised and empowered her children to follow their natural inclinations and reach their full potential. She speaks fondly of supervisors (starting with PhD thesis advisor, her post-doctoral mentor, her managers and peers at work) who encouraged her to keep an open mind, taught her the nuances of succeeding as a leader, and motivation to pursue her dreams. She gives credit to her continuous support system – strong men and women who listened, advised, inspired and guided her at all stages of her career, but who also trusted her with decisions, encouraged her to take risks and provided opportunities which led to successes. She also talked about challenges… the way to success is not paved with rose petals. She shifted her research focus a couple of times in her career – a chameleon in her field – which required a lot of initiative and long hours of hard work. She emphasized how easy it is to get distracted, and how focusing on specific assignments and keep an open mind on the big picture is a delicate balancing act. She is quick to give advice to those who are junior: be organized, be forgiving, be curious, accept failures, ask for help, be flexible and adaptable, prioritize and have a sense of humor.

Meena is a recent addition to WEST's leadership team. We selected a snippet of her recorded interview for your viewing pleasure.

WEST promotes career development and networking for Women in the Enterprise of Science and Technology. Learn more about WEST, a learning community that provides women in the enterprise of science and technology with the inspiration, knowledge and connections to reach their full potential. Check us out online at WESTorg and join an upcoming event to get started with the networking.


#WESTorg #WESTevents #OwnIt #networking #Cambridge