Pay equity expert Katie Donovan gave a mind-blowing seminar on equal pay negotiations for WEST community on March 13th.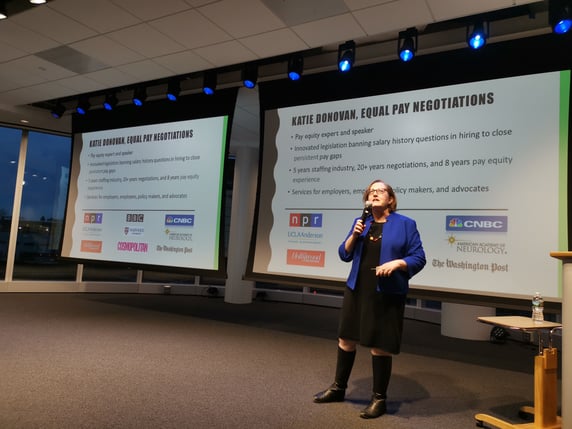 Katie provided a few paradigm-shifting ideas which will change the way we communicate about salary negotiation. We, as women often don't realize that we are being underpaid. And we tend to think that pay is not negotiable and that organizations will pay us fairly. However, the statistics from US Bureau of Labor clearly demonstrate the issue of unequal pay between men and women [Chart 3 below]. Since 2004, the women's-to-men's earnings ratio has remained in the 80 to 83 percent range [data]. That's the awakening mindset Katie challenged every woman to bear in mind.
What is gender pay gap?
The gender pay gap is the gap between what men and women are paid. Most commonly, it refers to the median annual pay of all women who work full time and year-round, compared to the pay of a similar cohort of men.
No matter how you analyze it, the gender pay gap is real, persistent, and harmful to women's economic security.
-- AAUW Report "The Simple Truth about the Gender Pay Gap"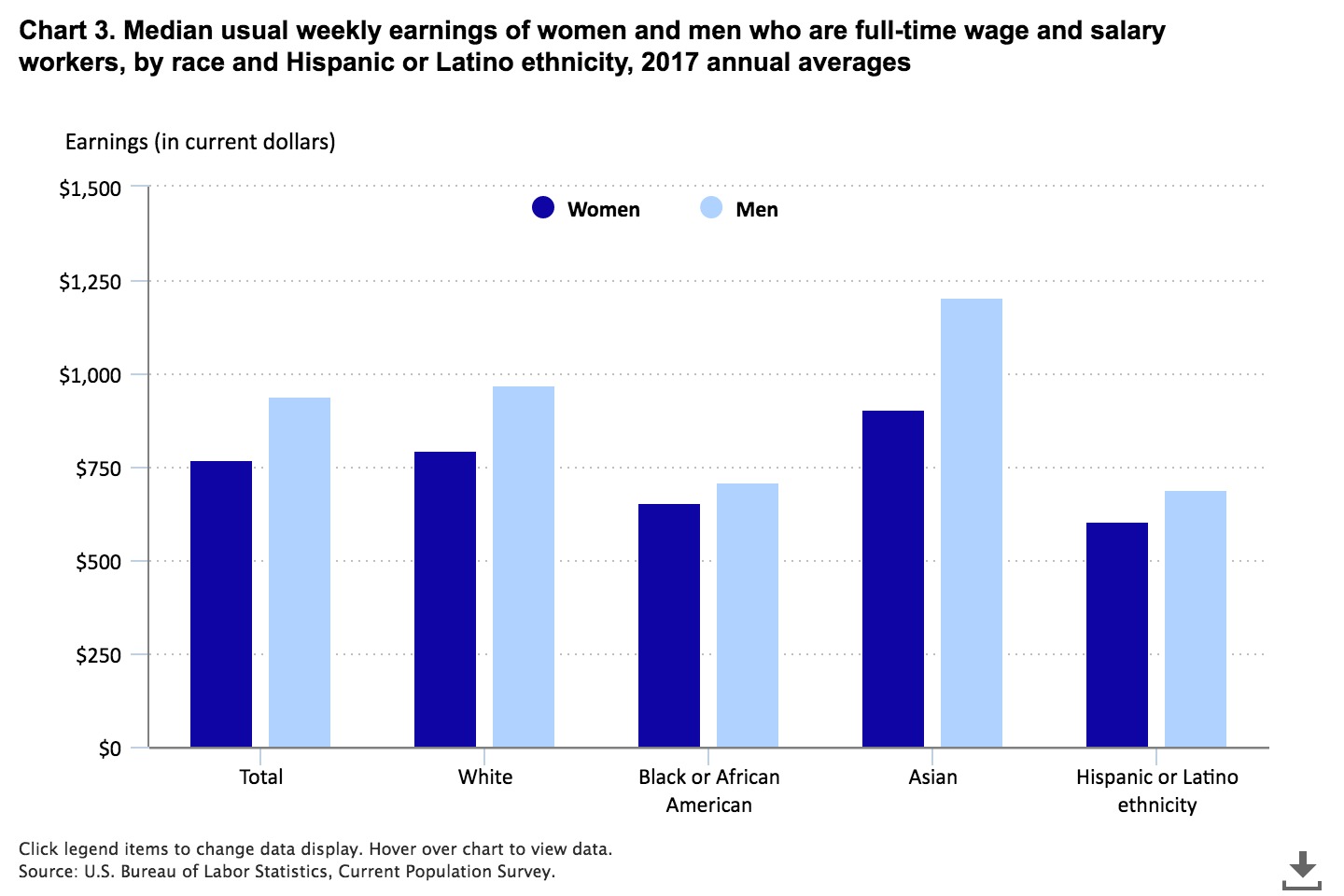 In order to close the gender pay gap, both candidates and managers are encouraged to ask good questions while being mindful of the gender pay gap. Katie also offered a series of tips for both candidates and managers on equal pay negotiations.
Tips for Candidates
1. Know the market rate for the job: do thorough research on the market rate while keeping in mind the pay gap between men and women.
2. During salary negotiation, focus on your impact instead of skill set: It's better painting the picture rather than showing your tools.
3. When challenged, always come back to market rate of the job: Always assume there is a pay gap between men and women and negotiate the salary based on the data from men. When a prospective employer asks for your salary history, decline to share. Develop your negotiation skills. Self-advocate for the salary range that you deserve.
Salary History Ban
Prospective employers like to ask about applicants' salary history. This gives them advantage in salary negotiation and helps them determine future pay based on past earnings. Because of the persistent gender pay gap, it results in another cycle of pay discrimination for women.
Recently, legislation in multiple state and local governments, including: Massachusetts, Delaware, Oregon, California, New York City, and San Francisco, etc. made it illegal for employers to requesting salary history information from job applicants.
Legislation evolves quickly. To get an up-to-date view of your local market, check the following article: https://www.salary.com/resources/guides/salary-history-inquiry-bans/
4. When in doubt, ask WHY: It doesn't hurt to ask. For example, ask why this is a fair and reasonable term or condition? Why this point or provision is important? How do you determine the number? The more you know, the easier it is to negotiate.
For more negotiation tips, check out WEST Wisdom Blog article "Advocating yourself at Work".
Tips for Managers
1. Be aware of state and local laws. For instance, in MA, it is illegal to ask the salary history of candidates.
2. Ask compensation personnel and vendor to use the data of men only when determining ranges and offers, as men generally get paid more than women.
3. Let the candidates know the range or minimum pay when meeting with them, and the range should be the same regardless of men or women.
4. Discuss the issue with the leadership team, human resources, diversity and inclusion team, and women's empowerment groups at work. Through open discussions, we can raise employers' awareness about gender pay disparities and aim to offer a truly fair workplace for all.
To learn more advice and tips to own your career and take charge of your future, register WEST's "Own It! Empowering Your Career & Your Life" senior panel discussion below.

#WESTorg #WESTevents #OwnIt #networking #Cambridge