Celebrating WEST's 20th Anniversary with 20 stories of impact.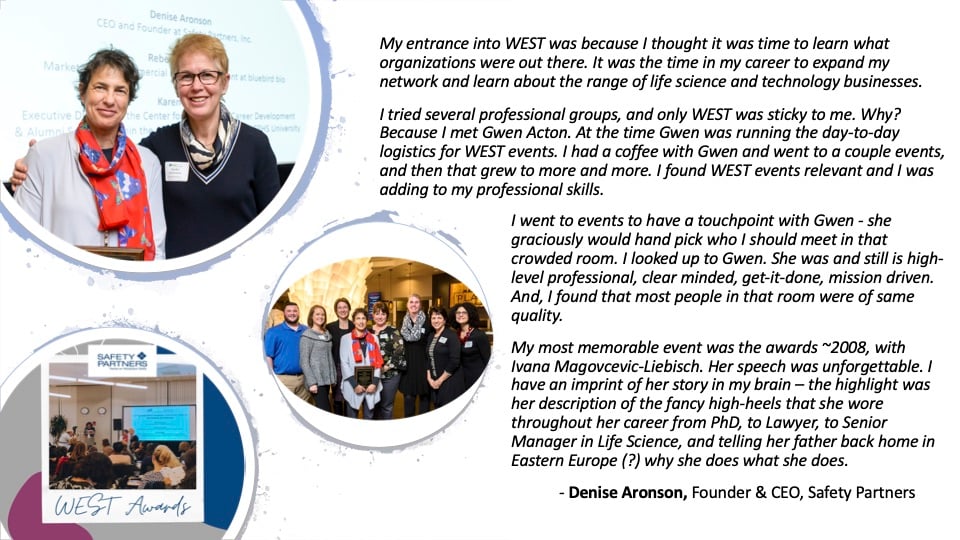 Denise Aronson, Founder & CEO, Safety Partners: "My entrance into WEST was because I thought it was time to learn what organizations were out there. It was the time in my career to expand my network and learn about the range of life science and technology businesses.
I tried several professional groups, and only WEST was sticky to me. Why? Because I met Gwen Acton. At the time Gwen was running the day-to-day logistics for WEST events. I had a coffee with Gwen and went to a couple events, and then that grew to more and more. I found WEST events relevant and I was adding to my professional skills.
I went to events to have a touchpoint with Gwen - she graciously would hand pick who I should meet in that crowded room. I looked up to Gwen. She was and still is a high-level professional, clear minded, get-it-done, mission driven. And, I found that most people in that room were of same quality.
My most memorable event was the awards ~2008, with Ivana Magovcevic-Liebisch. Her speech was unforgettable. I have an imprint of her story in my brain - the highlight was her description of the fancy high-heels that she wore throughout her career from PhD, to Lawyer, to Senior Manager in Life Science, and telling her father back home in Eastern Europe (?) why she does what she does."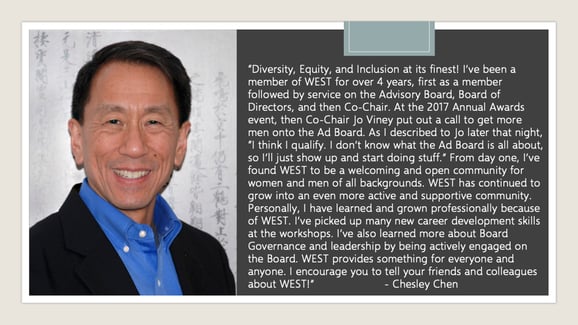 Chesley Chen - "Diversity, Equity, and Inclusion at its finest! I've been a member of WEST for over 4 years, first as a member followed by service on the Advisory Board, Board of Directors, and then Co-Chair. At the 2017 Annual Awards event, then Co-Chair Jo Viney put out a call to get more men onto the Ad Board. As I described to Jo later that night, "I think I qualify. I don't know what the Ad Board is all about, so I'll just show up and start doing stuff." From day one, I've found WEST to be a welcoming and open community for women and men of all backgrounds. WEST has continued to grow into an even more active and supportive community. Personally, I have learned and grown professionally because of WEST. I've picked up many new career development skills at the workshops. I've also learned more about Board Governance and leadership by being actively engaged on the Board. WEST provides something for everyone and anyone. I encourage you to tell your friends and colleagues about WEST!"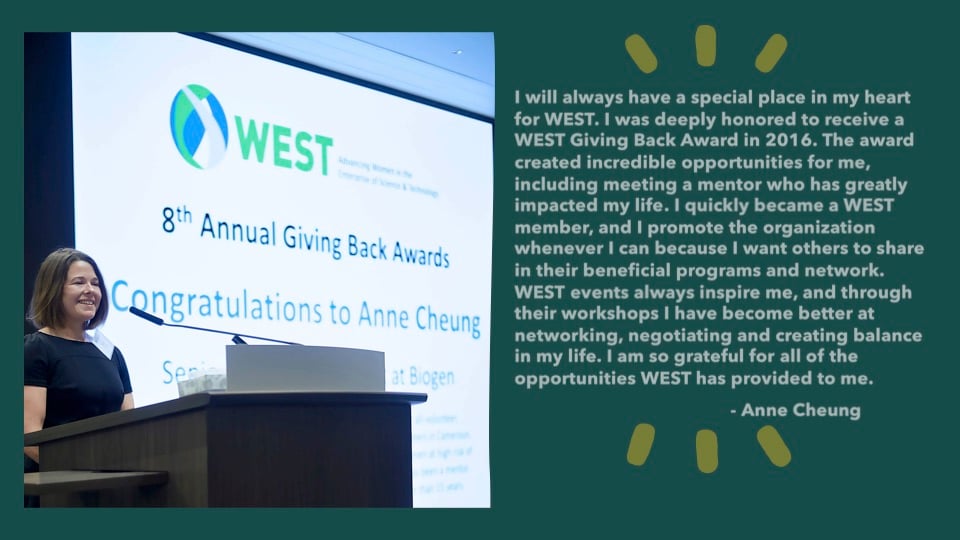 Anne Cheung: I will always have a special place in my heart for WEST. I was deeply honored to receive a WEST Giving Back Award in 2016. The award created incredible opportunities for me, including meeting a mentor who has greatly impacted my life. I quickly became a WEST member, and I promote the organization whenever I can because I want others to share in their beneficial programs and network.
WEST events always inspire me, and through their workshops I have become better at networking, negotiating and creating balance in my life. I am so grateful for all of the opportunities WEST has provided to me.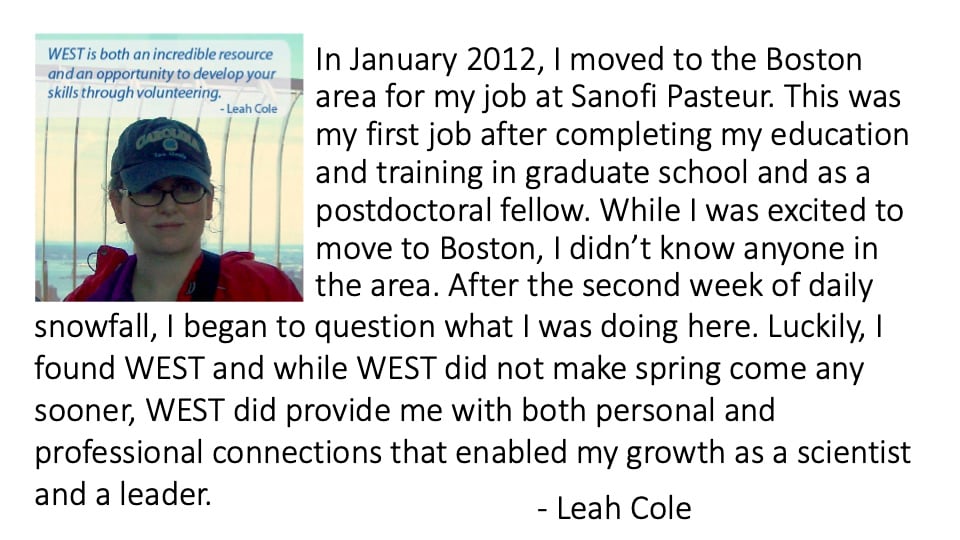 Leah Cole: In January 2012, I moved to the Boston area for my job at Sanofi Pasteur. This was my first job after completing my education and training in graduate school and as a postdoctoral fellow. While I was excited to move to Boston, I didn't know anyone in the area. After the second week of daily snowfall, I began to question what I was doing here. Luckily, I found WEST and while WEST did not make spring come any sooner, WEST did provide me with both personal and professional connections that enabled my growth as a scientist and a leader.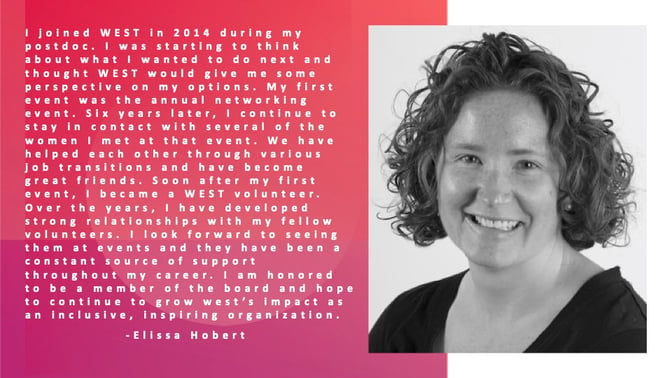 Elissa Hobert: I joined WEST in 2014 during my postdoc. I was starting to think about what I wanted to do next and thought WEST would give me some perspective on my options. My first event was the annual networking event. Six years later, I continue to stay in contact with several of the women I met at that event. We have helped each other through various job transitions and have become great friends. Soon after my first event, I became a WEST volunteer. Over the years, I have developed strong relationships with my fellow volunteers. I look forward to seeing them at events and they have been a constant source of support throughout my career. I am honored to be a member of the board and hope to continue to grow WEST's impact as an inclusive, inspiring organization.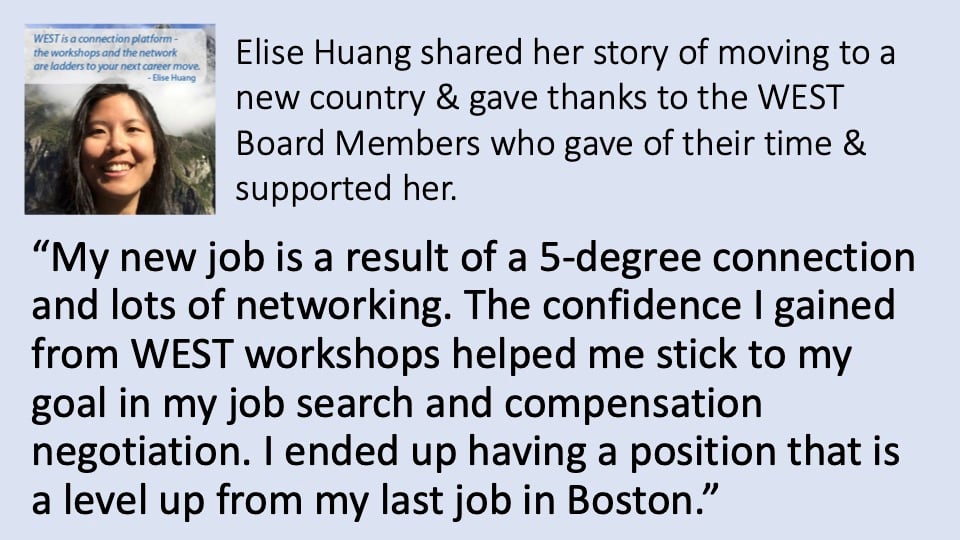 Elise Huang shared her story of moving to a new country & gave thanks to the WEST Board Members who gave of their time & supported her: "My new job is a result of a 5-degree connection and lots of networking. The confidence I gained from WEST workshops helped me stick to my goal in my job search and compensation negotiation. I ended up having a position that is a level up from my last job in Boston."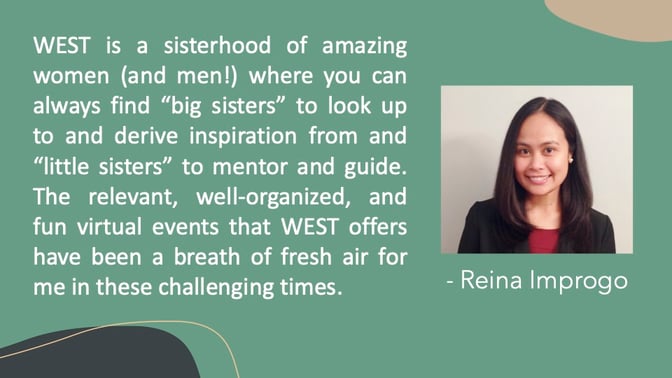 Reina Improgo: WEST is a sisterhood of amazing women (and men!) where you can always find "big sisters" to look up to and derive inspiration from and "little sisters" to mentor and guide. The relevant, well-organized, and fun virtual events that WEST offers have been a breath of fresh air for me in these challenging times.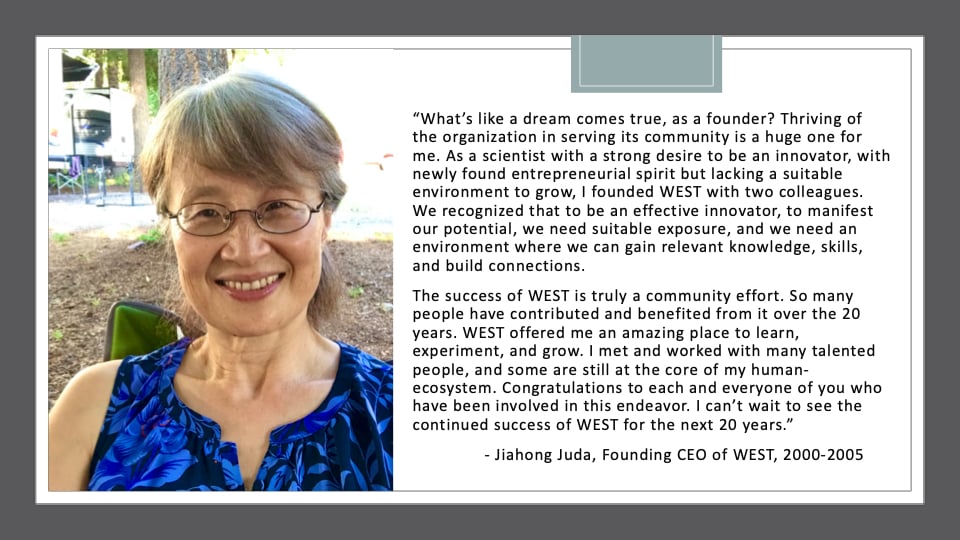 Jiahong Juda, Founding CEO of WEST, 2000-2005: "What's like a dream comes true, as a founder? Thriving of the organizations in serving its community is a huge one for me. As a scientist with a strong desire to be an innovator, with newly found entrepreneurial spirit but lacking a suitable environment to grow, I founded WEST with two colleagues. We recognized that to be an effective innovator, to manifest our potential, we need suitable exposure, and we need an environment where we can gain relevant knowledge, skills, and build connections.
The success of WEST is true a community effort. So many people have contributed and benefited from it over the 20 years. WEST offers me an amazing place to learn, experiment, and grow. I met and worked with many talented people, and some are still at the core of my human-ecosystem. Congratulations to each and every one of you who have been involved in this endeavor. I can't wait to see the continued success of WEST for the next 20 years."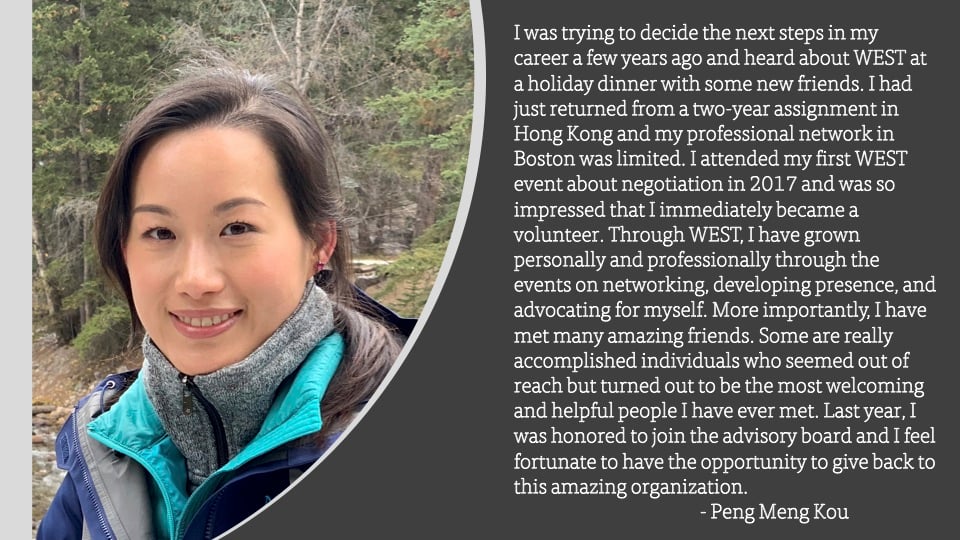 Peng Meng Kou: "I was trying to decide the next steps in my career a few years ago and heard about WEST at a holiday dinner with some new friends. I had just returned from a two-year assignment in Hong Kong and my professional network in Boston was limited. I attended my first WEST event about negotiation in 2017 and was so impressed that I immediately became a volunteer. Through WEST, I have grown personally and professionally through the events on networking, developing presence, and advocating for myself. More importantly, I have met many amazing friends. Some are really accomplished individuals who seemed out of reach but turned out to be the most welcoming and helpful people I have ever met. Last year, I was honored to join the advisory board and I feel fortunate to have the opportunity to give to this amazing organizations."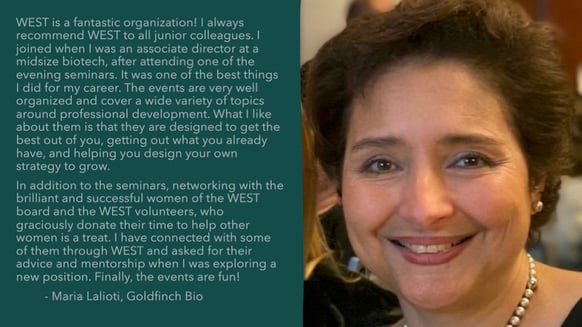 Maria Lalioti, Goldfinch Bio: WEST is a fantastic organization! I always recommend WEST to all junior colleagues. I joined when I was an associate director at a midsize biotech, after attending one of the evening seminars. It was one of the best things I did for my career. The events are very well organized and cover a wide variety of topics around professional development. What I like about them is that they are designed to get the best out of you, getting out what you already have, and helping you design your own strategy to grow.
In addition to the seminars, networking with the brilliant and successful women of the WEST board and the WEST volunteers, who graciously donate their time to help other women is a treat. I have connected with some of them through WEST and asked for their advice and mentorship when I was exploring a new position. Finally, the events are fun!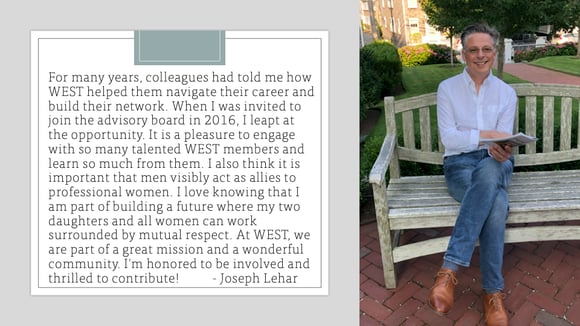 Joseph Lehar: For many years, colleagues had told me how WEST helped them navigate their career and build their network. When I was invited to join the advisory board in 2016, I leapt at the opportunity. It is a pleasure to engage with so many talented WEST members and learn so much from them. I also think it is important that men visibly act as allies to professional women. I love knowing that I am part of building a future where my two daughters and all women can work surrounded by mutual respect. At WEST, we are part of a great mission and a wonderful community. I'm honored to be involved and thrilled to contribute!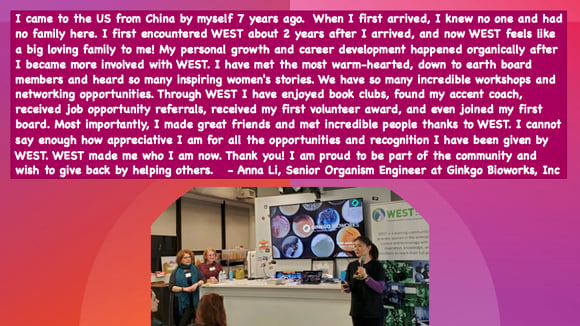 Anna Li, Senior Organism Engineer at Ginkgo Bioworks, Inc: I came to the US from China by myself 7 years ago. When I first arrived, I knew no one and had no family here. I first encountered WEST about 2 years after I arrived, and now WEST feels like a big loving family to me! My personal growth and career development happened organically after I became more involved with WEST. I have met the most warm-hearted, down to earth board members and heard so many inspiring women's stories. We have so many incredible workshops and networking opportunities. Through WEST I have enjoyed book clubs, found my accent coach, received job opportunity referrals, received my first volunteer award, and even joined my first board. Most importantly, I made great friends and met incredible people thanks to WEST. I cannot say enough how appreciative I am for all the opportunities and recognition I have been given by WEST. WEST made me who I am now. Thank you! I am proud to be part of the community and wish to give back by helping others.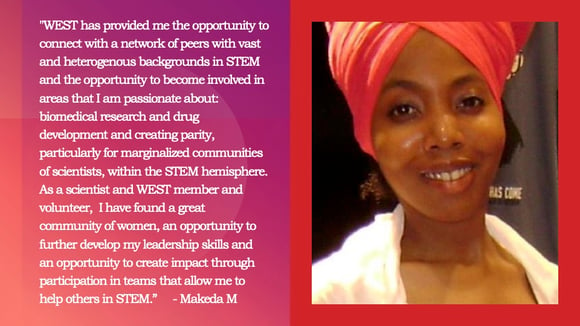 Makeda M: "WEST has provided me the opportunity to connect with a network of peers with vast and heterogenous backgrounds in STEM and the opportunity to become involved in areas that I am passionate about: biomedical research and drug development and creating parity, particularly for marginalized communities of scientists, within the STEM hemisphere. As a scientist and WEST member and volunteer, I have found a great community of women, an opportunity to further develop my leadership skills and an opportunity to create impact through participation in teams that allow me to help others in STEM."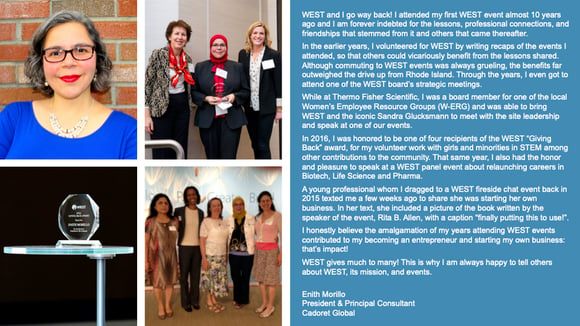 Enith Morillo, President & Principal Consultant, Cadoret Global: WEST and I go way back! I attended my first WEST event almost 10 years ago and I am forever indebted for the lessons, professional connections, and friendships that stemmed from it and others that came thereafter.
In the earlier years, I volunteered for WEST by writing recaps of the events I attended, so that others could vicariously benefit from the lessons shared. Although commuting to WEST events was always grueling, the benefits far outweighed the drive up from Rhode Island. Through the years, I even got to attend one of the WEST board's strategic meetings.
While at Thermo Fisher Scientific, I was a board member for one of the local Women's Employee Resource Groups (W-ERG) and was able to bring WEST and the iconic Sandra Glucksmann to meet with the site leadership and speak at one of our events.
In 2016, I was honored to be one of four recipients of the WEST "Giving Back" award, for my volunteer work with girls and minorities in STEM among other contributions to the community. That same year, I also had the honor and pleasure to speak at a WEST panel event about relaunching careers in Biotech, Life Science and Pharma.
A young professional whom I dragged to a WEST fireside chat event back in 2015 texted me a few weeks ago to share she was starting her own business. In her text, she included a picture of the book written by the speaker of the event, Rita B. Allen, with a caption "finally putting this to use!".
I honestly believe the amalgamation of my years attending WEST events contributed to my becoming an entrepreneur and starting my own business: that's impact!
WEST gives much to many! This is why I am always happy to tell others about WEST, its mission, and events.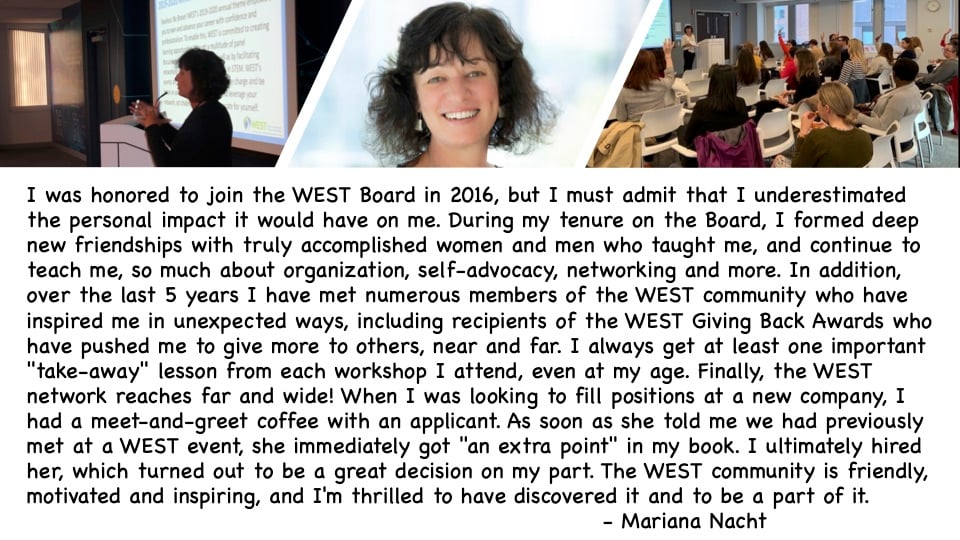 Mariana Nacht: I was honored to join the WEST Board in 2016, but I must admit that I underestimated the personal impact it would have on me. During my tenure on the Board, I formed deep new friendships with truly accomplished women and men who taught me, and continue to teach me, so much about organization, self-advocacy, networking and more. In addition, over the last 5 years I have met numerous members of the WEST community who have inspired me in unexpected ways, including recipients of the WEST Giving Back Awards who have pushed me to give more to others, near and far. I always get at least one important "take-away" lesson from each workshop I attend, even at my age. Finally, the WEST network reaches far and wide! When I was looking to fill positions at a new company, I had a meet-and-greet coffee with an applicant. As soon as she told me we had previously met at a WEST event, she immediately got "an extra point" in my book. I ultimately hired her, which turned out to be a great decision on my part. The WEST community is friendly, motivated and inspiring, and I'm thrilled to have discovered it and to be a part of it.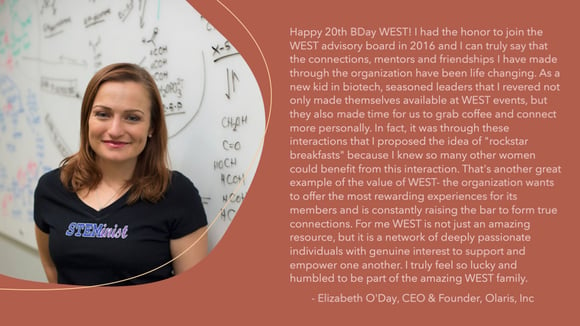 Elizabeth O'Day, CEO & Founder, Olaris, Inc: Happy 20th BDay WEST! I had the honor to join the WEST advisory board in 2016 and I can truly say that the connections, mentors and friendships I have made through the organization have been life changing. As a new kid in biotech, seasoned leaders that I revered not only made themselves available at WEST events, but they also made time for us to grab coffee and connect more personally. In fact, it was through these interactions that I proposed the idea of "rockstar breakfasts" because I knew so many other women could benefit from this interaction. That's another great example of the value of WEST- the organization wants to offer the most rewarding experiences for its members and is constantly raising the bar to form true connections. For me WEST is not just an amazing resource, but it is a network of deeply passionate individuals with genuine interest to support and empower one another. I truly feel so lucky and humbled to be part of the amazing WEST family.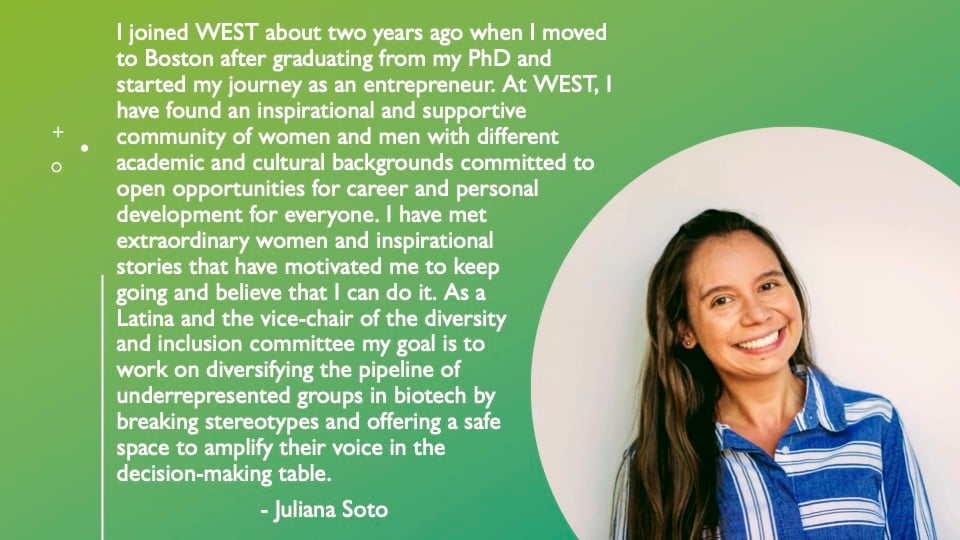 Juliana Soto: I joined WEST about two years ago when I moved to Boston after graduating from my PhD and started my journey as an entrepreneur. At WEST, I have found an inspirational and supportive community of women and men with different academic and cultural backgrounds committed to open opportunities for career and personal development for everyone. I have met extraordinary women and inspirational stories that have motivated me to keep going and believe that I can do it. As a Latina and the vice-chair of the diversity and inclusion committee my goal is to work on diversifying the pipeline of underrepresented groups in biotech by breaking stereotypes and offering a safe space to amplify their voice in the decision-making table.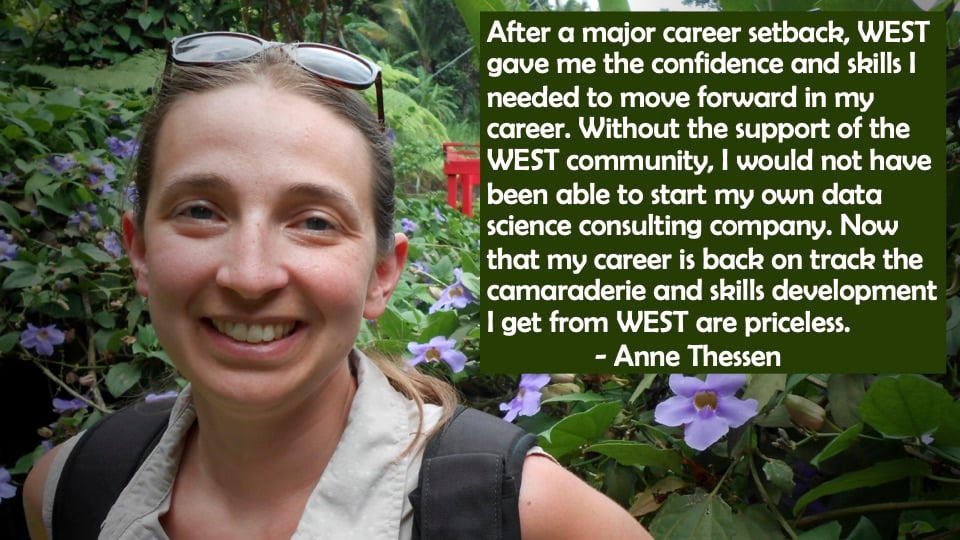 Anne Thessen: After a major career setback, WEST gave me the confidence and skills I needed to move forward in my career. Without the support of the WEST community, I would not have been able to start my own data science consulting company. Now that my career is back on track the camaraderie and skills development I get from WEST are priceless.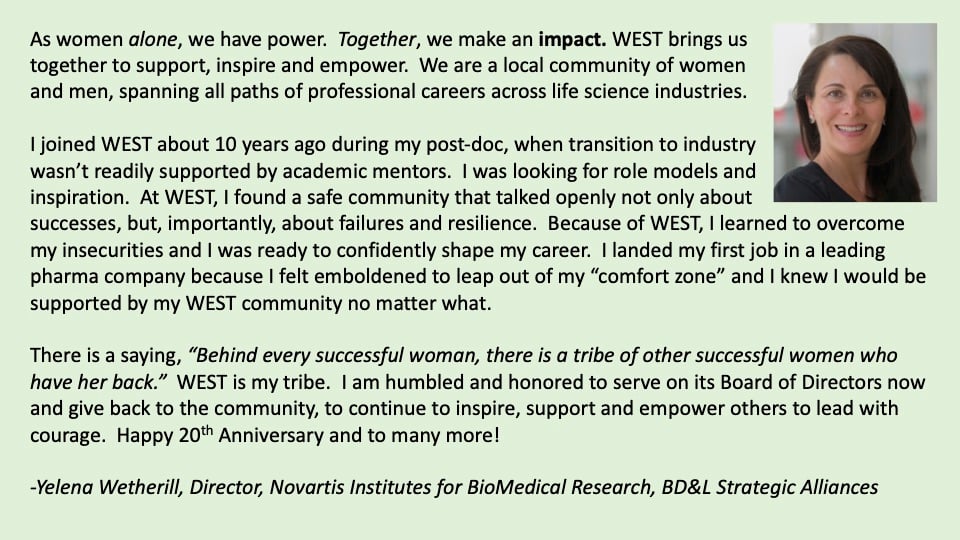 Yelena Wetherill, Director, Novartis Institutes for BioMedical Research, BD&L Strategic Alliances: As women alone, we have power. Together, we make an impact. WEST brings us together to support, inspire and empower. We are a local community of women and men, spanning all paths of professional careers across life science industries.
I joined WEST about 10 years ago during my post-doc, when transition to industry wasn't readily supported by academic mentors. I was looking for role models and inspiration. At WEST, I found a safe community that talked openly not only about successes, but, importantly, about failures and resilience. Because of WEST, I learned to overcome my insecurities and I was ready to confidently shape my career. I landed my first job in a leading pharma company because I felt emboldened to leap out of my "comfort zone" and I knew I would be supported by my WEST community no matter what.
There is a saying, "Behind every successful woman, there is a tribe of other successful women who have her back." WEST is my tribe. I am humbled and honored to serve on its Board of Directors now and give back to the community, to continue to inspire, support and empower others to lead with courage. Happy 20th Anniversary and to many more!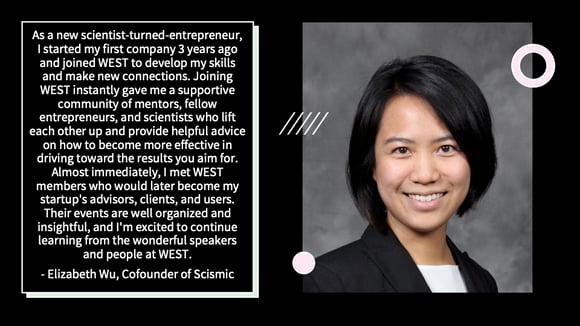 Elizabeth Wu, Cofounder of Scismic: As a new scientist-turned-entrepreneur, I started my first company 3 years ago and joined WEST to develop my skills and make new connections. Joining WEST instantly gave me a supportive community of mentors, fellow entrepreneurs,
and scientists who lift each other up and provide helpful advice on how to become more effective in driving toward the results you aim for. Almost immediately, I met WEST members who would later become my startup's advisors, clients, and users. Their events are well organized and insightful, and I'm excited to continue learning from the wonderful speakers and people at WEST.