Celebrating WEST's 20th Anniversary with 20 stories of impact. This week's stories are from Anne Cheung, Elissa Hobert, Reina Improgo, Mariana Nacht, Juliana Soto, and Anne Thessen.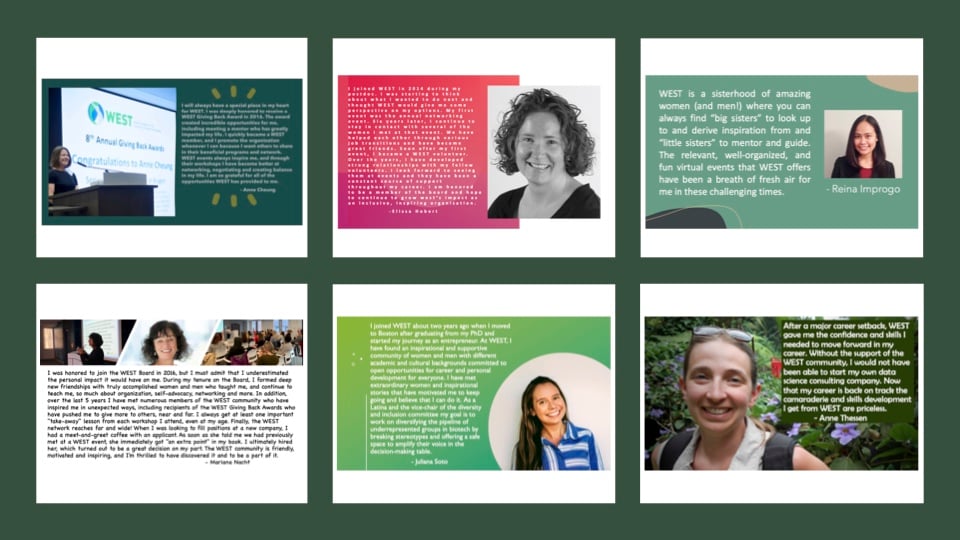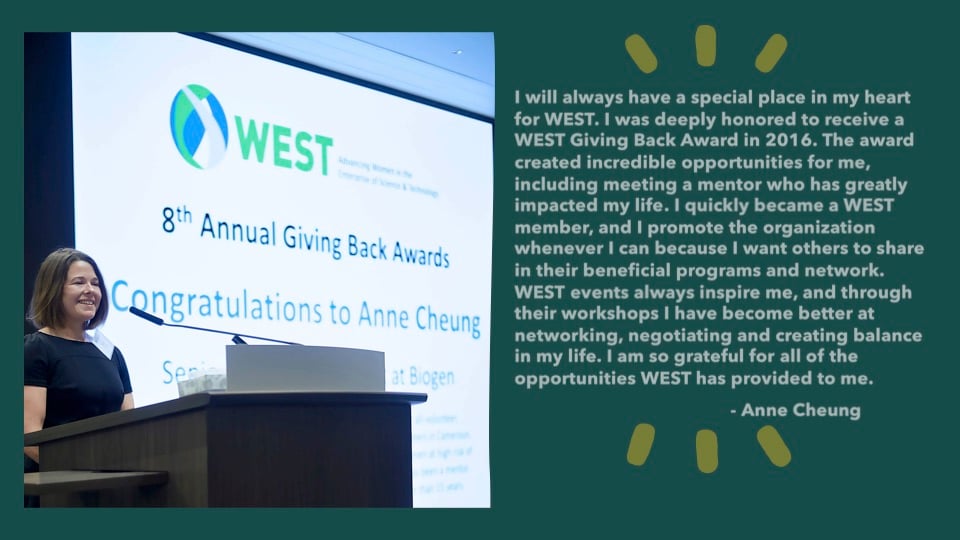 Anne Cheung: I will always have a special place in my heart for WEST. I was deeply honored to receive a WEST Giving Back Award in 2016. The award created incredible opportunities for me, including meeting a mentor who has greatly impacted my life. I quickly became a WEST member, and I promote the organization whenever I can because I want others to share in their beneficial programs and network.
WEST events always inspire me, and through their workshops I have become better at networking, negotiating and creating balance in my life. I am so grateful for all of the opportunities WEST has provided to me.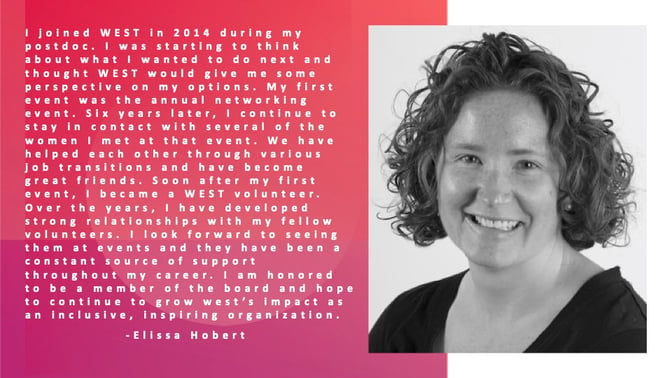 Elissa Hobert: I joined WEST in 2014 during my postdoc. I was starting to think about what I wanted to do next and thought WEST would give me some perspective on my options. My first event was the annual networking event. Six years later, I continue to stay in contact with several of the women I met at that event. We have helped each other through various job transitions and have become great friends. Soon after my first event, I became a WEST volunteer. Over the years, I have developed strong relationships with my fellow volunteers. I look forward to seeing them at events and they have been a constant source of support throughout my career. I am honored to be a member of the board and hope to continue to grow west's impact as an inclusive, inspiring organization.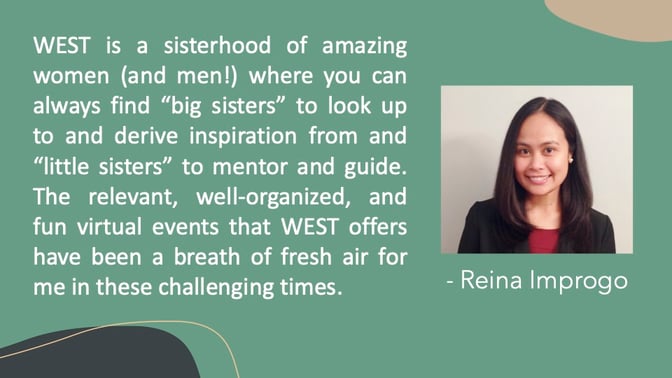 Reina Improgo: WEST is a sisterhood of amazing women (and men!) where you can always find "big sisters" to look up to and derive inspiration from and "little sisters" to mentor and guide. The relevant, well-organized, and fun virtual events that WEST offers have been a breath of fresh air for me in these challenging times.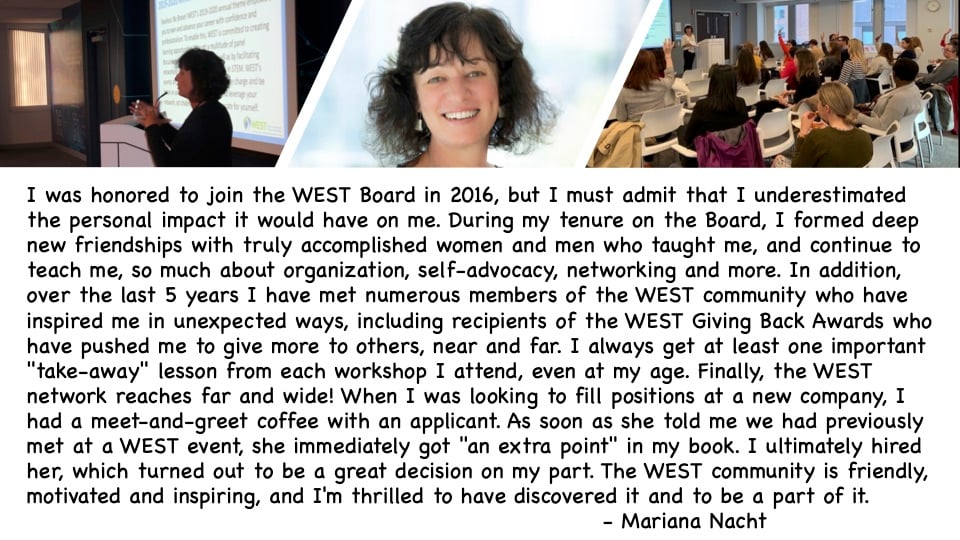 Mariana Nacht: I was honored to join the WEST Board in 2016, but I must admit that I underestimated the personal impact it would have on me. During my tenure on the Board, I formed deep new friendships with truly accomplished women and men who taught me, and continue to teach me, so much about organization, self-advocacy, networking and more. In addition, over the last 5 years I have met numerous members of the WEST community who have inspired me in unexpected ways, including recipients of the WEST Giving Back Awards who have pushed me to give more to others, near and far. I always get at least one important "take-away" lesson from each workshop I attend, even at my age. Finally, the WEST network reaches far and wide! When I was looking to fill positions at a new company, I had a meet-and-greet coffee with an applicant. As soon as she told me we had previously met at a WEST event, she immediately got "an extra point" in my book. I ultimately hired her, which turned out to be a great decision on my part. The WEST community is friendly, motivated and inspiring, and I'm thrilled to have discovered it and to be a part of it.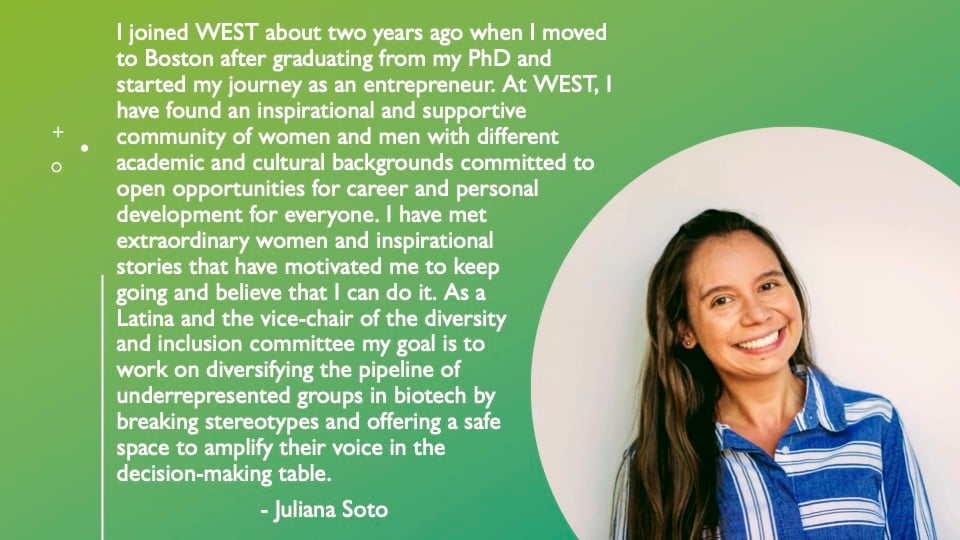 Juliana Soto: I joined WEST about two years ago when I moved to Boston after graduating from my PhD and started my journey as an entrepreneur. At WEST, I have found an inspirational and supportive community of women and men with different academic and cultural backgrounds committed to open opportunities for career and personal development for everyone. I have met extraordinary women and inspirational stories that have motivated me to keep going and believe that I can do it. As a Latina and the vice-chair of the diversity and inclusion committee my goal is to work on diversifying the pipeline of underrepresented groups in biotech by breaking stereotypes and offering a safe space to amplify their voice in the decision-making table.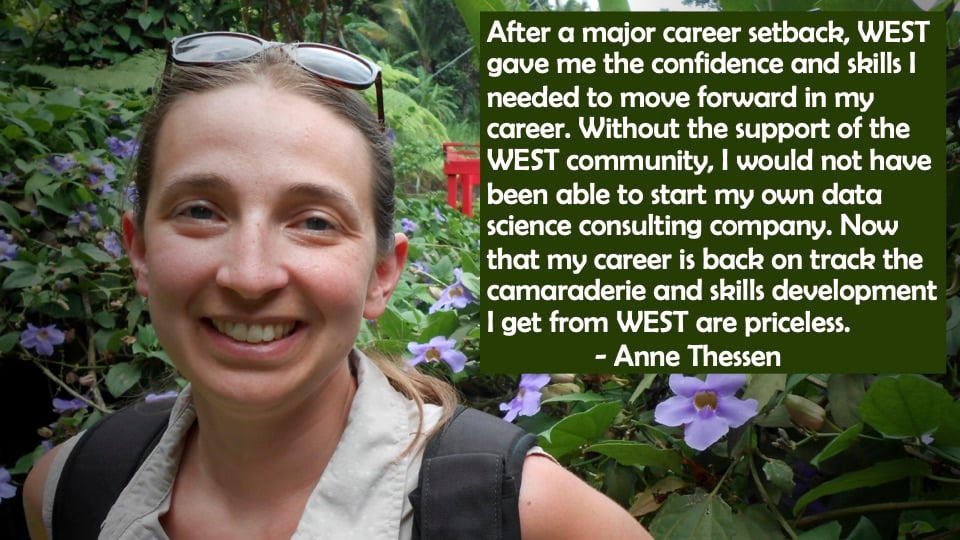 Anne Thessen: After a major career setback, WEST gave me the confidence and skills I needed to move forward in my career. Without the support of the WEST community, I would not have been able to start my own data science consulting company. Now that my career is back on track the camaraderie and skills development I get from WEST are priceless.
Please join us for our 20th Anniversary / 12th Annual Awards Night for a night of celebration and networking on 9/23.