Celebrating WEST's 20th Anniversary with 20 stories of impact. This week's stories are from Chesley Chen, Maria Lalioti, Joseph Lehar, Anna Li, Enith Morillo, Makeda M, Liz O'Day, and Elizabeth Wu.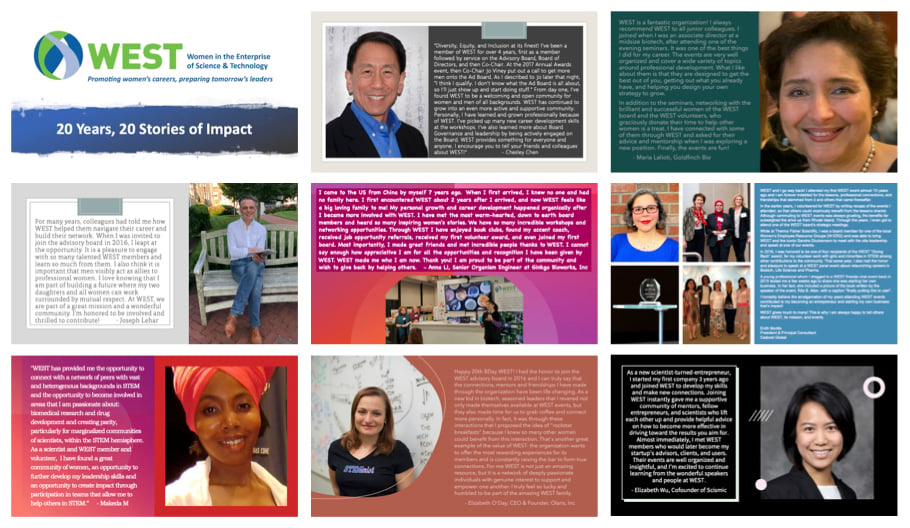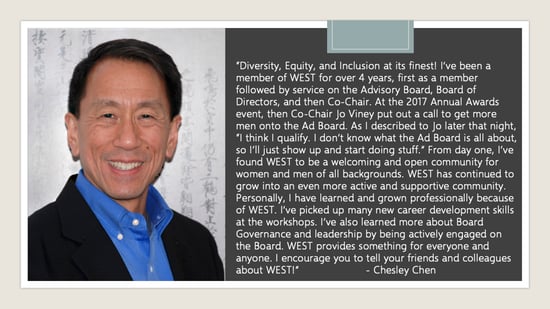 Chesley Chen - "Diversity, Equity, and Inclusion at its finest! I've been a member of WEST for over 4 years, first as a member followed by service on the Advisory Board, Board of Directors, and then Co-Chair. At the 2017 Annual Awards event, then Co-Chair Jo Viney put out a call to get more men onto the Ad Board. As I described to Jo later that night, "I think I qualify. I don't know what the Ad Board is all about, so I'll just show up and start doing stuff." From day one, I've found WEST to be a welcoming and open community for women and men of all backgrounds. WEST has continued to grow into an even more active and supportive community. Personally, I have learned and grown professionally because of WEST. I've picked up many new career development skills at the workshops. I've also learned more about Board Governance and leadership by being actively engaged on the Board. WEST provides something for everyone and anyone. I encourage you to tell your friends and colleagues about WEST!"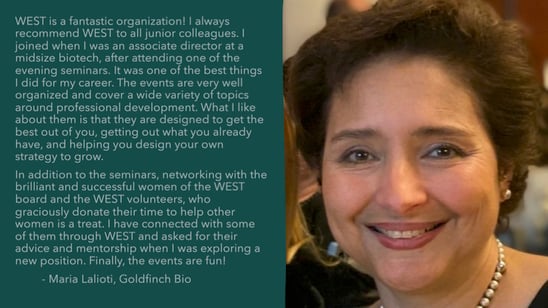 Maria Lalioti, Goldfinch Bio: WEST is a fantastic organization! I always recommend WEST to all junior colleagues. I joined when I was an associate director at a midsize biotech, after attending one of the evening seminars. It was one of the best things I did for my career. The events are very well organized and cover a wide variety of topics around professional development. What I like about them is that they are designed to get the best out of you, getting out what you already have, and helping you design your own strategy to grow.
In addition to the seminars, networking with the brilliant and successful women of the WEST board and the WEST volunteers, who graciously donate their time to help other women is a treat. I have connected with some of them through WEST and asked for their advice and mentorship when I was exploring a new position. Finally, the events are fun!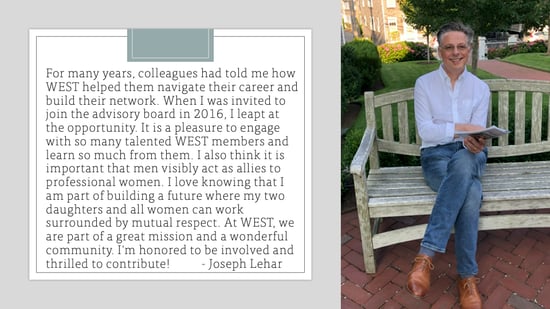 Joseph Lehar: For many years, colleagues had told me how WEST helped them navigate their career and build their network. When I was invited to join the advisory board in 2016, I leapt at the opportunity. It is a pleasure to engage with so many talented WEST members and learn so much from them. I also think it is important that men visibly act as allies to professional women. I love knowing that I am part of building a future where my two daughters and all women can work surrounded by mutual respect. At WEST, we are part of a great mission and a wonderful community. I'm honored to be involved and thrilled to contribute!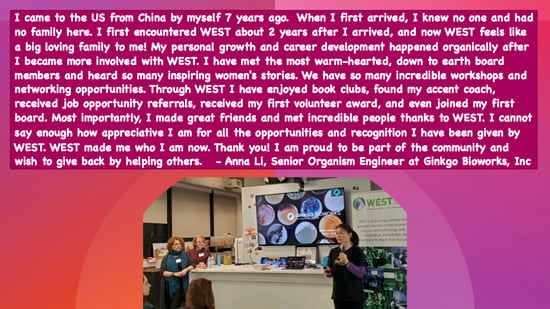 Anna Li, Senior Organism Engineer at Ginkgo Bioworks, Inc: I came to the US from China by myself 7 years ago. When I first arrived, I knew no one and had no family here. I first encountered WEST about 2 years after I arrived, and now WEST feels like a big loving family to me! My personal growth and career development happened organically after I became more involved with WEST. I have met the most warm-hearted, down to earth board members and heard so many inspiring women's stories. We have so many incredible workshops and networking opportunities. Through WEST I have enjoyed book clubs, found my accent coach, received job opportunity referrals, received my first volunteer award, and even joined my first
board. Most importantly, I made great friends and met incredible people thanks to WEST. I cannot say enough how appreciative I am for all the opportunities and recognition I have been given by WEST. WEST made me who I am now. Thank you! I am proud to be part of the community and wish to give back by helping others.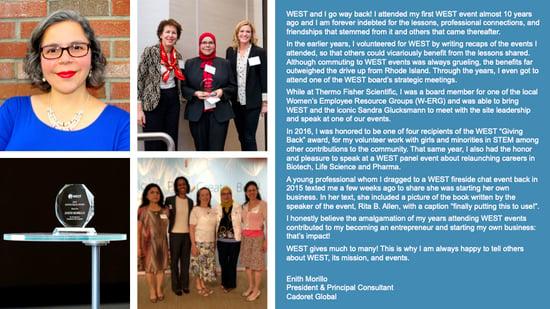 Enith Morillo, President & Principal Consultant, Cadoret Global: WEST and I go way back! I attended my first WEST event almost 10 years ago and I am forever indebted for the lessons, professional connections, and friendships that stemmed from it and others that came thereafter.
In the earlier years, I volunteered for WEST by writing recaps of the events I attended, so that others could vicariously benefit from the lessons shared. Although commuting to WEST events was always grueling, the benefits far outweighed the drive up from Rhode Island. Through the years, I even got to attend one of the WEST board's strategic meetings.
While at Thermo Fisher Scientific, I was a board member for one of the local Women's Employee Resource Groups (W-ERG) and was able to bring WEST and the iconic Sandra Glucksmann to meet with the site leadership and speak at one of our events.
In 2016, I was honored to be one of four recipients of the WEST "Giving Back" award, for my volunteer work with girls and minorities in STEM among other contributions to the community. That same year, I also had the honor and pleasure to speak at a WEST panel event about relaunching careers in Biotech, Life Science and Pharma.
A young professional whom I dragged to a WEST fireside chat event back in 2015 texted me a few weeks ago to share she was starting her own business. In her text, she included a picture of the book written by the speaker of the event, Rita B. Allen, with a caption "finally putting this to use!".
I honestly believe the amalgamation of my years attending WEST events contributed to my becoming an entrepreneur and starting my own business: that's impact!
WEST gives much to many! This is why I am always happy to tell others about WEST, its mission, and events.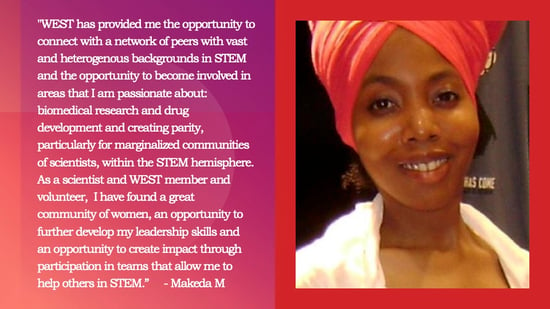 Makeda M: "WEST has provided me the opportunity to connect with a network of peers with vast and heterogenous backgrounds in STEM and the opportunity to become involved in areas that I am passionate about: biomedical research and drug development and creating parity, particularly for marginalized communities of scientists, within the STEM hemisphere. As a scientist and WEST member and volunteer, I have found a great community of women, an opportunity to further develop my leadership skills and an opportunity to create impact through participation in teams that allow me to help others in STEM."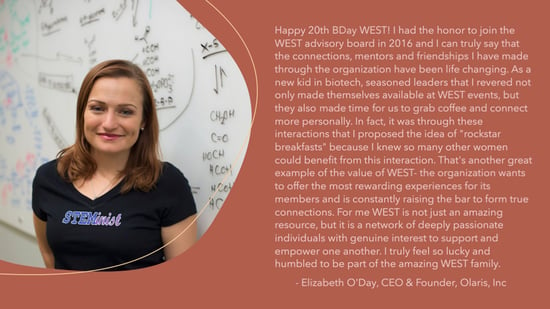 Elizabeth O'Day, CEO & Founder, Olaris, Inc: Happy 20th BDay WEST! I had the honor to join the WEST advisory board in 2016 and I can truly say that the connections, mentors and friendships I have made through the organization have been life changing. As a new kid in biotech, seasoned leaders that I revered not only made themselves available at WEST events, but they also made time for us to grab coffee and connect more personally. In fact, it was through these interactions that I proposed the idea of "rockstar breakfasts" because I knew so many other women could benefit from this interaction. That's another great example of the value of WEST- the organization wants to offer the most rewarding experiences for its members and is constantly raising the bar to form true connections. For me WEST is not just an amazing resource, but it is a network of deeply passionate individuals with genuine interest to support and empower one another. I truly feel so lucky and humbled to be part of the amazing WEST family.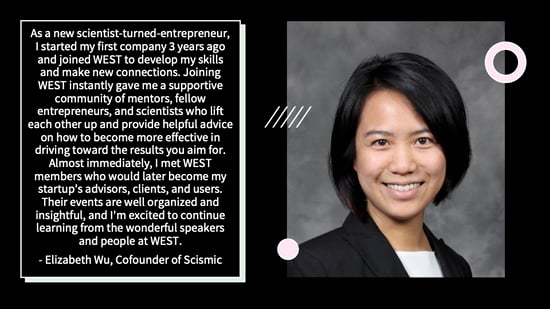 Elizabeth Wu, Cofounder of Scismic: As a new scientist-turned-entrepreneur, I started my first company 3 years ago and joined WEST to develop my skills and make new connections. Joining WEST instantly gave me a supportive community of mentors, fellow entrepreneurs,
and scientists who lift each other up and provide helpful advice on how to become more effective in driving toward the results you aim for. Almost immediately, I met WEST members who would later become my startup's advisors, clients, and users. Their events are well organized and insightful, and I'm excited to continue learning from the wonderful speakers and people at WEST.
Please join us on 9/30 for a Gender Parity Panel Discussion.