Program Mission: To help mentees achieve a personal or career goal by using small mentoring groups (pods) to obtain diverse perspectives that will provide an enriching experience for mentees and enable execution on goals through focused actions.
WEST is now taking applications for mentors and mentees to join our fall mentoring program.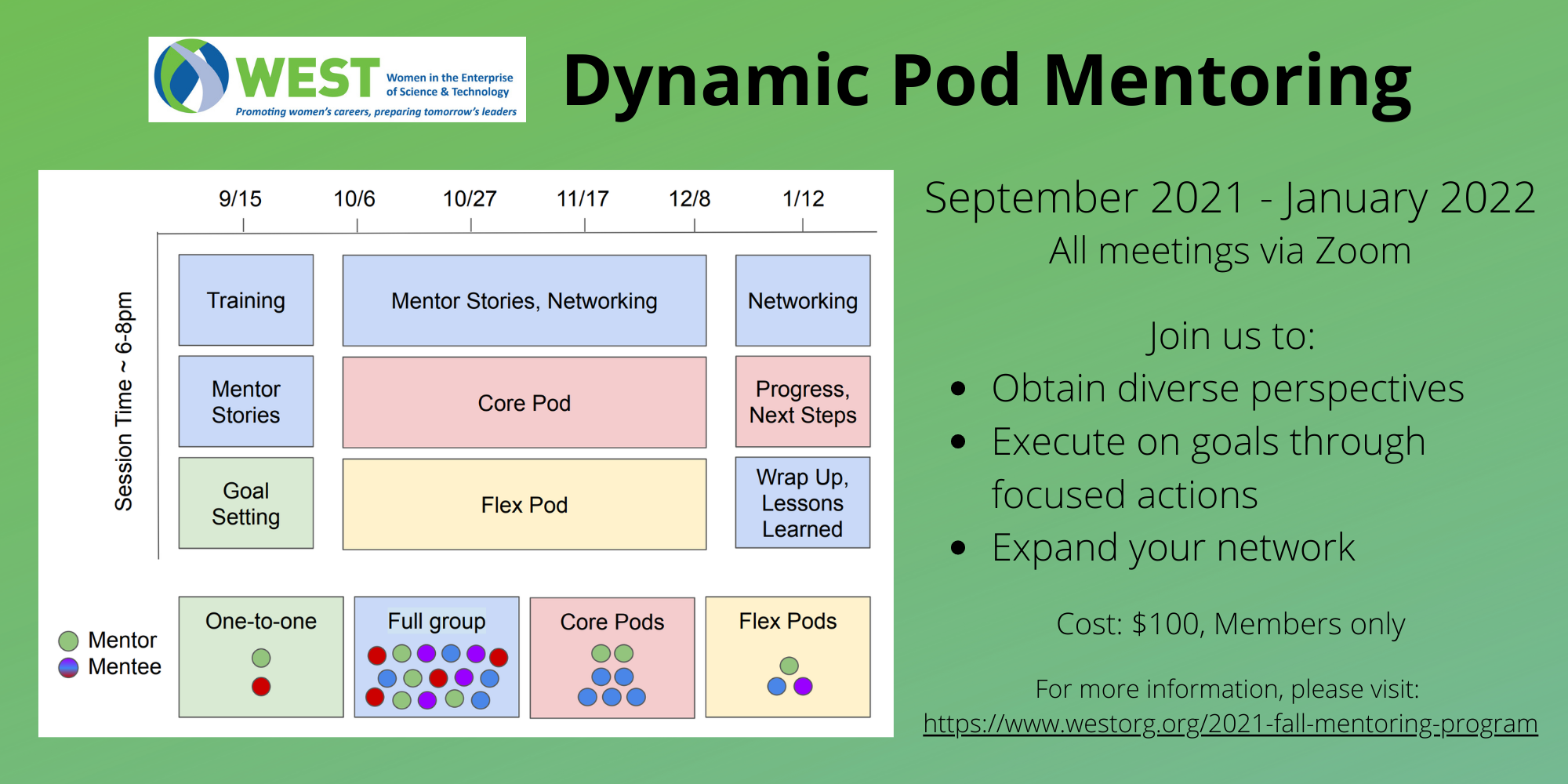 During the application process, mentees will rate their interest in these key topics (career progression, leadership, personal growth, work-life consideration) and that will be use for matching their core pod. Mentees will also have the opportunity to explore the other topics offered and/or mentors for their flex pod time each session.
The cost of participation for the program is $100, currently open to WEST members only. If you need a scholarship to cover the majority of the cost of a spot in this mentoring program and/or a membership, please email info@westorg.org to apply.
Who should apply:
Mentoring Program Testimonials:
"I really enjoyed this mentorship program. Everyone, mentors and mentees, tries their best to help you and I feel comfortable to ask them anything! I connected with multiple people after the mentorship sessions and I plan to stay connected with them." - Adrienne (mentee)
"This is a really great program. I felt supported and empowered after talking to the awesome mentors!" - Stella (mentee)
"I would highly recommend this program. This platform helped me build my network of mentors. I also met a lot of great women with diverse backgrounds, which helped me build a strong network." - Suchi (mentee)
"This is a great learning and growing experience for all WEST has created an open, supportive environment where you can receive non-judge mental feedback and practical advice." - Mary Ann O'Loughlin (mentor)
"The WEST mentoring program offers mentees a diversity of perspectives on topics key to their professional progress and development. And for mentors, it's a great chance to connect and give the valuable gift of reflection and experience. Never underestimate the value of an outside view and the power of giving back!" - Noël Theodosiou (mentor)