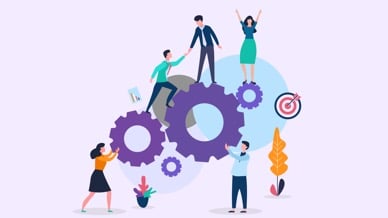 There are so many questions we can ask about trust. How can teams increase effectiveness through building trust? What skills are needed to build trust? What about virtual teams? During WEST's 10/14 webinar with Laurie Bohn, you will engage in an interactive, virtual dialogue about building trust within your team and across your network.
Why is Trust Important for Teams?
As individuals, there is only so much we can accomplish on our own. The reason we work in teams is to come together to accomplish goals we could never complete on our own. If each member of a team is working hard, but not together, a shared goal will not be accomplished. Understanding your own role and how you fit into the team is essential for your team's success. Working together in a high performing team requires trust, which often results in improved collaboration, increased productivity, and psychological safety.
How Can You Build a Trustworthy Connection?
Building trust requires a multifaceted approach. Each time you engage with a team member in discussion; every time you agree to, and meet, a deadline; every time you clearly communication with your team mates – you are building trust. Building trust takes time, and all of your interactions affect whether or not someone is willing to give you their trust.
How Does Communication Play a Role in Trusting Your Team?
Being an effective communicator is essential when you are on a team. Clear communication is very important when building trust within a team. Understanding the different ways people communicate helps team members adapt their personal communication style to enable their teams to move forward and achieve results.
Interview with Laurie Bohn
What motivates you?
Laurie shared that she was on a team a few years ago, and the team dynamics worked so well she was inspired to continue in the work of team effectiveness. Processes were in place for communication, reporting, tracking goals and projecting status. This team, while it was remote, was able to work really well together because there was real trust amongst them. Laurie is motivated to bring other teams along that journey.
What is the best career advice you have been given?
It is important to have a perspective, and own your career development, Over time, your goals and perspective may change, but for a specific point in time, you need to know where you want to go, figure out what skills and experiences you need to get there.It is also essential to ask lots of questions, accept challenging projects, and build your network throughout your career.
What are common misconceptions people have about their inner dialogues and how can we combat them?
Sometimes, people get stuck in their own heads. We replay situations, which can cause us to magnify the importance of an interaction. We are often our own biggest critic, so we can also be our biggest champion. Be thoughtful on what you spend your time worrying about.
At what point in your career did you become passionate about this subject?
Laurie has been working with big companies for about 15 years, and has spent much of her time working with scientific and technical teams. Laurie has seen highly effective teams in action, as well as teams that have struggled. When teams allow someone to come in and help diagnose the issues and problem solve together, the teams have room to grow.
Join us for Building Trust in Your Team on 10/14! We also have an Author Chat on 11/5 with Jill Slye focusing on Reinvesting in Your Rhetoric. On 11/17, Empathy Works led by Carol Salloway will give you the skills have more empathetic communication.