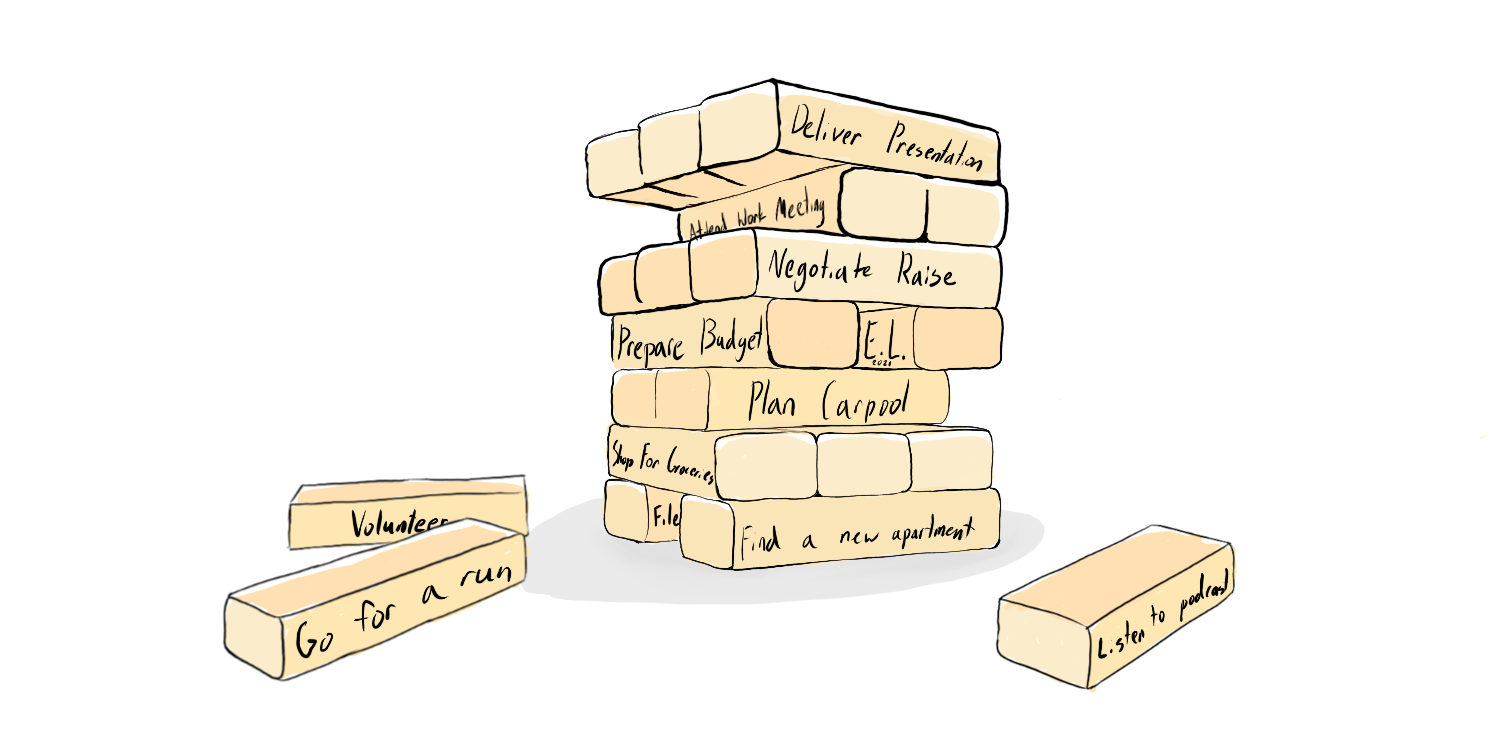 When I first considered a career transition from academic medicine to the pharmaceutical industry, it was hard to imagine changing jobs. The hospital I worked at employed many healthcare workers for decades or even their entire careers. I felt disoriented, like the world might fall down: kind of like a Jenga block tower tumbling after pulling out a critical piece.
Work-Life Jenga is an apt framework described by Stacey Abrams at the 2021 Massachusetts Conference for Women. In the children's game of Jenga, the goal is to pull out as many pieces as possible from a stacked tower of wooden blocks, without crashing the tower. In Work-Life Jenga, the expectation is not to keep the tower balanced forever, but to strategize and make the best of each move, one block at a time. The goal is to use the Eisenhower matrix to prioritize those blocks that represent the work and home activities that matter most ("urgent and important", "important but not urgent"), but to also leave space for activities in the other two quadrants ("urgent but not important," and "neither urgent nor important"). At some point, the tower inevitably crashes, but that event poses an opportunity to use our accumulated knowledge and life experiences to rebuild a stronger tower.
For millions of working Americans over the past two years, involuntary job loss or voluntary resignation caused that Work-Life Jenga tower to tumble. Job losses were particularly high among low-wage workers, especially women and people of color in the hardest hit sectors. In August 2021, 4.3 million Americans - 2.9% of the workforce - quit their jobs, setting a monthly record for the second time during the pandemic, and continuing a trend observed for much of 2021. The new year might bring more record-setting resignation numbers after year-end increases and bonuses are implemented.
Many workers are critically evaluating the kind of job and employer they want in rebuilding their life tower. The pandemic opened up the possibility of shifting to a job that offers more personal meaning, new learning opportunities, higher pay, or greater flexibility in hours or work location. If you are exploring the possibility of a career pivot, WEST is offering several Career Possibilities Panels, providing a window into a wide variety of fields within the life sciences industry.
Career pivots can require courage and resilience, especially if not voluntary, but in the business world, life-long careers are increasingly rare. Use the empowering framework of Work-Life Jenga to learn and rebuild your career as required, and don't do it alone: WEST is a great place to network with others who might support or facilitate your next career pivot.
Work-Life Jenga says there is no balance; there's a lot of stuff you want to do, and your job is to pull out the pieces that you need. The whole shebang could come crashing to the ground.
The mission isn't to be so careful on what you pull out, that you never make a mistake. Pull out the things you need, and know that if you've done it right, when you have to rebuild, you know more than you did the time before; you can build it back stronger, and you can build it back stronger, together.
- Stacey Abrams
Susanna Huh, MD MPH is a Senior Medical Director at Takeda Pharmaceuticals. She is a member of the WEST Advisory Board. Connect with her on Twitter @HuhSusanna or LinkedIn.
Illustration: Elise Leung