On Wednesday, February 16, WEST will be continuing our Career Possibilities Panel and Speed Networking series. In this event, we will focus on clinical, regulatory, patient outcomes, and analytical outcomes of research and discovery. Just as we had done with our last event, we asked thought-provoking questions from our panelists as a confident prequel to the immersive discussion that will be had at the event.
For this event, our panelists include Keith Barnett, Senior Director of Clinical Operations, Jounce Therapeutics, Inc.; Julie Himes, Head of Rare Disease, Heme, Takeda Pharma; Huijuan Li, Vice President, Analytical Development, Moderna; Michelle Luo, Global Program Leader, Gastroenterology Therapeutic Area, Takeda; Adora Ndu, Chief Regulatory Affairs Officer, Bridgebio Pharma, Inc; Sarah Ringuette, Vice President, Regulatory Affairs, Elevation Oncology, Inc.
We would like to welcome our WEST community to read the responses our panelists have given in this blog. We would like to welcome the WEST community to attend this event and further the explanation given by our panelists in this blog.
What is the most rewarding part of your job?
"Propelling the development of new drugs for patients who really need improved therapies." — Ringuette
"Working with my fellow colleagues and collaborating to bring necessary products to market for patients that are in need." — Barnett
What do you believe is the most important quality for recent graduates and young professions to hone into a mastered skill as they enter the working world?
"The ability to work well with a team by listening to others, gathering inputs, questioning what doesn't make sense and realizing that you have a lot to learn from fellow colleagues." — Ringuette
"Being able to adapt to change. The industry as well as the world is constantly changing. Those who can understand this and adapt to the ever changing times will give themselves the best chance to have a long and successful working career." — Barnett

What led you to your current work? Were you following a plan you had for yourself or was it unexpected?
"My path was unexpected in that I didn't set out to be in Regulatory Affairs. Rather, over the years and experiences I had (both work and personal), my endeavors and skillsets converged into a strategic regulatory leader. My experience in academia, clinical trials, documentation, and medical writing have all provided excellent experiences to help me lead strategically in regulatory affairs, and really understand the topics and downstream effects for which I advise." — Ringuette
How have things changed in these pandemic years that you predict will continue to affect career possibilities? What do you predict will pass?
"I envision less reliance on physical co-location with colleagues, and more remote job opportunities for all levels (entry level to leadership) as it brings the best experts together regardless of location. It's a win-win for companies looking to hire the best talent. I believe interviewing in person will become less frequent as we have become accustomed to video communications and working day-in-day-out via videoconferencing." — Ringuette
What is the biggest risk/bravest leap you've taken in your career so far? How have you seen it impact things?
"I decided not to relocate in order to continue working with my current companies at the time. At the time, it seemed like I was passing up opportunities, but in the end, it opened my world to new and challenging work that propelled my career that I would otherwise not have sought. I don't think I would be where I am today without saying no to two relocations. It was a tough decision, but I am happy to have put my personal life ahead of career security, and both personal and professional endeavors thrived." — Ringuette
What is one aspect of your work that you never expected to be as important as it is?
"Having fun and working with like-minded people. Your coworkers and the culture make all the difference in the world when you are putting in long strenuous hours." — Ringuette
What is the one piece of advice you wish you could give to your younger self? Thus, what piece of advice would you share with younger professionals now?
"Be flexible and kind to yourself, as your personal and professional goals will change over time. Keep putting yourself out there - my CEO told me just last week how much he admires people who were experts in one function and then move on to another, as it shows grit, depth of understanding and provides important perspectives across functions that facilitate success, all factors that are incredibly important in leaders and relied on by executives. Keep learning – and don't accept the status quo for too long otherwise you risk becoming irrelevant." — Ringuette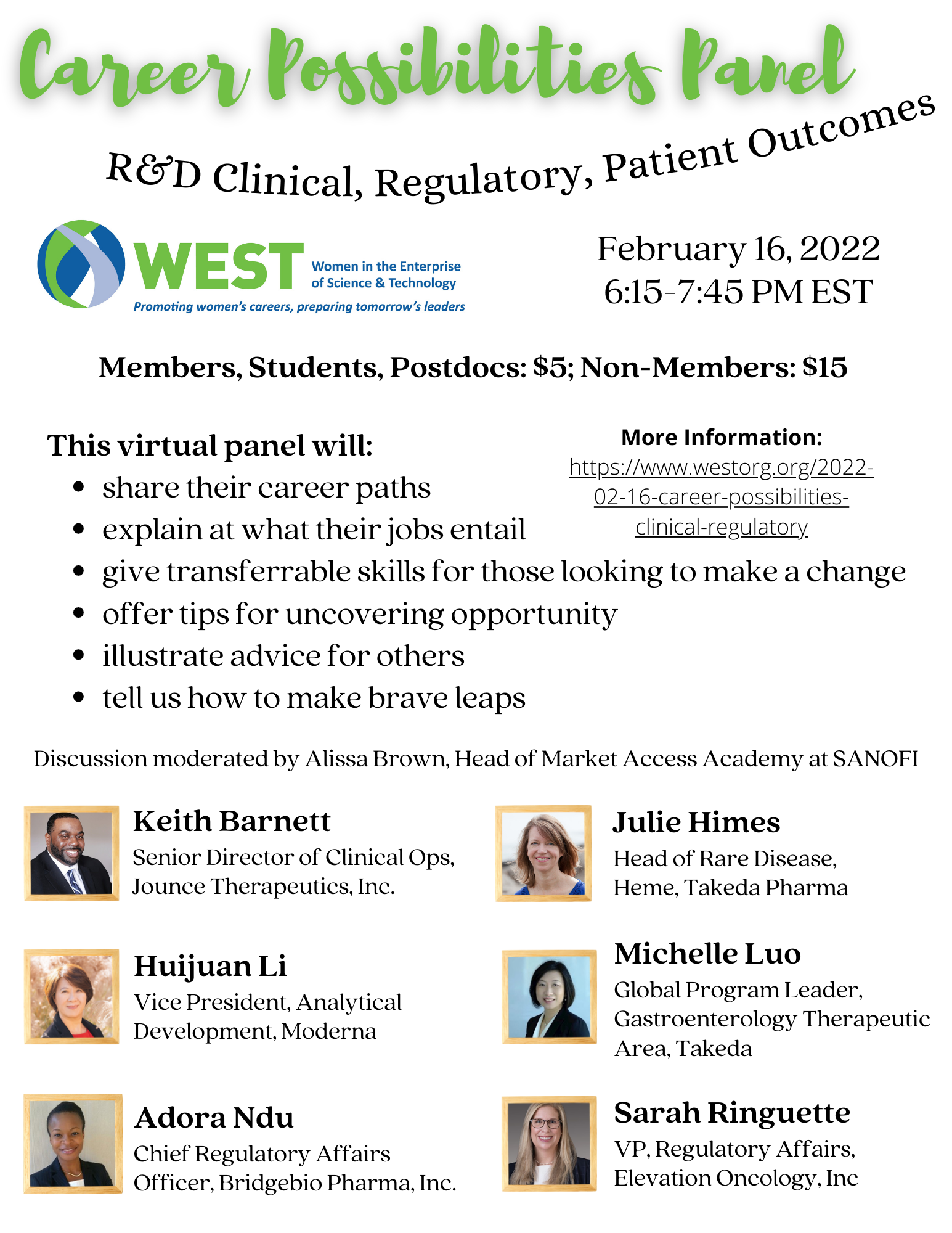 Learn more at https://www.westorg.org/2022-02-16-career-possibilities-clinical-regulatory