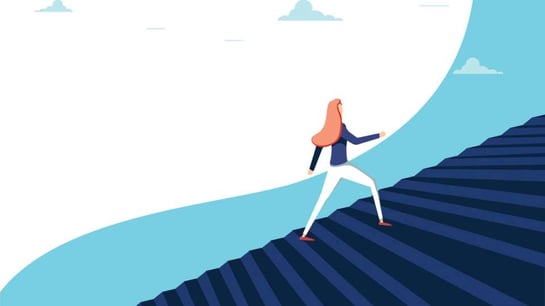 WEST is kicking off its Career Possibilities Series with New Commercial Strategy, Product Planning, and Marketing on 1/20. There will be many topics discussed during the series. In a world where career structures are rapidly evolving, people in the workforce need to have the mindset to be prepared for what their careers could look like. This event series was created to prepare early and mid-career people for the future and give them the tools to be successful.
This webinar is the first event in our six-part Career Possibilities Series. Careers are no longer linear where people work at the same job for 30 years or follow a predictable structure. Each of the events in the Career Possibilities Series will help you create a career road map. Having a diverse career background is an advantage in this new job market.
Nonlinear careers are becoming the new normal. Having a multitude of skills can give you that extra edge to nail your next job interview. Changing career paths can be caused by a loss of interest or looking for something new and exciting. This all boils down to one idea – you are never stuck. As long as you are willing to put in the work, you can achieve greatness in any career. Your background and experiences are important and can be applied in different ways to create success.
Being open-minded while thinking about career options is essential. Many people who make 5 or 10-year plans rarely stick to them. The focus should be on gaining skills from different experiences. Not everyone follows the same path, so it is important to enter the workforce with an open mind. Having a nonlinear career also gives you more opportunities to experience diversity. Working with different people will help you gain more perspectives.
In the Atlantic article, "The Next Episode," the author explains the new nonlinear career structure many people are facing. A big advantage in this new world is learning how to be adaptable. We can apply the lessons we have learned in 2020 to our career paths. Applying skills gained from unpredictable situations will create more stability for ourselves. "The modern career trajectory isn't necessarily a climb to a destination, but rather a continuum." Read The Atlantic article here.
This series is perfect for anyone uncertain about the next steps in their career or what an unpredictable career path can look like. We will examine multiple industries at each event. Each event also includes speed networking at the end to allow attendees to make connections and expand their networks.
Find the entire series here:
New Commercial Strategy, Product Planning, and Marketing on 1/20. Discovery and Research on 2/10. Clinical, Regulatory, and Development on 3/3. Portfolio Strategy, Project Management, and Scientific Operations on 3/24. Medical Affairs – Communications, Publications, Medical Science Liaison 4/14. Business Development, Lawyers – Patent, Contract on 5/5.