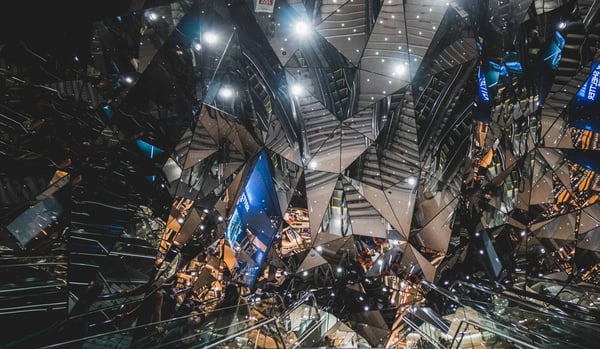 Like your career, executive gender parity is not one-off tactic or a simple checklist. Gender parity among leadership requires intentional cultivation, systemic design and strategic implementation.
Join WEST for an expert panel on executive gender parity at our annual awards night on September 30th. In the meantime, check out these highlights from recent reports about executive diversity and gender parity.
Gaming the NFL's Rooney Rule: Executive gender parity isn't a box-ticking tactic
The Rooney Rule is an NFL policy that mandated ethnic diversity in applicant pools for senior positions. This policy is widely employed and cited in many organizations' diversity initiatives. In their 2019 Snapshot of Board Diversity in Massachusetts Public Boards and Commissions, Eos Foundation noted that all too often, this practice devolves into a box-ticking tactic with no real value. Numerous women and people of color interviewed in the study said that they stopped responding to search firms who reached out about certain roles. After repeated unsuccessful interviews, they had determined that they were only invited to align the applicant pool with diversity mandates. Unfortunately, these beliefs are substantiated by stats. The study observed that 'of the last eight State University President searches in Massachusetts, women comprised nearly 40% of the finalist pool yet got none of the top jobs.
The broken first rung: Most executives start as managers
In their 2019 study on Women in the Workplace, McKinsey reported that for every 100 men promoted to first-level management, only 72 women were promoted. McKinsey noted that as managers form the pool of executive candidates, fixing the ladder's 'broken first rung' is crucial.
Why? Because that broken first rung cascades into a funnel, amplifying gender disparity as you move up the corporate hierarchy. This infographic depicts the double-edged sword. The good news: Between 2015 and 2019, representation of women increased at every corporate level, from manager to CEO. The backswing: The glass funnel—gender parity remains inversely correlated to executive status.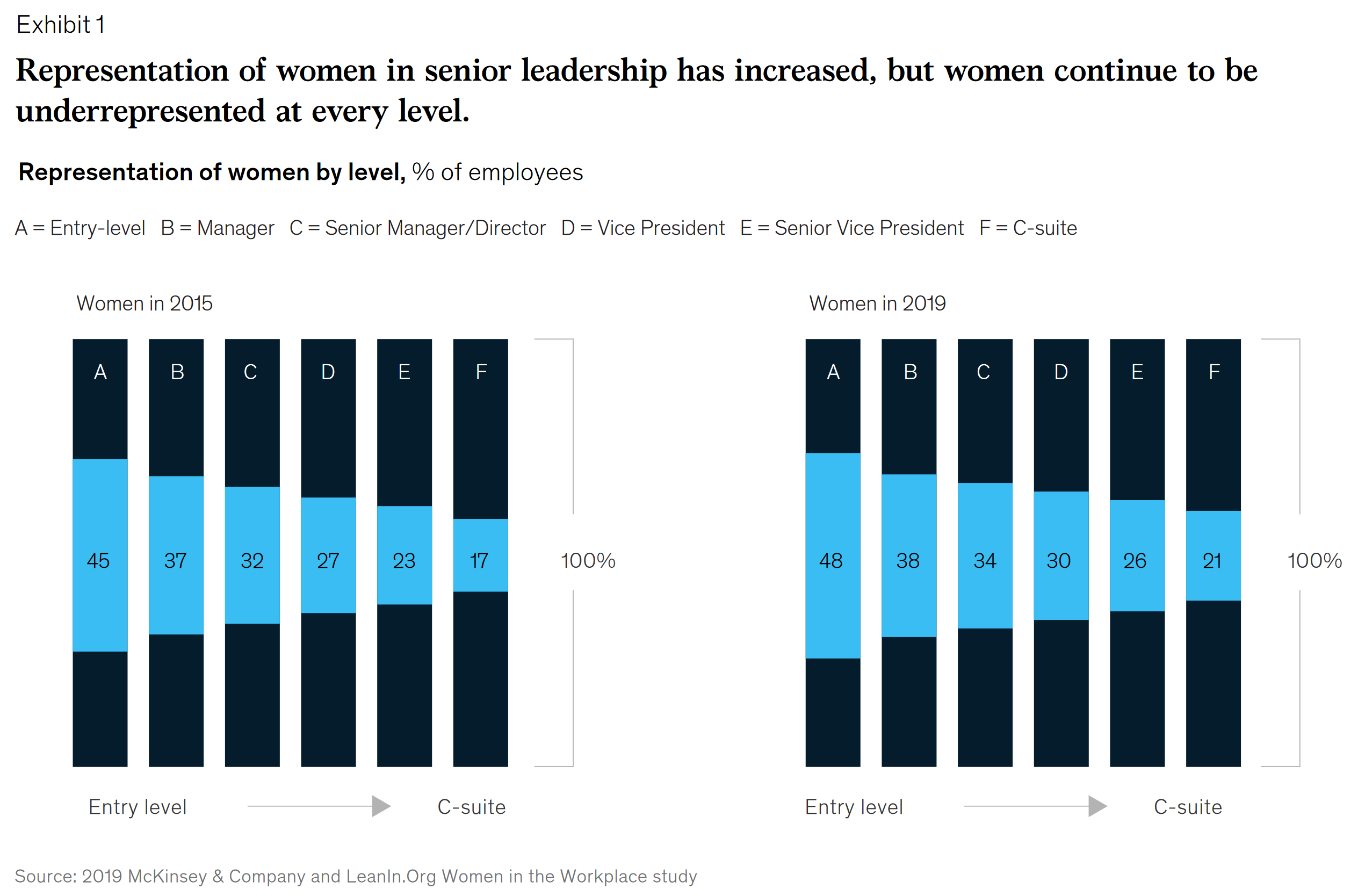 Executive gender parity in corporate Massachusetts
The first 2020 Women's Power Gap study focused on executive gender parity in the 25 largest Massachusetts corporations. Together, these firms employ over 1 million people. Although there were bright spots, here too, many victories were two-sided coins.
To be sure, the effort and intentionality of the past two decades have yielded progress. Among the study's sample, 31% of all board members were women. That's almost triple the 12% attributed to Fortune 500 companies in 2000. 'However, women of color have not shared in the board gains, comprising only 6% of board seats and 3% of board leadership positions in this study.'
The glass funnel and ceiling remain intact
The study also reported that although 25% of executive leaders are women, only 10% of the high paid executives and 4% of CEOs are women.
Only one Massachusetts organization, Bright Horizons, earned the highest ranking, 'Satisfactory', for gender parity in leadership. That said, three of the four companies in the second category, 'Nearly There' were STEM industry firms. This included Insulet who is noted as the only company with a female CEO in that year's—as of December 2019—dataset.
Though, that's about to change. Shoutout to Dr. Reshma Kewalramani—the new CEO of Vertex Pharmaceuticals as of April 2020. You may remember Dr. Kewalramani from this panel on gender diversity hosted by Vertex for Women's History Month in 2019.
One troubling disparity called out by the report was that though women of color are 15% of the Massachusetts population, none of the CEO or top independent board chairs in the survey sample were women of color. Prior to Dr. Kewalramani. Yes!
What buttons do you need to press to elevate your career and escalate diversity and gender parity in STEM?
Join us on on September 30th for WEST's Annual Awards Night, which will begin with an in-depth expert panel discussion about executive gender parity in Massachusetts. The panelists will discuss recent progress in terms of legislation, community and mindsets. They will also delve into what buttons you need to press to take advantage of that progress and overcome today's challenges. How can you clear the current hurdles and help dismantle them, so we can all move forward as a society?