Anna Barnacka is the CEO and Founder at MindMics. She earned her Master's in Physics in 2008 and two PhDs in Physics and Astronomy in 2013. Anna worked as a NASA Einstein Fellow at Harvard University from 2015-2018 and focused on turning galaxies into high resolution telescopes. In May 2018, she founded her own company because Anna was interested in applying her knowledge from previous experiences on research on the human body.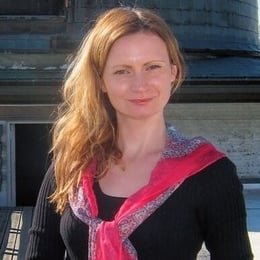 Anna helped build a system to understanding what the universe is hiding during her PhDs and continued the work once she came to the US. One project she worked on involves looking to uncover mysteries of supermassive black holes. Every project Anna performs involves many components in the experiments, doing observations, and analyzing data.
For people who are just starting their careers, Anna advises them to be surrounded by people who are supportive. She also recommends not giving much thought to people who say negative things to you. Anna says, "naysayers might be projecting - if someone tells you that you can't do something, it may just mean that they would not be able to do it." She found it helpful to be around people who were a few steps ahead of her in their careers. This gave Anna people to look up to and somewhere to get trusted advice.
When she first began studying Physics, Anna noticed that the further you climb, the less diversity you see. Anna's focus has been on helping the people around her. As she says: "the point is to move forward, to focus on our strengths and common goals instead of our differences."
Anna's path was not straight forward, and she often went in the opposite direction people expected. When Anna first moved to the US, she did not know many people. Building a strong network is what gave her success when she started her company. Creating a company was a strenuous task, and required Anna to continue her day job, and learn about neuroscience and biology at night.
Anna reflects that persistence and curiosity helped propel her to success. These attributes led her to achieve her goals in Physics, Astronomy, and now as a CEO. She was always curious about what was out there and had the persistence to find the answers. There is value in keeping an open mind and listen to what people are saying, but if people are only saying negative things, it is better to push forward.
As a CEO, Anna has applied the skills she learned through her career to run a successful company. Her success is rooted in her ability to perform any task that is necessary for her company to run smoothly. In her free time, Anna enjoys flying, martial arts, and classical music.
You can check out Anna's website here and the MindMics website here.