Leadership is shown in many ways, and Anne Cheung has turned working with her introverted nature into a strength, focusing on doing the work and cultivating the passion of others in joining her work. Her style of leadership has resulted in work that improves the lives of others.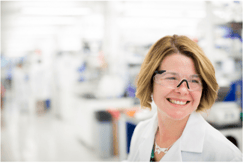 Anne started working in biotechnology over 20 years ago after earning her Master's in biochemistry. Her science career has been a straightforward path, moving up the ladder at Biogen for 18 years before switching to work at start-ups. She is currently a consultant working part time at Revitope Oncology. Anne credits her success in science to her ability to work hard and pay attention to detail. She is deliberate in what she does, which has led to meaningful contributions to projects, publications, and a company-wide award at Biogen for safety.
Anne's intention throughout her science career has focused on doing work to help people. In biotechnology, she works in research to develop medicine targeting devastating diseases like cancer and Alzheimer's disease. She chose this path after feeling helpless watching her loved ones suffer from these diseases. It was an unexpected swerve outside of her science career that led Anne to recognize her passion and her ability to lead.
Based on her friend's experience as a Peace Corps Volunteer in rural Cameroon, Anne felt compelled to address the injustices faced by girls and women. She used an unexpected referral bonus from Biogen to start a high school scholarship program in Cameroon for girls at high risk of dropping out of school. She worked with Peace Corps Volunteers to design the project, sending 17 girls to school. To continue and grow the successful pilot program, Anne and her friend co-founded a nonprofit, A2Empowerment. Their mission to empower women through education has resulted in over 1,800 high school scholarship awards since 2008.
A2Empowerment has not only benefitted the scholarship recipients, their families and community, but has also led to Anne's own empowerment. In addition to the satisfaction that comes from hearing the stories of the girls A2Empowerment has helped, the project has allowed Anne exceptional experiences, like presenting at a UN Conference last year, completing the Institute for Nonprofit Practice Core Certificate Program for nonprofit leaders, and numerous awards, including national recognition as a Fortune Magazine Hero of the 500 in 2015. In fact, it was the Giving Back Award that Anne received in 2016 that introduced her to WEST, an organization that has provided years of inspiration and opportunities for her as a member.
The desire to help people extends from the role models she admires. Her greatest role model is her mother, Gail, a retired high school chemistry teacher. Anne's mother always helps others, sets an example of how a strong woman behaves and helps Anne strive for more in her career. In addition, Gail first introduced Anne to the laboratory, bringing her along on visits to complete her graduate studies when Anne was young. Another role model, Anne's high school student union advisor, Mr. Tylenda, had a significant impact on her career. Mr. Tylenda advised projects while offering complete autonomy to students. For example, Anne started planning and designing a Memorial Grove in high school that was completed following her graduation and continues to benefit the school today. Anne reflected that this experience helped her develop the skills that would prepare her to start a project, like the nonprofit, from scratch. More recently, mainly through nonprofit networking, Anne's role models include women who use their pain to create opportunities for others.
For anyone starting their career, Anne advises them to think about what excited them when they were young to help guide them. She suggests paying attention to what is most rewarding about your current position to help decide your next move. She believes in trusting that you are in the right place to learn what you need to know and seeing failure as an opportunity instead of defeat.
WEST has created a place for Anne to find inspiration to be a better scientist, mother, and colleague. She also feels incredibly supported by everyone at WEST and it has provided Anne with an environment for growth. She looks forward to the events she attends because they continue to help her advance her career and make a positive impact on the world.
Anne hopes that young women who are introverted or shy will see that they can make a positive impact. Everyone has the power to contribute to the world. Anne is an example of a quiet, thoughtful leader having a significant impact. "I'm just trying to always do my best. If I compare myself to other people, I can get stuck and feel defeated." The world we live in today makes it easy to see what other people have and what they are accomplishing. Women need to continue being leaders, believing in themselves, and the world will be a better place. Women will always find more success when they believe in themselves.
To learn more about Anne's nonprofit work, please visit: https://a2empowerment.org/