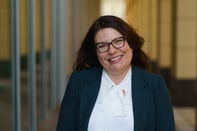 Elena Spencer is Chief of Staff to the Chief Scientific Officer for the Inflammation & Immunology Research Unit at Pfizer. After 15 years as a bench scientist, she pivoted to R&D Strategy & Operations in 2016. Elena is also co-founder, President, and CEO of Kendall Square Orchestra, a community organization that seeks to connect science and technology professionals through music. She has been an avid volunteer at WEST events for 3 years and was the recipient of the WEST "Making a Difference in the Community" award in 2020 and "Women of the Future" award in 2018. I recently had the privilege to speak with Elena about her involvement with the WEST community, her career journey, advice for people making career transitions, and how she finds a work-life balance. - Emma Sullaway
Emma: I would love to start with your career as a researcher of cellular and molecular biology. Was there a particular moment that served as an inspiration for you to become a researcher in the field?
Elena: Yes, absolutely. In my early career straight out of undergrad and working for Pfizer, I'd always been really interested in biology and science and considered a career in medicine. However, I was really interested in applying my expertise in biology to create medicines rather than pursue a career as a physician. What really sparked my early interest in neuroscience was my grandfather's experience with Parkinson's disease. This firsthand insight into the impact on families and patients themselves when they're living with illness really inspired me to want to do something about it. As I expanded my career to different disease areas, including autoimmune and chronic inflammatory diseases, I realized there are so many patients in need. I am driven by wanting to help people and using my knowledge of something that I'm interested in to make a broader impact for all different types of people that need medicines.
Emma: After working as a bench scientist for 15 years you made the transition to R&D strategy and operations six years ago. What was that transition like for you?
Elena: Part of making that transition was realizing that as much as I did really have a passion for science and enjoy doing the work at the bench, I also had these other signs that there were parts of my personality that were well suited for the more collaborative aspects of our business outside of the lab. Looking back, I realize some of them were there even from the very beginning. For a long time, I didn't know that there were jobs in research that faced more towards business and other parts of the company. Part of it was understanding my core competencies, not restricting myself, and then talking to others about the kind of jobs they have.
Emma: What advice would you give to other women who are considering making a similar career transition?
Elena: My advice is to make more connections and ask people about their jobs. I made the pivot to R&D because a close friend and mentor had a career change, and I said, "Oh, that's interesting. What is it like to have a job in portfolio, strategy and communications?". Eventually, there was a job opening and I was encouraged to apply. My second piece of advice is to apply even if you don't check all of the boxes on a job description. People can understand the relatability of your skills. Even if you don't get the job, you'll learn a lot. Once you do go for it, there's this realization that you are in the deep end of a totally different pool. I remember feeling sick to my stomach for the first few months. People will want to support you more than you think. See yourself in that role and know that you deserve it. With time, one day you're the person letting other people know about how the role works.
Emma: That's great advice! I love that it's not just about getting the job and the hiring process, but really about what happens afterward. For people who are starting to grow their network, what are some tools you recommend for making those connections?
Elena: I was not paid by WEST to say this, but WEST is a really great way to meet people and make connections! I always felt comfortable reaching out to anybody that I'd met and saying, "Can we have a follow-up discussion on this?". WEST is a safe space where you can meet people outside of your day-to-day work. It can also be useful to ask questions of people that you know in your own workplace and admire and wonder how they got to where they are. At my company, Pfizer, we're really encouraged to learn about all the different roles. People are, by and large, really happy to talk about themselves! People generally have gotten to where they are because other people helped them. I know that's how I am, and now I see it as my responsibility to pay that forward, so I always will say yes to that.
Emma: I'm sensing a theme of paying it forward, and I know you do a lot of community work. What was your motivation to start Kendall Square Orchestra?
Elena: I started Kendall Square Orchestra (K2O) because being in Kendall Square, the center of innovation, I realized we weren't always collaborating across the four walls of our institutions, which really was the promise of Kendall Square. I was working as Chief of Staff and our site leadership agreed that there should be more opportunities to connect with people from other companies. I co-founded K2O with my dear friend Kelly Clark, who works at a different company. We started it with the idea to connect science and tech professionals through music and have some fun, but it quickly grew to something bigger than that. We realized we could use our music as a platform to help others in the community, and established our annual benefit concert Symphony for Science to raise awareness and funds for causes related to health care and STEM education. We aren't constrained by the ideas of what an orchestra should or should not do and have an amazing team of primarily volunteers. Personally, I have a passion for corporate social responsibility and am always amazed at the positive impact that comes from galvanizing energy among a diverse set of individuals and institutions to serve the greater good for the communities in which we live and work. At Pfizer, I channel this passion by getting involved with patient engagement and advocacy. At home, I try to carve out time to speak to students at my kids' schools.
Emma: That is such incredible work, and I am sure you are very busy! How do you maintain a work-life balance?
Elena: That's a great question. I always joke that Kendall Square Orchestra is my third child. I get so energized by the community work that I do and by being a mom, and that feeds into how I get my job done at Pfizer. I make decisions and what I'm going to focus on, and sometimes not everything gets done. I let go of perfection and just try to focus on what is energizing me day to day. Some days it all comes together and other days some apples fall off the cart. It's okay to just pick them up. My favorite analogy is that you're juggling a lot of balls, and some are glass and some are rubber. You just need to know which ones are glass and not drop those. Most things do bounce back! I take on things that I'm passionate about and try to value progress over perfection. And of course, at the end of the day, I will put my family first. I'm really fortunate to be in a work environment that supports that.
Emma: Congratulations on your recent MBA! How did you decide to go back to school and what that experience was like for you?
Elena: Yes, I went back to school for my MBA shortly before my career transition in 2015. I had received signals that I had the skills to contribute in a different way. There was a program on-site at work that covered tuition. Less than six months later, I switched jobs and had to restart the program. It took me almost six years to finish my MBA. Now, I have a more holistic understanding of the work I'm doing and have gained important language for business. Entrepreneurship is a way to live, bringing new ideas forward inside your own company. It really lit a spark for me.
During that time, I also was enduring significant personal challenges, and I was still working full time. I had to take three separate semesters off for different personal reasons. My advice for anyone considering additional education is, it's never too late, and you don't have to feel bad if it takes you more time. There was a person in my graduating class who was in his 80's! When I felt like quitting or it was overwhelming, usually I just needed to sleep. As you get tired, you can go down a rabbit hole of fear and self-doubt, which is never productive.
Emma: Pfizer is in the news more than almost any company right now. What is it like to work in a company that gets so much media attention?
Elena: I've been at Pfizer for most of my career. The first job I got here was when I was 19. In a lot of ways, it is where I grew up. I've always felt like it was a wonderful place to work and there was amazing research and commitment to patients. Seeing the world recognize that has made me feel really proud to be a part of an organization that is helping so many. The work that we have done in COVID has gotten a lot of attention, but there's a lot of work related to other potentially life-changing medicines as well. It's really humbling to be working with such a dedicated group of biopharma professionals.
Emma: Can you tell me about how you got involved with WEST?
Elena: I first got involved in WEST when I was working at Biogen and attended one of their mixers. The president of WEST had been a leader of Biogen who I looked up to a lot. Through the years, WEST recognized my contributions, and I was asked to get more involved. One of my own mentors nominated me for the "Woman of the Future" award and shortly after I was asked to be on the Advisory Board. After a couple of years, they approached me to be on the Board of Directors. I think that being involved in advisory boards or boards of directors at non-profit organizations is a wonderful way to grow leadership and business skills. WEST helped me develop my ability to have a voice at the table and built my confidence in how to network across all levels.
Emma: Last question: why would you recommend WEST to others?
Elena: WEST provides a platform on which to engage a diverse network of women and men who are advocates for women in the life sciences and build trusting relationships you can leverage for advice at any stage of your career. Just listening to speakers at events can be helpful if you don't really feel like networking. WEST breaks down the stereotype that leaders are unapproachable people in a far-off place… they're just regular people who want to help! WEST has something for everyone.