Dr. Irene Ghobrial is a Professor of Medicine at the Dana-Farber Cancer Institute at Harvard Medical School. She is also the Lavine Family Chair of Preventative Cancer Therapies. Dr. Ghobrial received her M.D. from Cairo University in 1995. She trained as a medical oncology fellow and became an Instructor in Medicine at the Mayo Clinic in Rochester, Minnesota from 2001 to 2005.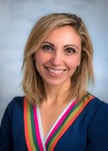 In 2005, Dr. Ghobrial created her own laboratory within the Department of Medical Oncology at the Dana-Farber Cancer Institute (DFCI) and became an Instructor in Medicine at Harvard Medical School in 2006. She became a Professor of Medicine in January 2019, is currently an Associate Physician in Medical Oncology at Brigham and Women's Hospital, and is an Associate Member at the Broad Institute of the Massachusetts Institute of Technology and Harvard.
Dr. Irene Ghobrial is a true trailblazer who leads research and clinical efforts to combat blood cancers, and to halt the progression of pre-cancerous conditions before they develop into hematologic malignancies. The whirlwind of activities from her laboratory have not only resulted in better understanding in disease mechanisms, but have also been rapidly translated to innovative investigator-initiated clinical trials.
Dr. Ghobrial is the co-leader of the first consortium of clinical trials for blood cancers in collaboration with the Leukemia and Lymphoma Society to form the Blood Cancer Research Partnership (BCRP), a consortium for innovative clinical trials of community oncology sites coordinated by Dana-Farber Cancer Institute. She is interested in developing new molecular/genomic markers that predict progression in precursor conditions, which can identify patients who should be eligible for therapeutic interventions to prevent progression, or potentially cure the disease at the earliest stages.
"I feel that the more challenges I have, the more I have energy to tackle the problem" Dr. Ghobrial said.
As if conquering blood malignancies is not enough, Dr. Ghobrial climbed Mount Kilimanjaro to raise funds for the Leukemia and Lymphoma Society; ran a half marathon in Alaska to raise funds for cancer research; competed in the Half-Iron Man at Lake Placid to raise funds for the Multiple Myeloma research Foundation in 2018, and ran the 2019 Boston Marathon with the Dana-Farber Marathon Challenge squad.
Dr. Ghobrial's career path as a successful physician scientist took strong will, high energy, and great mentors. During her medical school study in Egypt and residency training in Detroit, no laboratory research training was available. It was at Mayo Clinic when she participated a two-month immunology research program that brought along her committed decision to do research while treating patients – the two roles she loves. Despite the intense clinical work, she always carved out time to go to the lab. Not to mention she had a newborn baby during this period. "The biggest obstacle is balancing work and a personal life, especially with young kids at an early stage of my career." She says, "But never think that you cannot do it because you're a woman. Don't hold yourself back."
Luckily, Dr. Ghobrial had a supportive mentor who always believed in her, provided sound research infrastructure, and gave her the freedom to try out "crazy" ideas. Around the time she started her own lab in 2006, some people showed doubt about this young MD who attempted to apply major NIH funding, Irene received two R01 grants with her ground-breaking research ideas and stunning speed of completing each ambitious studies.
Dr. Ghobrial is also grateful that she has a strong mother, who instilled in her very early on the determination to succeed and the strength to thrive against societal judgement. Although women have more opportunities available to them now than in the past, there is still implicit bias, and constant need to fight for equality. Women need support from men and women to break the glass ceiling that still exists. Dr. Ghobrial has many trainees who have their own successful careers in different parts of the world. She mentioned specifically a female physician scientist for Women in Myeloma. The truth is, women in research and science encounter more hardship compared to their male counterparts.