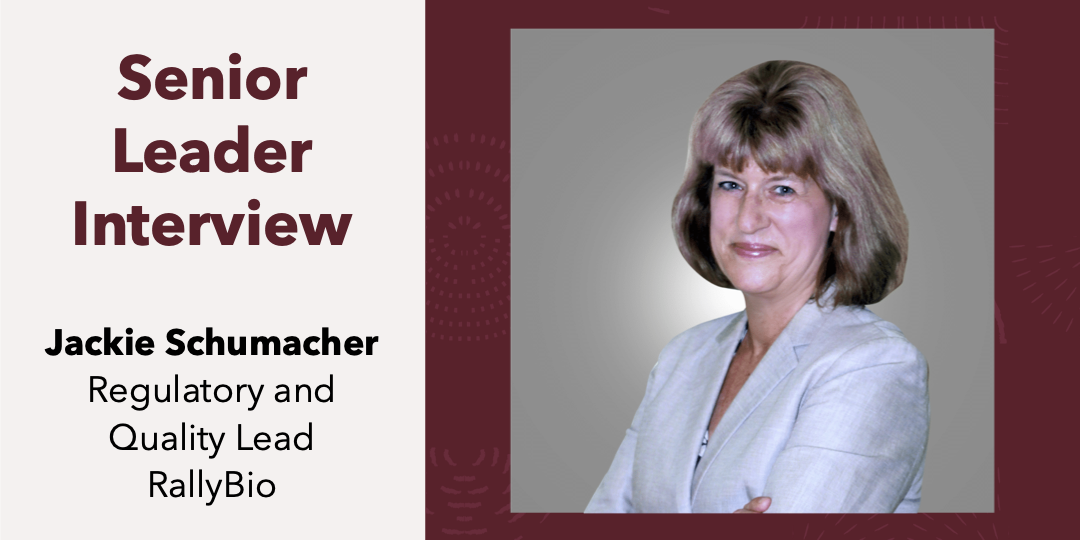 Senior Leader Interview: Jackie Schumacher
Introduction: Jackie Schumacher has been a part of WEST for the last two years. During that time, she has worn several hats. Serving on the Board of Directors, Jackie has contributed greatly to WEST and is currently Chair of the Advisory Board committee. She is also Regulatory and Quality Lead at RallyBio. She was gracious enough to sit down and share her journey with me and the rest of the WEST community.
1. Shreosi Ghosh (S.G): Thank you for taking the time Jackie! I have heard so many good things about your mentorship within WEST. I wanted to start by asking how you first got involved with mentoring?
Jackie Schumacher (J.S): Fortunately for me, it started in my career at Pfizer, thirty + years ago. I truly value that senior leaders in the organization took the time to mentor me. These individuals not only helped me learn about the drug development process but also life lessons. Fast forward "several" years, women in the organization expressed an interest in my experiences and that led me to pay it forward; by providing guidance, insights, and advice. For me, as a dear friend said to me, the journey is like being on a train…. you meet so many wonderful people along the way and even though your destinations might not be the same, you are fortunate to have made the connection.
2. S.G: I know you were in science and then you transitioned to regulatory. What was your motivation for this transition?
J.S: When I started at Pfizer, I worked in a lab setting, which I knew could be challenging longer term as my family was growing. I had to think about the practicality. When working in the lab, I was interested in Regulatory CMC. This discipline was on the technical side, focusing on CMC regulatory strategies. I realized that working in the lab and juggling work-life balance was not going to be easy. So, I built transferable skills. Following this role change, I kept building skills throughout my career.
Interestingly, one way to understand how an organization is changing is to investigate available job postings. So, I did that and took a commercial position. I had no prior experience, but it was a great learning opportunity. Unfortunately, that role was eliminated, so I reached out to a valued mentor. My mentor guided me to consider a variety of roles which resulted in, a year later, working in the biotech space at a company where my role would have an impact. After that, I started consulting. While in that role, I was headed to a meeting and I ran into the leaders of RallyBio at a railroad platform in Connecticut! The CEO and COO invited me to come and "visit". And that happened a day before everything got shut down for the pandemic. It was a serendipitous moment, and I am grateful for that.
3. S.G: What is one good and one bad piece of advice that you received?
J.S: I did not like this advice when I first received it, but hearing it opened my eyes. "Feedback is a gift." Hearing "tough" feedback helped me to change and grow.
Bad, not so much as a piece of advice, but someone told me the mineral division at Pfizer would be a good place to work, however a year after that the division it was sold off.
4. S.G: What career advice would you like to give to someone who is recently starting their career vs. someone in their mid-career?
J.S: I will give two-pieces -- Do not look at your career like a ladder, look as if it is a lattice. Look at the opportunities and how you want to grow. What is the next experience, what is the next skill that you need? How are you going to get to that aspirational goal?
And secondly, do not be afraid to take the job or an activity that is least desired. For me, when no one stepped up to take on an activity, I did. And those opportunities led me to great professional relationships and business opportunities. So, take on a diverse set of experiences.
5. S.G: That is a very good piece of advice! So, considering it has been over a year of COVID-19, how has it impacted your work-life balance?
J.S: Haha, it is good. I had been working out before starting work every morning. I do not drink (much), so in a way, I have been looking after myself during this time. I have also been binge-watching shows, I just finished Schitt's Creek (chuckling) and The Crown.
6. S.G: Jackie that is all of us! So, thank you. Lastly, why would you recommend WEST to others?
J.S: WEST has created a community and an ability to adapt to the environment, particularly considering COVID-19. I have my home in Connecticut. So, it is great to be a part of an organization with a broader stretch. WEST has come a long way; it has expanded its presence. WEST is a great model for outreach and has exemplary programs for personal growth.