Jo Viney is the President, Co-founder, and Chief Scientific Officer of Pandion Therapeutics. She is a prominent figure in the field of autoimmunity, and a past board member of WEST. She served as the WEST board's president from 2016 - 2017, and she continues her affiliation with our organization as an active "Friend of WEST" sponsor. She is no stranger when it comes to supporting and inspiring women in the field of STEM. I recently sat down with Jo (virtually), where we talked about her journey. Her smile was infectious, and her journey struck a chord with me.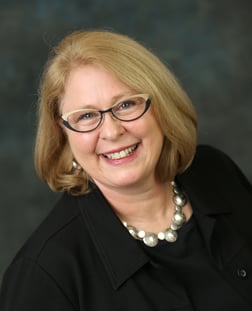 Shreosi Ghosh (SG): Jo, everyone has their share of experiences where they realize "I want to pursue my career in this field!" Was there a particular moment that served as an inspiration for you?
Jo Viney (JV): For me, the deciding point was when I was an intern in the pediatric gastroenterology lab at St Bartholomew's Hospital in London, UK. On my very first day, I observed a child with inflammatory bowel disease (IBD) getting an endoscopy. I was in awe at the ability to look inside the body but was shocked at the damage to the child's gut caused by the IBD. It was that defining moment, way back then, that served as my inspiration, and still serves as my inspiration today. I wanted to learn more about IBD. I wanted to investigate what caused the inflammation. I wanted to explore whether it would be possible to change the course of the disease. After I finished my internship and completed by BSc, I went back to the pediatric gastroenterology lab to study for my PhD – investigating the role of T cells in the intestine. A few years later, I moved to the USA for a postdoctoral fellowship at a biotech company, Genentech. It was here that my eyes were opened to the very real possibility of translating basic research knowledge into discovering and developing drugs to help patients. This experience fueled my inspiration further and ever since then I have dedicated my career to trying to find new therapies for treating autoimmune and inflammatory diseases like IBD. I originally intended to stay in the United States for only the three years of my postdoc. The year was 1993. And I have been here following my mission ever since! :)
SG: Speaking of academia, how was the transition of moving out of academics and entering the industry for a postdoc?
JV: The transition was much easier than anyone thinks. As I mentioned, I was inspired during my undergrad internship to better understand the underlying cause of IBD, so that I could try and find better ways to treat the inflammation. Because of this, I was very motivated to advance from an academic Postdoc fellowship to an industry Postdoc fellowship! Upon starting my industry postdoctoral fellowship, I was totally surprised, and very excited, by in the collaborative research environment in biotech. Research progresses much more rapidly when you are part of a team that works together. It is thoroughly energizing. After my industry postdoc experience, I decided to pursue a career in biotech long term, first at Immunex in Seattle, WA then at Amgen in Thousand Oaks, CA. After 17 years on the West Coast, I eventually moved to the East Coast when I joined Biogen in 2011 to lead the Immunology Research team. After 5 years at Biogen, I decided to leave the world of big biotech and join the startup world. I co-founded Pandion Therapeutics almost 4 years ago, with a focus on developing novel therapies to stimulate the natural immune regulatory mechanisms in the organs affected by inflammation. Over the years, I have received tremendous career development support, and my experience in industry enabled me to grow as an individual, and to map out a fulfilling career journey. Looking back, entering industry when I was a postdoc provided me with the infrastructure to learn from my colleagues and ultimately learn about myself.
SG: When I see or read about success stories, I often see what is in front of me. But I know behind the curtain, it takes a lot of hard work, self-doubt, and sacrifices. Were there any such moments that scared you or made you pause before taking the next step?
JV: It does take a lot of hard work, and although it is fun, there are scary moments when self-doubt needs to be kept at bay! The scariest moment in my career path was when I was about to leave a big company and become the first (and only, for a while!) employee of a startup. That made me question if I was ready for such a huge career change. There were lots of "what if's" -- what if the start-up does not work out, what if I do not like it, what if I can't find lab space, what if I cannot recruit a team, what if I run out of ideas? I did have moments of self-doubt at that time. But I was surrounded by so many people who provided moral support – it taught me the value of having a strong network.
Another fairly scary moment was finding an investor and partner with whom I wanted to work! Finding the right person was really important to me because I wanted to focus on the things that I could do well, like science, and I wanted to partner with someone experienced in building a company. Luckily, we live in one of the greatest biotech hubs in the world surrounded by many, many experts. Luckily for me, I found co-founders with considerable experience in company building, so I was able to put all my energy into developing the science. When we started the company, I felt pretty clueless, but with hindsight, I probably knew more than I thought. My learnings from this experience is that self-doubt is an important part of the process, but don't let this stop you from following your passion!
SG: WOW! So, what was one good piece and one bad piece of advice you received?
JV: Oh! The good advice I received was to make sure I focused on finding the right people and right team to work with. Science is challenging, and not everything works out, so, surrounding yourself with people whom you trust and respect is incredibly important. Bad advice…. hmmm, well people did try to scare me by saying I would be giving up all the job security and benefits that a big company offered…. Luckily I ignored that advice :)
SG: I heard you love dancing! What is your approach to keeping that work-life balance?
JV: Oh yes, I love to tap dance! Work hard, play hard is my mantra! Being comfortable with figuring out what it is that is important in life and work is the key to being successful. People often fall into the trap of not figuring this out and become unhappy with their choice. There is no doubt that this business requires a lot of hard work, but what is the point in having a successful career if you are unhappy? For me, I have a list of personal "life balance" things for which I will not compromise. For example, I will not miss my kid's dance competitions or recitals. I also love live theater – my partner and I have season tickets and we make sure to never miss a show. Obviously live theater is on hold right now, but I cannot wait till we can resume our regular (and precious!) "date nights" 😊
SG: You were a recipient of the WEST giving back award for your mentorship work! How did you first get involved with mentoring?
JV: Early on in my career, I was the very lucky recipient of some really good mentoring from someone outside my organization – this person really looked out for me, recommended me to speak at different conferences, sit on grant review panels etc. Basically this individual provided me a lot of visibility and I really benefitted from his help and it helped kick start my career. Now I try my hardest to do the same for the next generation of scientists by making connections and recommendations for speaking opportunities or manuscript/grant reviews or new job opportunities. I challenge myself each year to think about how to maximize what I do to "give back/pay forward", about how to use my connections to benefit others. I am sure it was this philosophy that got me an award with WEST. WEST is a phenomenal organization that does so much to create a community and network useful to anyone working in STEM related fields. I became a member of WEST, and then a board member, then President, and now I am a "Friend of WEST" supporter. The size of the WEST organization is perfect, large enough to build a diverse network but small enough that I know that I will bump into many familiar faces at events. As you can tell, I have got a lot out of joining WEST by expanding my own network as well! I have built a strong connection and become friends with other WEST mentors and they are now my own go-to people. When you give a little, what you get in return is so much bigger than one could imagine.
SG: We are finally seeing women getting their recognition. But still, we find fewer women in senior positions. Why do you think that is? In comparison, do we still receive fewer opportunities, or what needs to change?
JV: There are many attributes that are valuable for leadership roles. Many of these attributes are often associated with the male style of leadership, which can be an obstacle if you are female and do not easily fit within that stereotype. It can feel like a challenge to break into the fold, but collectively, we can do it! As a general rule, I think we can all be more conscious of how to be more inclusive in the way we communicate with each other – this can help level the playing field and goes a long way to enhance diversity. My advice to everyone reading this is to be inclusive to people who are not in majority, be nice, reach out, add these individuals to your network – collectively we can work together to give each other new networking tips. There is no one right way to create more visibility and opportunity to women, we need to investigate different approaches and work together to make sustainable change.
SG: I agree! So, what advice would you like to give to people? Especially women who are just starting their career or those in their mid-career?
JV: For those starting out, be sure to follow your passion and your heart! Figure out ways to build your skill sets and work hard to fine tune those skills. A career can become a hobby when you realize you are doing something you enjoy. For those at the mid-career stage, I do want to emphasize the importance of working where you enjoy it the most. Figure out who you want to work with! Life is short… so if you have to work hard, make sure you are doing it with people you like and respect! Absorb the energy from your colleagues, it can propel you to the next level.
SG: In conclusion, why would you recommend WEST to others?
JV: WEST is my extended family. WEST is made up of an amazing group of individuals - being part of WEST helps build connections. At WEST, everyone is rooting for you!