Katherine Andersen serves as Head of Life Science & Healthcare Relationship Banking at SVB, which covers growth companies from Series A investment all the way up to Middle Market. She also sits on the Board of Directors for SVB's Joint Venture in China, SPD Silicon Valley Bank. Her team spans the U.S. and focuses on providing advice and delivering specialized solutions in the areas of biotech, tools, diagnostics, healthcare services and IT, medical devices and digital health.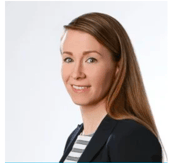 Katherine was raised by a tremendously hard-working Mom who demonstrated great passion, drive and resourcefulness in her career as a special education teacher. That influence helped to create an incredible drive along with her outspoken nature. Thanks in large part to that influence, Katherine has excelled at achieving scale, developing talent around her, and helping to realize a broad impact across SVB while maintaining an active role as a Mom of three children (ages 11, 9 & 7) outside of work. Though, the path wasn't always smooth and she didn't fully realize that being a woman would add challenges to her career until she graduated from college and first entered banking.
She began her career as an Associate in GE Capital's Financial Management Program ("FMP"), which was formal credit training with a series of 6-month rotations. This allowed her to obtain a wide range of skills across a variety of positions over two years. While this at first felt like a "rude awakening" each time she was put in a different rotation or position, she quickly attained confidence and comfort with the constant, steep learning curves.
After completing FMP, Katherine was accepted onto GE's Corporate Audit Staff, the company's training ground for corporate CFOs. She quickly realized this was not the career path she wanted, so she resigned and accepted a position with Merrill Lynch in Equity Derivates in New York City. Looking back on the experience, she noted that it was the confidence she had attained from FMP that allowed her to take that leap. Eventually, she and her then fiancé (now husband) moved to Boston so he could attend Boston College Law. After their move from NYC, Katherine first landed at Affiliated Managers Group, accepting a position in Mergers & Acquisitions. Shortly thereafter, she decided a move back into commercial banking was the right, long-term landing pad and she accepted a position as a Vice President at Wells Fargo.
While working at Wells Fargo, Katherine was also in the process of starting a family. Before going back to work after having her second child, she decided to ask her manager if she could work from home two days a week. At the time, this was notable because it was essentially unheard of in banking. She explained to her husband, "the worst that could happen is that they say no and I'm disappointed." Her manager's response was "absolutely." Her passion and drive for the company sky rocketed as a result and she quickly learned the value of time. Reflecting back on this, Katherine gave the advice to "always ask the question; you're worth it".
Personal experience led Katherine to be motivated to change career paths. While she was working at Wells Fargo, her good friend lost her daughter to leukemia and that was the pivotal point where she decided to focus specifically on healthcare. She said, "If I have to be away from my kids so much during the week, I have to be contributing to the greater good."
When it comes to work-life balance, Katherine pointedly noted she doesn't believe in it. She thinks of it instead as "work-life management" and believes it's important to understand that everyone has unique needs in this regard. Something that has helped Katherine is creating mandatory family time from 6-9pm on the week days. She also noted how some days she feels stronger at work and others she feels like a better Mom – it's never a perfect balance and she has grown to both understand and appreciate that. Regardless, she also stresses the importance of taking time for yourself each and every day – noting that's something she didn't quite understand her first 5 or so years as a parent. The "Mom guilt" was crippling at times and it took a few years to realize just how important self-care is. Her daily "me time" now is taking her road bike out for a long ride or going for a run. She completed her first Ironman 70.3 in 2019 and is hoping to get back to racing at some point in the not-to-distant future.
To women just starting their careers, Katherine advises them to start building a strong advocate base. "Build your own personal Board of Directors", she says. You need to identify the people you feel comfortable around and start to build a relationship. Over time, they will help advocate for you and can also help serve as your voice if you ever have difficulty finding your own. For Katherine, her husband is her most important mentor in addition to an honest sounding board and advisor.
Katherine says WEST is so important to her because "it is such a fantastic group of powerhouse women across the innovation ecosystem." The group focuses on women who are earlier in the career and working to expand their confidence and network while amplifying their voice. Looking back on her career, Katherine wishes she had something like WEST in the first 5-10 years of her career. She notes there's no better place for women to start building their own personal Board of Directors than WEST.