Mariana Nacht, Ph.D., is the Chief Scientific Officer at Cereius, a Biotech startup in North Carolina. She has been a WEST board member for 5 years. Mariana works with scientific personnel on science strategy to meet goals, get funding, and build a successful company.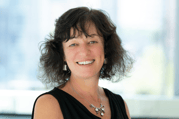 When her kids were young, Mariana was working full-time at Genzyme, a Biotech company based in Cambridge, MA. She recalled feeling like she was "failing on every front" because she could not give both her kids and career the attention they needed. Mariana asked her boss if she could start working part time with 80% pay, and he said yes. This was almost unheard of in 1998, so she is forever grateful for her boss who continued to promote her even after being part time.
When first starting a career, there can be extra challenges women face. Mariana says the best thing women first starting out can do is be confident and advocate for themselves. She explained that if you never ask for what you want, you will never get it. If you ask for what you want, the worst thing that can happen is they will say no.
"Just go for it and don't be afraid."
Mariana also discussed how people just starting out, especially women, sometimes believe the people they are working with know more than they do. She said that people need to be more comfortable with acknowledging what they do not know. Being more comfortable with the struggle will lead to more growth in the future.
Our personality and work ethic can have a significant impact on our career paths. Mariana believes "that for all of us our best quality is also our worst quality." For her, she is very direct in communication and is not afraid to speak up. In her experience, this has gotten her into trouble, but it is also the reason she has been able to succeed in her career.
Mariana recognizes how fortunate she is to have excelled in a STEM field, and she is ready to bring other women along with her. Although she spent some of her career believing she did not want an organization like WEST to exist, now she is grateful it does. Being a board member at WEST has allowed her to expand her network and find even more support in her career.
For a long time, Mariana believed organizations like WEST might not be completely helpful for women. She wanted to be treated equally, and not have the fact that she is a woman to be the focus. "I never wanted to be a woman in science, I wanted to be a scientist." As she moved further into her career, she realized how many women looked up to her for the leadership position she was in. This made Mariana realize how much more work has to be done for women to be equal.
"The fact that I was a woman was not a focus, and that's exactly how it should have been."
The movement for equality does not end at women being CEOs or Presidents. Women being in these highly regarded positions is only the beginning. The action for equality has to include women supporting other women to help bring them along. Mariana said, "I've been fortunate enough to get where I am, but now it's time for me to leave a ladder down."
Mariana hopes in the future that WEST will not have to exist. Someday people will not have to make room for women because women will already be there. Her last piece of advice is to "fake it until you make it because that's what everyone else is doing."