Having just concluded WEST's fiscal year, we would like to thank our 2020-2021 Board Officers: Meena Subramanyam, President; Etta Jacobs, Vice President; Meredith Fisher, Clerk; Eleanor Howe, Treasurer; and Chesley Chen, Advisor & previous Co-Chair. Meredith and Chesley completed their board terms in June and we welcomed a few new Board Members to the team in July. Learn more about WEST's Board of Directors.
As of July 1, 2021, Etta Jacobs serves as President of the Board of Directors, with Patrice Prusko as Vice President, Jennifer Reilly as Clerk, and Eleanor Howe as Treasurer. Meena Subramanyam will remain on the Board as an advisor to the new team.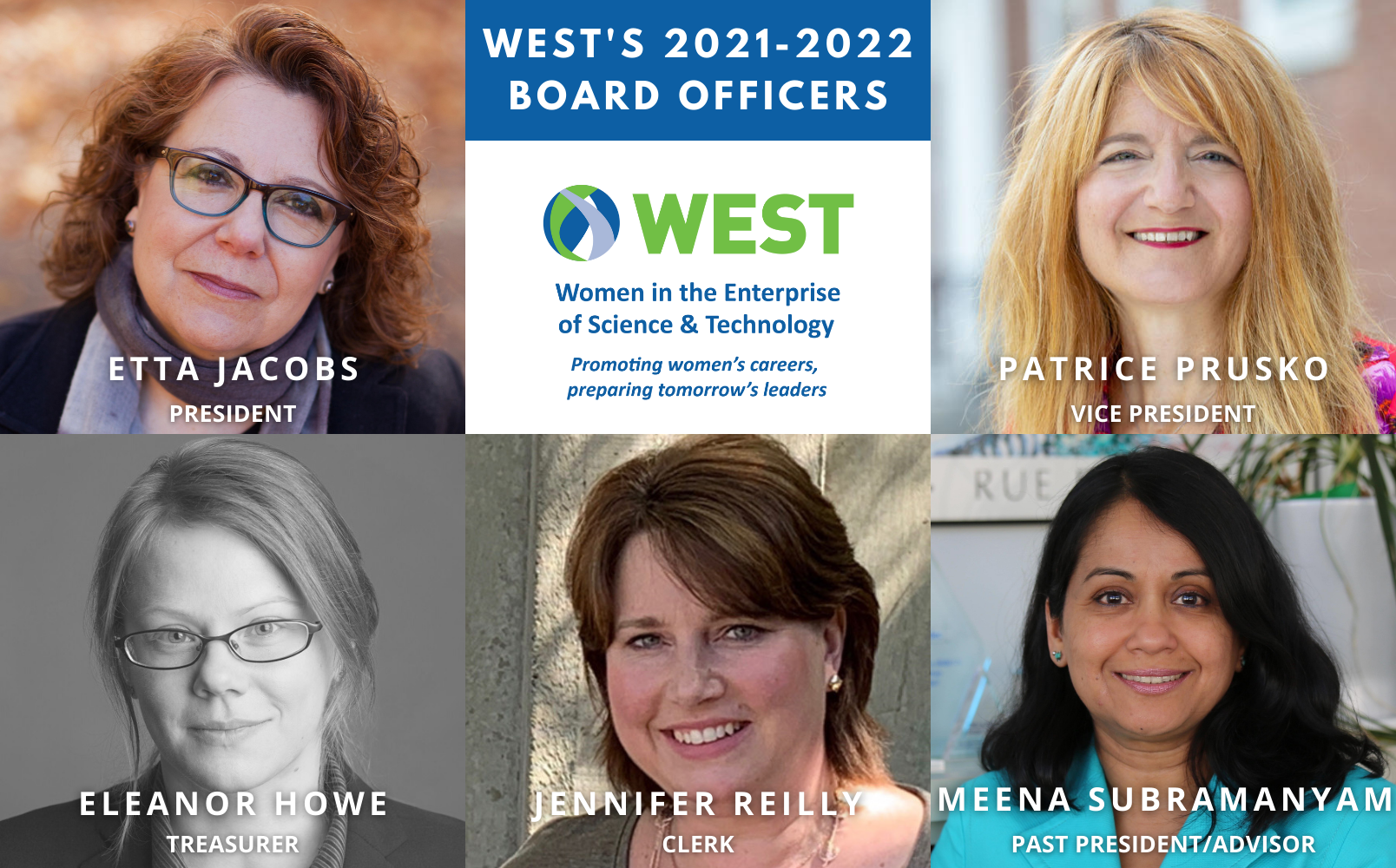 Etta Jacobs, previously the Vice President of the WEST Board of Directors, is the Founder and Principal at Power in the Middle, an executive coaching and training organization. Etta gained her corporate expertise as an award-winning design executive at two Fortune 500 companies, where she coached cohorts of managers and directed teams of creative professionals. Her passion is helping her clients reach their highest potential by guiding them to look at events through different lenses, question their assumptions, find creative and unexpected solutions to their career challenges, and build a career that is aligned with their strengths, talents, and values.
Dr. Patrice Prusko is the Assistant Director, Learning Design, in the Teaching and Learning Lab (TLL) at Harvard Graduate School of Education. She oversees design, development and project management of online and digitally enhanced courses. Dr. Prusko's research focuses on developing course and systems level structures that support inclusive, transformational learning experiences for all students, especially first generation and underrepresented student populations in Science, Technology, Engineering and Mathematics. She is passionate about increasing global access to STEM education for all women. Dr. Prusko believes by increasing access to education for women we can enable more communities across the globe to thrive and flourish.
Eleanor Howe the Founder and CEO at Diamond Age Data Science, a boutique bioinformatics consultancy based in Boston, MA. Prior to founding Diamond Age, Howe served as the go-to bioinformatician in the Center for the Development of Therapeutics at the Broad Institute of MIT and Harvard, where she helped drive drug discovery projects in cancer, cardiovascular disease, and kidney disease, among others. She also worked at the Dana-Farber Cancer Institute, where she led mid- and late-stage development of the Multiexperiment Viewer – a powerful software tool for mining large genomic datasets – and at the Institute for Genomic Research in Rockville, Maryland.
Jennifer Reilly is the President & COO at Safety Partners, Inc. Under Jennifer's leadership, Safety Partners employs 50+ employees and works with approximately 300 clients each year. Prior to joining Safety Partners in 2007, Jennifer served as Senior Laboratory and Safety Manager for the laboratory facility at Alnylam Pharmaceuticals. Jennifer has also held research positions at Biogen, Inc., Curis, Inc. (formerly Ontogeny, Inc.), and Brigham and Women's Hospital in Boston, MA.
Dr. Meena Subramanyam is currently Vice President and Global Program Leader at Takeda Oncology and is responsible for the

strategic and operational management

of the development of Brigatinib (Alunbrig), a therapy approved for the treatment of ALK+ NSCLC. She joined Takeda's gastroenterology group as Global Program Leader in May 2017 and managed the strategic development of therapeutic assets for functional gastric motility disorders. Prior to joining Takeda, Meena spent 19 years at Biogen in Cambridge, Massachusetts. Over her 20 year career in the biotechnology industry, she has contributed to 9 successful BLA and NDA filings. She has served as the chair of the National Biotechnology Conference and as chair of the BIOTEC section of the American Association of Pharmaceutical Scientists. She currently serves as an observer of the Board of Directors of Portal Instruments, Cambridge, MA.