Five years ago, we held a panel on launching or relaunching scientific careers after a career break, working in an unrelated field, or after a delayed start. We are bringing back the same panelists on 4/7 to talk about where they are now. This promises to be an excellent discussion about career progression, with each participant giving us a retrospective view of their career path choices, including comments on "what I wish I knew."
Relaunching careers in scientific research and biomedical engineering, moderated by Carol Fishman Cohen, will tell stories of women who took career breaks and achieved success. It is possible for women to return to work in scientific research, biotechnology, and engineering and thrive in these fields. This webinar is an opportunity for people to listen to inspirational stories from women and learn from their experiences.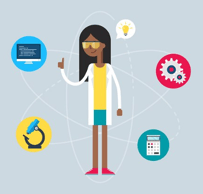 Carol is a "relauncher" herself, having taken an 11-year career break before returning to work as a financial analyst for an investment firm. She then went on to co-author a book "Back on the Career Track," known as the "Bible of career reentry," before co-founding iRelaunch. She is driven by a passion to normalize career paths that include a career break, and recognize the caliber of returning professionals, who do not lose their professional skills and potential simply because they have been away from the workforce for an extended period. iRelaunch works with employers to build and expand return to work programs to hire returning professionals and establish a dedicated pipeline for this excellent talent pool.
iRelaunch has contributed to an institutional shift how employers view career breaks. In employer return to work programs, a career break is required to apply. This is a significant contrast to when employers would often throw away resumes including a career break.
Women have spent decades overcoming barriers that would prevent them from even having a career in science or engineering. Now that women are starting to achieve more equality in these fields, they need even more support to reach their full potential. Society is evolving and with that, many women need leverage to return to their careers after a long break and thrive in them.
Regaining confidence is essential for women to succeed when they feel disconnected after an extended career break. Carol says, "a significant amount of confidence building or rebuilding needs to take place as part of the relaunch process."
The most important step for relaunchers is to decide what type of career they want to return to. Some people want to return to the same career they left, while others may want to relaunch in an entirely new direction. When people are relaunching a scientific or biomedical engineering career, they need to think about what skills need refreshing and how to get up to date with developments in their field. Formal coursework and certificates can often give people an edge when returning to their careers, and help build back their confidence too. Carol advises that people take time to get specific about their career goals instead of rushing into updating their resumes or practicing interview skills. Our experienced panelists will have a lot more advice to add on April 7. See you then!
Join us on 4/7 for Relaunching careers in scientific research and biomedical engineering - 5 years later, where are they now. Register for our other upcoming events too! Career Possibilities: Portfolio Strategy, Project Management, and Scientific Operations on 3/24, Career Possibilities: Medical Affairs - Communications, Publications, Medical Science Liaison on 4/14, and Impact Investing on 4/29.