In conversation with Alicja Januszewicz on the importance of setting goals, how do we know we are setting the right goals and tips on how to achieve the outcome you want.
Phew, it is already mid-2023! A great time to check in on the progress of our goals! In many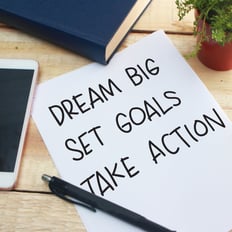 organizations, we set our goals and objectives at the start of a year. There are no rules that goals must start with the new year or that goals will not change or be adapted during the year. Working on your goals can be a journey throughout the year so don't worry if you are unclear on your goals or unsure if they still feel right for you, now is a good time to reflect.
The critical step is to define those goals, making sure they align with your core principles, are clear on what you want to achieve, by when, and who can support you in making your goals happen. This clarity will help you find the steps to get you there, to give you a roadmap. Many people use the SMART framework to map out their goals, I use SIMple. S for Specific, I for Important, and M for Measurable. Make sure you use some kind of framework! Be clear and specific! Take the time to really spell out what you want to achieve; for example, you want to be a pilot. Do you want to be a commercial pilot or fly light aircraft as recreation? The roadmap to achieve these two options are very different. You are clear you want to be a light aircraft pilot? By when? If we don't set a timeline, we cannot move to planning and execution.
You've set your goal to be a pilot by 2025. What steps do you need to take, e.g. instruction and practical experience, time required, and the cost? Are the lessons possible on a weekend to fit your schedule? This helps define the steps toward your goal, e.g. Step 1 - complete pilot license instruction by October 2024.
Share with people who will support you! Support is crucial, maybe your partner will need greater responsibilities at home, or you need flexible work hours from your employer. Sharing your goals isn't just for practical support, it also supports your vision and creates your own cheerleaders on the journey.
You have a plan, you know the steps and by when. Then life gets busy! You need to check-in on your progress, what is working well, where there are challenges, and how could you solve these in a different way. Your plan should be adaptable and outcome focused, sometimes, changing the timelines won't be the solution.
A goal without a plan is just a wish Antoine de Saint-Exupéry
What about setting goals for professional development?
We usually are very good at setting performance goals but often leave the development for later. But the truth is both performance and development are equally IMPORTANT.
The approach to create them is the same. To create meaningful goals in our careers and professional lives we need to be open and think creatively about goals, then focus on the desired outcome. You may start with wanting to secure a promotion, make a career change or gain experience in a specific field. To really inform and guide us we need to consider our ambitions and seek feedback from peers or leaders on where they see your strengths, weaknesses and areas for growth; understand the objectives and drivers of the business, industry or institution you wish to pursue, and how does this align with your values. And of course, check in with yourself, what insights into your behavior do you have, where do you feel your skills may not be recognized and what are your personal principles, what is your north star?
Articulate your goals! And like to the performance goals, apply framework! There are many frameworks for how to structure your goals, e.g., SMART (Specific, Measurable, Achievable, Relevant, and Time-Bound), founded on the common principle of clarity of what you want and creating the path on how you will get there and by when.
Once you have set your goal, then unpack the skills, knowledge and behaviors required and the steps needed to achieve it. Note, it may not be the most obvious or direct path, you may feel like you are looking at a lateral move. The importance is what you are building and adding to your skillset, e.g. you need leadership experience and there is no opportunity in your current area, however, you can take on a leadership role in a different area, which allows you to build/develop your leadership capability.
Development is not a straight line, you may need to adjust your goals, as you grow your priorities may shift; which doesn't mean all your development is not valuable, you have gained valuable skills, knowledge and behaviors that are transferable to the goal you have today. And you may need to adjust the goal timeline, as life happens – this is why constantly monitoring and checking in with yourself is critical.
In our next post we look at how to start moving toward your goals, from some of the fundamentals, e.g. formal education, through to mentoring and learning through experience.