Communication is the key to success in life, work and relationships… especially in uncertain times, it will decide whether we win or fail navigating a crisis.
And yet, often enough we face situations where our message turns into error, misunderstanding or frustration, simply because it was misinterpreted or maybe poorly delivered. And we're left off with a feeling of being lost in translation.
But it doesn't have to be that way!
Join us as we learn from Kristina Albert, Executive Coach & International Leadership Advisor, about simple strategies for powerful conversations and how to become a successful and effective communicator. Watch her intro video here.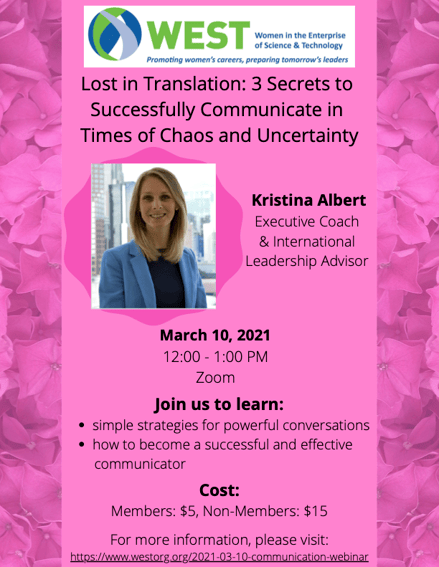 Join us on 3/10 for Lost in Translation: 3 Secrets to Successfully Communicate in Times of Chaos and Uncertainty. Register for our other upcoming events! Career Possibilities: Portfolio Strategy, Project Management, and Scientific Operations on 3/24, Relaunching careers in scientific research and biomedical engineering - 5 years later, where are they now on 4/7, Career Possibilities: Medical Affairs - Communications, Publications, Medical Science Liaison on 4/14, and Impact Investing on 4/29.