On December 9, 2021 at 6:15 p.m., WEST is hosting a free panel discussion to help answer questions like, "what does it mean to be 'the science type'?" and, "how can you recognize your strengths and interests?" Whether you're in high school and beginning to think about your college and career options or an adult pursuing your career as a scientist, this discussion of learning, recognizing your talents, handling adversity, and helping others pursue their own talents will have something for you. You can sign up to join the discussion on WEST's website.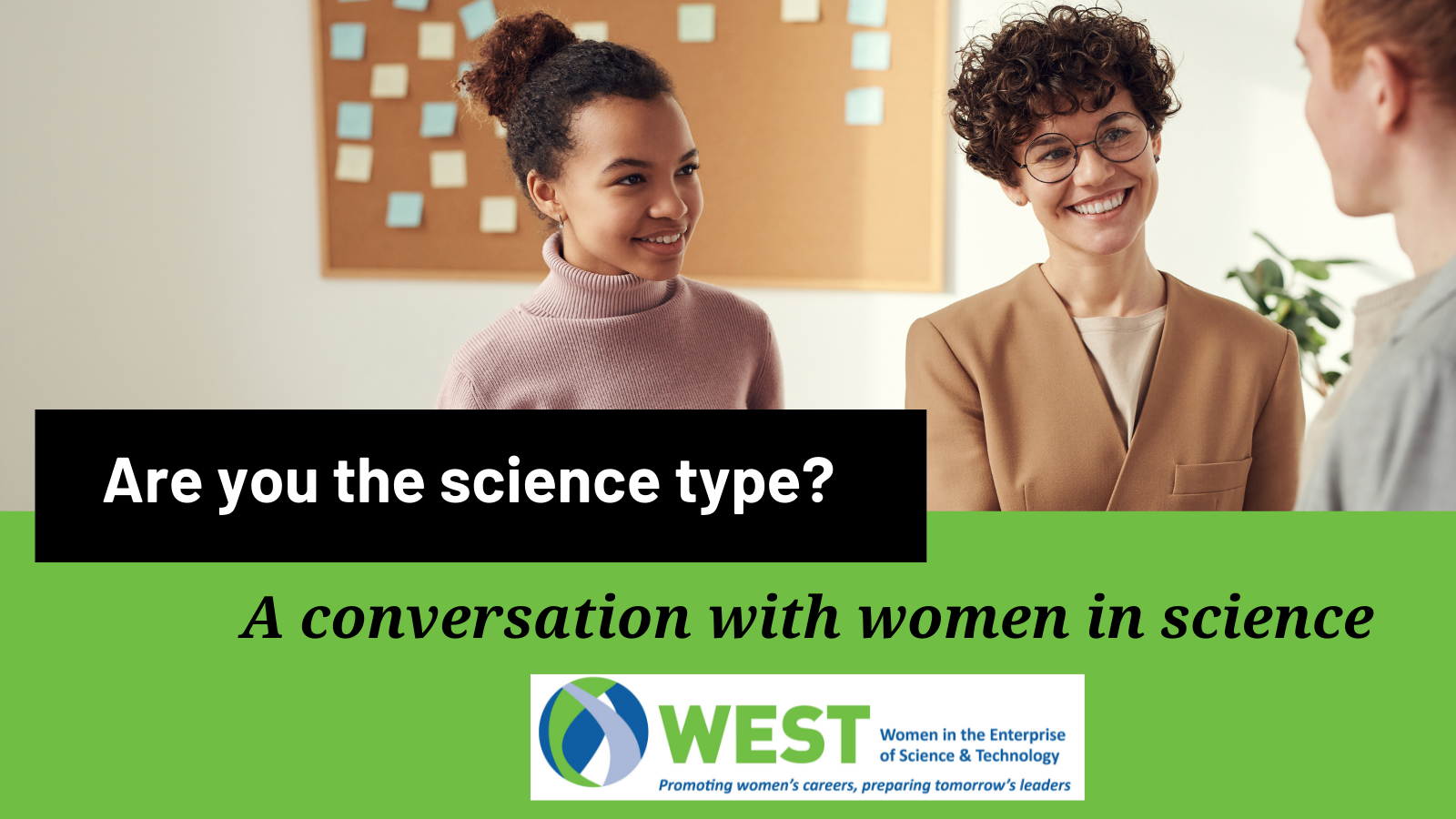 This event will focus on the experiences of four women in science, including their personal journeys as well as their thoughts on science, mentors, setbacks, authenticity, and more. We will watch short video clips and discuss related themes. Two women featured in the clips are Gitanjali Rao & Ciara Sivels.
Gitanjali Rao is a 15-year-old girl with a wide range of passions and interests, including baking, music, dancing, and fencing. She's also an inventor and TIME's 2017 kid of the year. Among her innovations are a device called Tethys, which detects levels of lead and other harmful elements in drinking water, and one called Epione, which helps to detect opioid addiction. For Gitanjali, "innovation is not an option, it's a necessity." Gitanjali remembers her use of a science kit given to her by her uncle in early childhood as an early sign that she had a talent for science, so she knows the importance of reaching out to girls who might not otherwise consider a career in STEM, and now she does just that. "One girl cannot solve all of the world's problems, and that's exactly why I'm hoping to solicit new innovators into the world of STEM."
When she was in high school, Ciara Sivels knew that she was good at math and science, but she hadn't considered science as a career path--she had always wanted to be a chef. When she took chemistry, though, her teacher not only helped her make the connection between cooking and chemistry, but also noticed her exceptional talent for the subject. He encouraged her to consider studying chemical engineering and eventually apply to MIT. A few years later, she became the first Black woman to get a PhD in nuclear engineering. Reflecting on her experience, Ciara says,
"Yes, I'm the first, and I'm going to open this door up for other people coming behind me, but why did it take so long? How is there still the first Black woman to do 'X'? Part of it, yes, is systemic racism: we weren't even allowed to go to a place like MIT. There's an issue of access, there's an issue of exposure. When I was presented with the opportunity to go to MIT, I saw that as an opportunity to open the door for people like me to come in and be involved in these fields. And now I've arrived at Johns Hopkins University Applied Physics Lab, where I'm a nuclear engineer."
Join WEST to hear more stories like Gitanjali's and Ciara's, and to discuss how you can learn from these inspiring women as you pursue your interests, strengths, and dreams, and support other girls and women in pursuing theirs.