Change is constant in the industry, so it is necessary to be constantly thinking about your development. Are you facing a career transition or considering your next career move? Are you in a role that is no longer a good fit for you? Are you feeling stagnant in a role with no clear path for growth, but afraid to take the leap? Are you challenged by how best to present yourself in virtual interviews? Or, have you just been laid off, and worried about how to begin a new job hunt in the current remote work environment? You are not alone.
All of us, at some point in our careers, have faced and will face job and even career changes. Sometimes these changes are voluntary and opportunistic transitions; at other times these changes may be forced upon you unexpectedly. Each of these changes should be viewed as integral to your career journey. The challenge is how to make sense of these changes and to view them in the larger context of growth and personal development.
In this 90-minute Zoom event, you will hear stories from Tatiana Demidova-Rice, Director of Business Development at Evotec and Katherine Turner, Writer/Editor at ACIR.org who have successfully navigated through major transitions in their careers. You will have the opportunity to ask questions of these women to help you through your own transition. Whether or not you are currently looking for a job, you can move to breakout rooms where you can discuss transition-related topics with fellow members of the WEST community. You will also have the chance—in breakout rooms—to speak with representatives of companies who are hiring and learn more about their companies, the culture, the roles they are hiring for, and the skills the industry is looking for now.
If your team is hiring, this is the event for you too. You will be able to meet with members of the WEST community who are looking for new career opportunities.
Date and Time:
February 22, 2021
6:00 - 7:35 PM EST

Agenda
6:00-6:05pm: Welcome
6:05-6:15pm: Structured Networking
6:15-6:35pm: Keynotes
6:35-7:00pm: Transition topic breakout rooms (2 rotations)
(preparing for transition, cultural fit, getting unstuck, parent break, in transition,
hiring challenges for those recruiting)
7:00-7:30pm: Informational interviews about the job openings and company w/ companies
hiring in small group breakouts (3 rotations)
(Companies include Addgene, Allena Pharmaceuticals, Codiak BioSciences,
Dyno Therapeutics, Evotec, Flagship Pioneering/FL78, Gingko Bioworks,
Ironwood Pharmaceuticals, KSQ Therapeutics, LogicBio, LifeMine Therapeutics,
Pandion Therapeutics, Safety Partners, Takeda)
7:30-7:35pm: Closing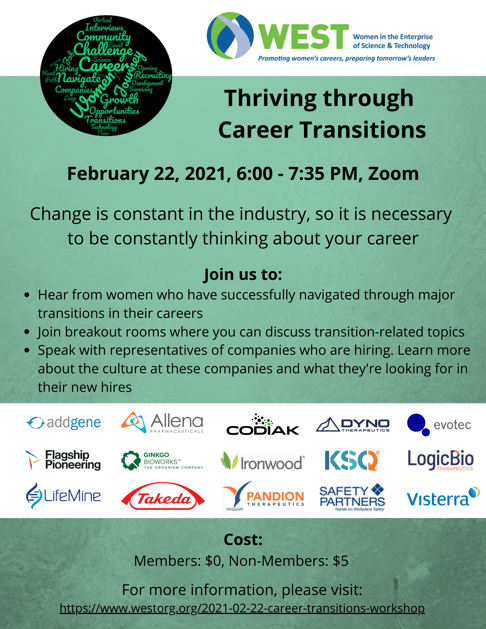 Join us on 2/22 for Thriving through Career Transitions. Register for our other upcoming events! Career Possibilities: Discovery and Research on 2/10, Organizational Change to Achieve Equity on 2/18, and Career Possibilities: Clinical, Regulatory, and Development on 3/3.