Do you think you deserve a higher salary in the job offer? Are you aiming to score that promotion this year? Frustrated by the growing workload and the dwindling resources? Couldn't get to agreement with your team about project deliverables and timelines? Regardless of your role, we negotiate everyday. And these difficult conversations always wrack our nerves. WEST's first workshop in 2019 by Amy Rebecca Gay provided a framework and practical tools to help us navigate self-advocacy and increase effectiveness in negotiation.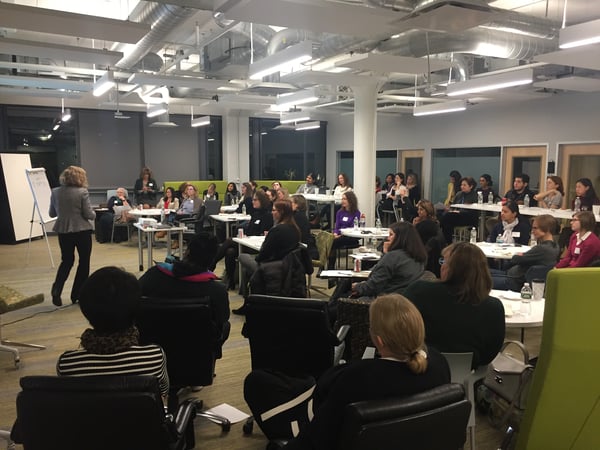 First we learned about the persistent gender difference in negotiation. According to a recent survey by Glassdoor, "Women negotiated less than their male counterparts. Sixty-eight percent of women accepted the salary they were offered and did not negotiate, a 16-percentage point difference when compared to men (52%)." Deeply ingrained societal gender roles lie at the root of the gender gap in negotiated outcomes, researchers have concluded. So how do we take advantage of this knowledge of gender gap and achieve better results at the bargaining table?
From this insightful workshop, I summarized three concrete suggestions for women negotiators.
"Think personally, act communally." – Sheryl Sandberg
Pretend you are negotiating/advocating for someone else. Research shows that, in comparison with male counterparts, women take higher social costs when initiating negotiation. Partially because of women's social needs to maintain good relationship and be nice, we get penalized more at the bargaining table. The flip side in negotiation is fear of backlash: we don't want to be perceived as "bossy" or "aggressive". The more we fear something, the longer and more fervently we stay away from it, and the greater power we give it — a vicious cycle.
One way to overcome this challenge is to reframe the negotiation as though you are negotiating on behalf of the larger team and the organization. For example, a woman who negotiates for increased resources to enhance the quality or the productivity of her department will be seen as collaborative, not aggressive. Research also demonstrates that women who adopt "other advocacy" or "I-We" strategy, in which they show concern for the other people's benefits, can minimize the social cost of negotiation.
Prepare, prepare, prepare
Preparation is key to any negotiation. Research the issues, the key stakeholders and the economics behind the scenario. Asking yourself what you want and why, thinking through acceptable alternatives, and developing specific tactics for being persuasive — can significantly increase your confidence and competence. Moreover, thinking through other desirable outcomes or options will give you flexibility and comfort in the face of rejection, as you know that you don't have to take whatever is offered.
Utilize training and experience to narrow the gap in negotiation
Take advantage of all kinds of negotiation-related career development resources offered by your employer. Ask your HR about employee continual education program and ACT on it.
The book "Getting to Yes: Negotiating Agreement Without Giving In" by Roger Fisher, William L. Ury, and Bruce Patton has been deemed as textbook in many negotiation courses, and training programs. In this book, the authors laid out a step-by-step strategy for coming to a win-win solution that helps you meet your goals while preserving the relationship.
The non-profit organization Lean In by Sheryl Sandberg after her bestselling book shared tons of negotiation tips and resources specifically for women.
Harvard Law School complied a series of blog articles addressing challenges facing women negotiators.
Last but not least, WEST has lined up another workshop on "Both Sides of Negotiating Equal Pay" on March 13, 2019. To get a deep dive into the best negotiation practices in hiring, promotion, and review process, click here now to register for the event!