It's that time of year again! The time of year where the list of people to shop for is much longer than the list of ideas for what to buy for each person. Gift giving can be a truly rewarding experience, but what to buy can be a truly exhausting one. This year, the WEST leadership team is here to help take the stress out of holiday shopping and simply add to the rewarding experience of gift-giving.
The WEST Holiday Gift Guide is here with a variety of items to cover every person on your shopping list!
Gifts For Your Favorite Reader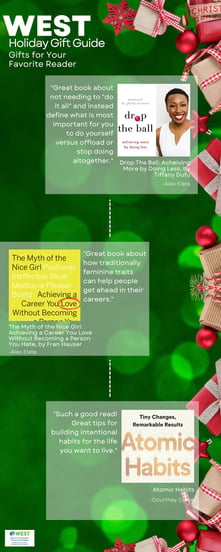 1. Drop the Ball: Achieving More by Doing Less. Written by Tiffany Dufu
"Great book about not needing to "do it all" and instead define what is most important for you to do yourself versus offload or stop doing altogether." -Alex Elata
2. The Myth of the Nice Girl: Achieving a Career You Love Without Becoming a Person You Hate. Written by Fran Hauser
"Great book about how traditionally feminine traits can help people get ahead in their careers." -Alex Elata
3. Atomic Habits: An Easy & Proven Way to Build Good Habits & Break Bad Ones. Written by James Clear
"Such a good read! Great tips for building intentional habits for the life you want to live." -Courtney Cyron
Gifts For Your Young Ones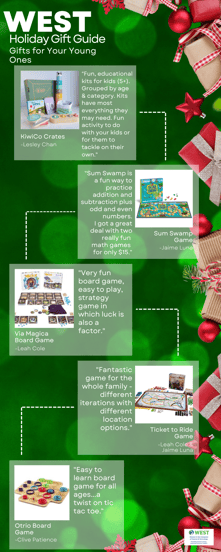 "Fun, educational kits for kids (5+). Grouped by age & category. Kits have most everything they may need. Fun activity to do with your kids or for them to tackle on their own." -Lesley Chan
"Sum Swamp is a fun way to practice addition and subtraction plus odd and even numbers. I got two really fun math games for only $15." -Jaime Luna
"Very fun board game, easy to play, strategy game in which luck is also a factor." -Leah Cole
"Fantastic game for the whole family - different iterations with different location options." -Leah Cole & Jaime Luna
"Easy to learn board game for all ages...a twist on tic tac toe." -Clive Patience
Gifts For Your Favorite Chef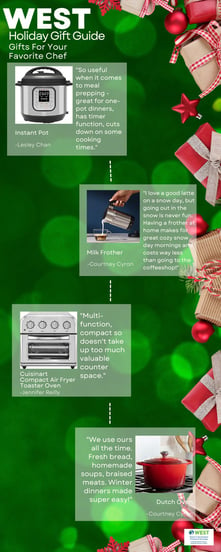 1. Instant Pot
"So useful when it comes to meal prepping - great for one-pot dinners, has timer function, cuts down on some cooking times." -Lesley Chan
2. Milk Frother
"I love a good latte on a snow day, but going out in the snow is never fun. Having a frother at home makes for great cozy snow day mornings and costs way less than going to the coffeeshop!" -Courtney Cyron
3. Cuisinart Compact Air Fryer Toaster Oven
"Multi-function and compact so doesn't take up too much valuable counter space." -Jennifer Reilly
4. Dutch Oven
"We use ours all the time. Fresh bread, homemade soups, braised meats. Winter dinners made super easy!" -Courtney Cyron
Subscription Gift Boxes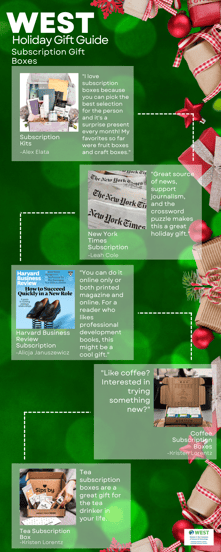 1. Subscription Kits
"I love subscription boxes because you can pick the best selection for the person and it's a surprise present every month! My favorites so far were fruit boxes and craft boxes." -Alex Elata
2. New York Times Subscription
"Great source of news, support journalism, and the crossword puzzle makes this a great holiday gift." -Leah Cole
3. Harvard Business Review Subscription
"You can do it online only or both printed magazine and online. For a reader who likes professional development books, this might be a cool gift." -Alicja Januszewicz
"Like coffee? Interested in trying something new?" -Kristen Lorentz
Tea subscription boxes are a great gift for the tea drinker in your life. -Kristen Lorentz
Gifts For All Your Favorite People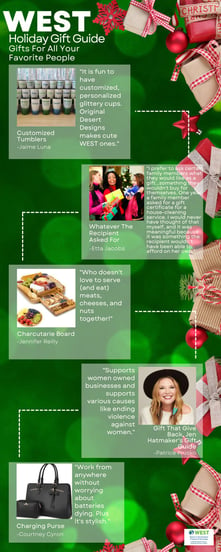 "It is fun to have customized, personalized glittery cups. Original Desert Designs makes cute WEST ones." -Jaime Luna


2. Whatever The Recipient Asked For
"I prefer to ask certain family members what they would like as a gift...something they wouldn't buy for themselves. One year a family member asked for a gift certificate for a house-cleaning service. I would never have thought of that myself, and it was meaningful because it was something the recipient wouldn't have been able to afford on her own." -Etta Jacobs
"Who doesn't love to serve (and eat) meats, cheeses, and nuts together!" -Jennifer Reilly
4. Gifts That Give Back, Jen Hatmaker's Gift Guide
"Supports women owned businesses and supports various causes like ending violence against women." -Patrice Prusko
"Work from anywhere without worrying about batteries dying. Plus it's stylish." -Courtney Cyron
Stocking Stuffer Gifts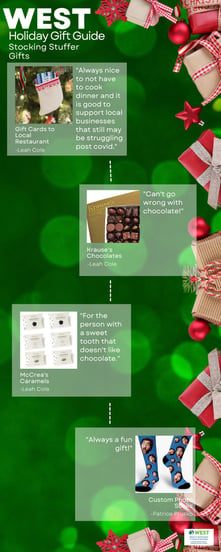 1. Gift Cards to Local Restaurants
"Always nice to not have to cook dinner and it is good to support local businesses that still may be struggling post covid." -Leah Cole
"Can't go wrong with chocolate!" -Leah Cole
"For the person with a sweet tooth that doesn't like chocolate." -Leah Cole
"Always a fun gift!" -Patrice Prusko
Gifts For The Person Who Has Everything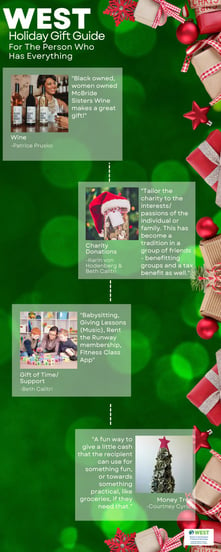 "Black owned, women owned McBride Sisters Wine makes a great gift!" -Patrice Prusko
2. Charity Donations
"Tailor the charity to the interests/ passions of the individual or family. This has become a tradition in a group of friends - benefitting groups and a tax benefit as well." -Karin Von Hodenberg & Beth Calitri
3. Gift of Time/Support
"Babysitting, Giving Lessons (Music), Rent the Runway membership, Fitness Class App" -Beth Calitri
4. Money Tree
"A fun way to give a little cash that the recipient can use for something fun, or towards something practical, like groceries, if they need that." -Courtney Cyron
As an Amazon Associate, WEST earns money from qualifying Amazon purchases when you use the links without it costing you any more.
More games and youth books: