Another day headed into work, and you're stressed about it before you even leave the house. You get to work and find that something just isn't going your way, and you haven't even finished your morning coffee yet. You've been stressed at work, about work, just thinking about work for weeks now and you know something's got to give. Finally, it does. Your boss sends an email that just sends you over the edge and you decide you just can't deal with it right now and take an early lunch. At lunch, you find yourself sitting there thinking, "It's just me. This job doesn't seem this stressful to anyone else, there must be something wrong with me."
Dr. Allessandria Polizzi was in a similar situation. She was the head of HR for a veterinarian company with several thousand employees, and just couldn't take the stress and burnout anymore. She started searching for how to cope with that kind of stress and found dead ends everywhere she looked. Finally, she started researching and diving into the world of academic research on coping with stress. After reviewing a century of research on this topic, Dr. Polizzi brings some of the insight from her resiliency training to the WEST community in her session, "Overcoming Overwhelm: A 3-Step model for Bouncing Back."
The first, and most important thing to understand in starting this course is this: "It's not just you. What you feel is natural. You're not broken," says Dr. Polizzi. Humankind has spent the last 200 thousand years training ourselves to have one of several reactions, the most common being fight or flight. Feeling the urge to fight against your work stress, or run from it entirely is a completely natural stress response. Which can leave a lot of us wondering what we do about our stress that can prevent the most dramatic fight or flight episode ever seen. That's where Dr. Polizzi comes in.
In this particular session from Dr. Polizzi's 5 part series, she will walk you through how to identify their stress styles and help you begin to develop coping strategies around it. This session will give you the foundational tools you need to retrain your brain in how to react to stress. Once you have these tools to use in stressful situations, you can move from emotional, knee-jerk reactions, to thoughtful and proactive responses. You can be much clearer about your values and goals and how your responses can still support those, even in tough situations. You can move from feeling bad for feeling bad about a situation, to mindfulness, compassion, and acceptance for yourself. Leaving this session, you will have at least a few basic tools you can begin to use to immediately make a difference in overcoming your own overwhelm.
For those in leadership positions, this topic and these skills are even more important. There's the old saying that 'it comes from the top down.' This saying can refer to a number of things, but when it comes to office and company culture, it can't be more true. When your boss is stressed and acting out because of it, that just adds to the stress in your day, which often triggers you to do the same with those you lead, and so on. When leaders take the time to learn these proactive stress coping skills, they are less likely to pass their stress down the line. Putting a stop to the stress domino effect creates a more psychologically safe workplace, which is the key to successful teamwork.
For leaders that love this session, Verdant Consulting can work with the State of Massachusetts to have state-funded training brought to your company.
After spending a third of her career in tech and educational course design positions, Dr. Allessandria Polizzi took the skills she gained in these areas and used them to help end burnout for thousands of people worldwide. She founded her company Verdant Consulting in 2016. Since founding her company she has trained affiliates worldwide to coach burnt out employees through bouncing back in a variety of industries, languages, and cultures. Verdant Consulting was recently named a Top 20 Workplace Wellness provider by Ragan's Workplace Wellness.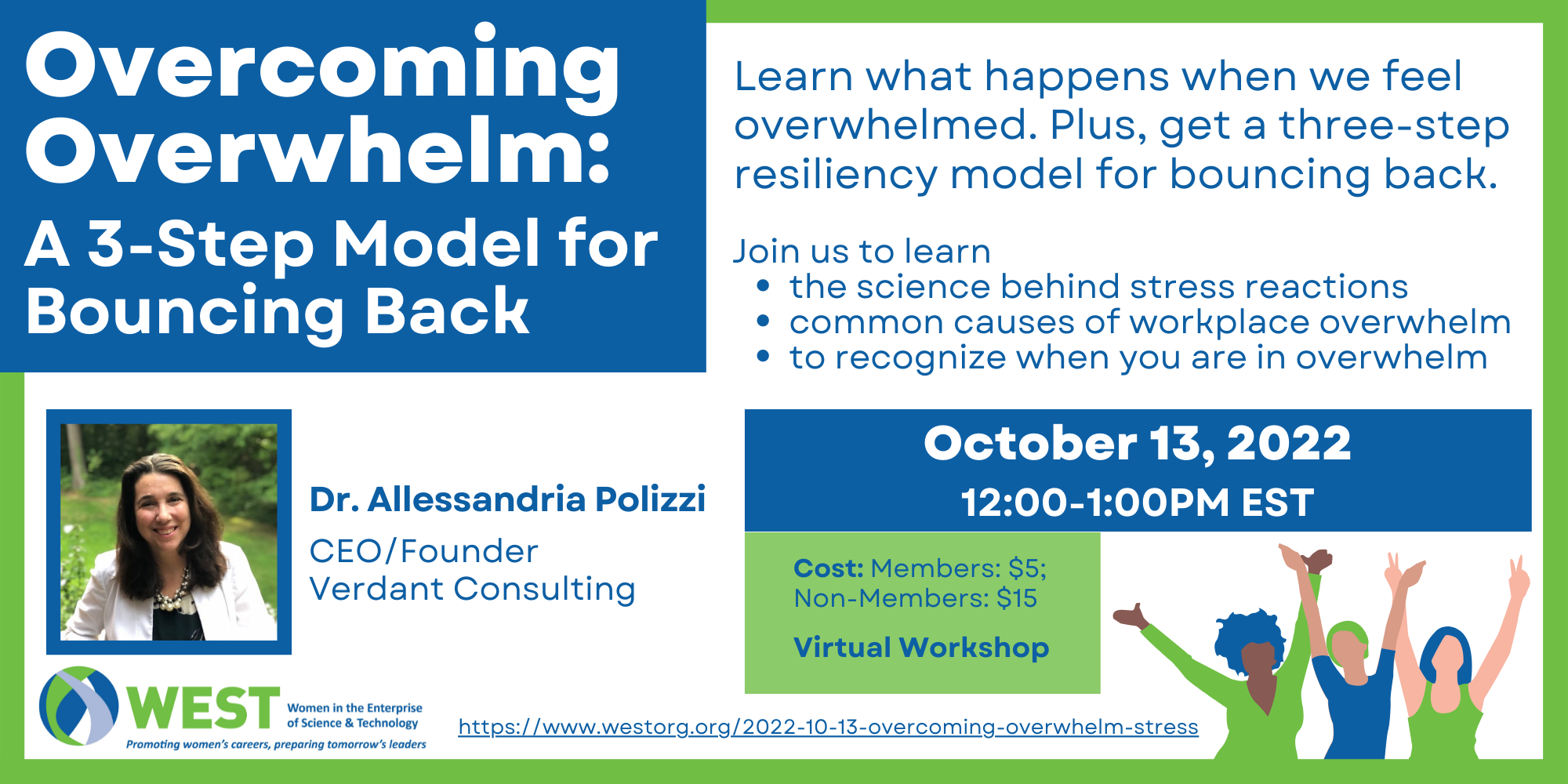 #WESTorg #WESTevents #networking #resilience