Being part of a Board of Directors can seem like an exclusive, illusive position. It can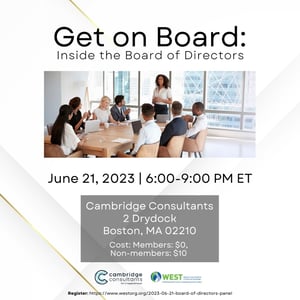 seem like no matter how much you would really love to be part of an organization's success, how much you'd like to support a nonprofit's goal, being on the Board of Directors can feel out of reach. For many, it's not that it's out of reach, it's that there isn't always a clear path or easy to find information on requirements, process, support, or even general guidance on where to begin.
WEST knows the true value that each Board Member brings to an organization. We are always grateful for the insight, excitement, and endless pursuit of our mission that our Board Members and Advisory Board Members bring to WEST. Knowing how important Board Members are to an organization, WEST is thrilled to be bringing the event "Get on Board: Inside the Board of Directors" to our community. Our panel for this event will feature Susan Graf, Minji Kim, and John Sundy. This event will be moderated by Ann Miller. The speakers have years of experience at a variety of companies, serving in a variety of different projects. The panelists will be sharing their experience, how they found the opportunity to serve on a Board, and what their experiences while serving on a Board have been.
WEST got the chance to chat with our upcoming panelists and a few WEST Board Members about their experiences. These conversations will give you a great little sneak peak into what you can expect at next week's "Get on Board: Inside the Board of Directors" event. Read our conversation below, and register to join us on June 21st here! Speaker bios can be found on our event webpage.
Q: Can you tell readers a little about how you learned about your organization(s) and what made you want to be part of the leadership?
Susan Graf: What initially attracted me to Finch Tx was the opportunity to join the board of a late clinical development stage company on a path to commercialization and that was also executing their IPO.


Alicja

Januszewicz

: Usually, the organization is looking for a very specific profile of a Board Member to augment/support the critical decisions. A science background may be needed or business development or quality. Then the open role on the board needs to be filled with someone who brings this set of skills/experience/knowledge to the table to enrich conversations, advise, ask good questions, and bulletproof future decisions.
Q: What is the most rewarding aspect of serving on a board?
Etta Jacobs: For me, it's been a powerful way to give back. WEST's mission is one I believe in so strongly. As President of the Board of WEST, it's been inspiring to see the impact our Board has had on our community members' lives and careers. Our Board is committed to listening to our community and expanding the range of programming to meet their needs. I've also met an extraordinary group of brilliant and committed individuals from whom I learn every day. Joining the Board of WEST has made me a stronger and wiser advocate for women.
Eleanor Howe: Networking, yes, as Etta said, but also learning how organizations are run at the top level.
Meena

Subramanyam

: A board position helps one understand the big picture, the entire ecosystem whilst making an impact on a cause you are passionate about. The advantage of being a member of a diverse board is also the learning opportunity from diverse perspectives.
Susan Graf: The ability to help management 'see around corners'. I've faced most of the key challenges in our industry either as a C-suite exec or board member. Having lived such challenges gives you a different perspective and enables you to help management navigate.


Lesley Chan: Echoing what Meena said, being on the board with a diverse group of people I may not otherwise have crossed paths with, has helped broaden my view to see a topic from multiple perspectives and to consider the impact of a decision on an expanded scale. Most rewarding for me is being a part of the ideation and implementation of initiatives and then seeing the impact it has made to our community.
Q: What have been some of the biggest challenges you have faced in your Board of Directors role(s)?
Susan Graf: Given the financial climate in the last 18 months, I'm pretty sure I've faced all of the big board challenges during that time frame: partial clinical hold, patent litigation, reduction in force, major strategic pivot and CEO change! Is there anything else??
Q: What advice would you give someone just exploring the idea of being on a Board?
Susan Graf: There are many ways to learn more. A fairly easy one is speaking with executives who present to boards about their purpose for presenting, their experience in the boardroom and qualities they see in 'effective' board members. Getting exposure to agendas from your own company's board meetings will go a long way to understanding the types of topics boards discussed. Ideally, exposure to a live board meeting and discussion with board members, either at your own company or other companies will provide additional insight.
Q: Being on the c-suite seems to be a prerequisite, I am very far from that, what advice do you have?
Meena

Subramanyam

: The qualification requirement depends entirely on the role the individual will fill on the board. Board roles generally require the breadth and depth of experience that is typical of senior level positions. However, non-profit organizations tend to be less stringent about the title of your position. The focus tends to be more on your commitment to the cause, bandwidth to contribute, outreach and influence in the community, etc. to advance their mission.


Susan Graf: Seek to engage leaders more senior than you, ideally within your own company, in a conversation about their career and the choices they made to achieve their success. In addition to seeing numerous career paths, the more senior person may be able to advocate for you to be assigned to special projects and take on additional responsibilities that can not only build skills, but showcase the ones you have. Also, don't forget to ensure that your direct manager understands your aspirations and ask them for suggestions as to what you can do to build your skillset.


Etta Jacobs: Consider looking into joining a non-profit Advisory Board first. Dr. Miller recommended starting here, to give you the experience for your resume, as well as the insights and connections that could open doors for you to join a non-profit Board.
Q: What are some of the skills you have that make you a good Board Director?
Susan Graf: very broad experience, both in terms of functions (e.g. manufacturing, sales, marketing, bus dev, M&A, finance, corp strategy) and types of companies (e.g. large pharma for 18 years, followed by a decade in biotech spanning C-suite roles for start-up, preclinical, clinical and commercial stage biotech)
Q: Any advice on leveraging non-profit board experience toward future potential corporate board experience?
Eleanor Howe: You'll want to be a working contributor with an established role, like the Treasurer, or President, or Chair of a committee. When companies go looking for an independent board member (that is, one who isn't associated with their investors) they have specific roles they need to fill that must be filled by independents, including finance, governance and compensation. Get that experience and you're much better positioned for that independent director role.
Q: How important is the factor of 'conflict of interest' while serving on multiple boards?
Meena

Subramanyam

: It is quite important as we heard today. It is prudent to discuss a new opportunity with the President of the board you are currently serving on to ensure that there are no overlapping interests between the organizations.
Register & Learn More About the Event