About a year ago, WEST launched what has become one of our most popular series: WoW -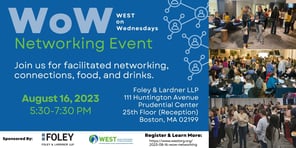 WEST on Wednesdays Networking. These events are approximately once per month, with each event usually having a sponsor host in their company's space. This constant moving of the event allows for a different atmosphere and new people to network with each time. The atmosphere, appetizers, and drinks are all great reasons to attend, but the real value lies within the community that gathers together for each event. "I love when corporations in the heart of the innovation hub here in Cambridge/Boston generously provide their locations. The

inspirational surroundings help create a vibrant atmosphere that fosters both professional and personal conversations. Having been a WEST virtual mentor this past year, I particularly enjoyed meeting some of my mentees and fellow mentors at the events, helping to strengthen those relationships," shares Jocelyn Dunphy, WEST Member.
"WEST has cultivated something really special in their WoW networking series: open

networking in such a welcoming community that feels like a delight rather than more work. We can connect with colleagues and friends about aspirations, challenges, transitions, and just everyday life. Every WEST conversation has strengthened my professional foundation and it's thanks to the people, culture, values and mission that is uniquely WEST," shares Jessica Louie, Advisory Board Member.
There have been many many articles written about the value of professional networking, all proposing a variety of reasons that you should consider participating in networking events. What they all have in common is the connections that you build during these events. Some will become friends, some will become colleagues, others may become a mentor for you. All of these relationships can play a vital role in your continued professional development and success.

If you ask anyone who has attended a WoW Networking event, one of the most impactful things about these events are the connections. Attendees will share about their day, what they do professionally, how they got there, and they might even have some advice for you as you continue to grow in your career. "WEST has been immensely valuable to me, providing a diverse range of relevant networking events and an exceptional professional networking group that fosters genuine friendships and meaningful connections within the community," shares Karen Weisinger, a WoW attendee and WEST Member.
"The WEST community has become a valuable network of mentors, peers, and friends, who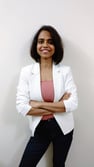 continue to uplift and empower one another long after the events conclude. I am immensely grateful for the opportunities WEST has provided and the lifelong connections it has enabled me to make," shares Pallavi Srivastava, WEST Member.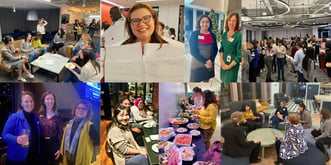 What constantly stands out about the WEST community is that just because you met someone once, doesn't mean your connection, or your relationship with them has to end there. The WEST community stands out because it is always open to supporting others, even if they may have only met once. "Making connections and networking is critical for career growth. I'm grateful for the WoW events providing a fun, friendly, caring and welcoming environment. I always leave with several new connections, nuggets of advice, and new learning from so many inspiring

stories," shares Patrice Torcivia Prusko, WEST Past President. The value of making a connection that you can reach back out to a few days later, a few weeks later, or even a few years later can be pivotal in your career.
WoW Networking events are often open, professional social hours to facilitate natural conversations, but there is always someone to connect you

to someone new in the room; there are even a few WoW events with special speakers and activities. There is always a little something for everyone! "WEST WoW networking and themed events set the standard for excellence in professional growth and community support. These events are always arranged with the right topics to get underneath the standard "networking" and provide relevant & meaningful insights," shares Juliette Chen.
If you've been looking for a STEM community that is known for being engaged, supportive, and connected, WEST is the place for you, and WoW Networking events are a great place to get started! The value of having career support from like-minded professionals goes far beyond a quick hello and much deeper into key introductions, mentorship, and friendships that make the STEM industries feel like a great fit for so many.
Join us August 16, 2023 from 5:30-7:30 PM ET at Foley & Lardner LLP, for our next WoW event and see what everyone is talking about!
Save the date for future WoW events:
September 13
October 18
November 15