WEST is celebrating African American History month by highlighting African American women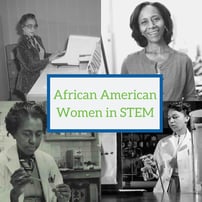 in STEM careers that have made critical contributions in their fields. These are women who have paved the way for equal opportunity employment to continue to progress each and every day. The women we have selected to be highlighted put in years of work to chase their dreams and break through barriers in order to live lives that were truly fulfilling to them. The personal and professional characteristics of these women are worth celebrating everyday throughout the year.
Each woman represents one area of STEM industry (Science, Technology, Engineering, and Mathematics). Learn more about these women below:
Science: Alice Ball
Alice Ball was a chemist who developed the first successful treatment for leprosy. She earned undergraduate degrees in Pharmaceutical Chemistry and Pharmacy from the University of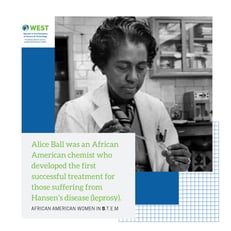 Washington in 1912 and 1914. She was also the first African American woman to graduate from the College of Hawaii (now the University of Hawaii) with an MS in Chemistry. She then became the institutions first woman chemistry instructor at 23 years old.

Her research led her to discover that an oil from the chaulmoogra tree could be used more than just topically, as it had previously been. She discovered the Ball Method of leprosy treatment involved isolating the oil into fatty acid components of different molecular weights, which allowed her to manipulate the oil into a water soluble injectable form. This method was life changing to leprosy patients around the world, and allowed so many 'banished' leprosy patients to return to their lives and their families without symptoms of leprosy.
Technology: Carolyn Parker
Carolyn Parker was the first African American woman to earn a postgraduate degree in physics from MIT (1951). Prior to completing her MS in Physics, she earned her bachelor's from Fisk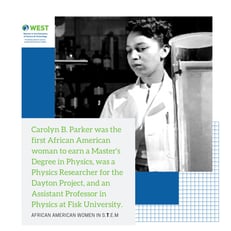 University (1938) and her MS in Mathematics from the University of Michigan (1941).

After completing her bachelor's and MS in mathematics, Parker became an instructor at Bluefield State College, where she was recruited to work on the Dayton Project at Wright Patterson Air Force Base in Ohio. As a Research Physicist, she worked on the Dayton Project throughout WWII and into the Cold War. Her research focused on using polonium as the initiator for atomic explosions.

After completing her time on the Dayton Project, Parker became an Professor of Physics at Fisk University until she began to experience symptoms of leukemia. Leukemia was a known risk of working on the Dayton Project, and unfortunately, Carolyn Parker lost her battle with leukemia in 1948. Her legacy is continued by her family, as well as a scholarship fund for others looking to further their education in Physics.
Engineering: Marian Croak
Marian Croak is currently proving history is still in the making. With over 200 patents and induction into the Inventors Hall Of Fame, she is continuing to pioneer equity and diversity in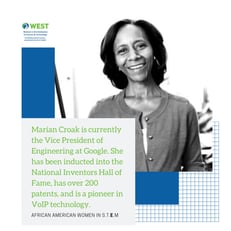 STEM fields.

She is currently the Vice President of Engineering for Google. Her research and development in VoIP (Voice over Internet Protocol) technology spearheaded the future development of communications technologies that paved the way for remote work services like Zoom.

She earned her bachelor's degree at Princeton University and her PhD in Quantitative Analysis and Psychology from the University of Southern California. After completing her education, she worked for AT&T Laboratories for over 3 decades. During her time with AT&T she began pursuing a transition to TCP/IP technology and her research in VoIP technology. Throughout her research, she patented over 200 technologies related to digital communications. Her technologies have helped charitable organizations be able to receive donations via text message and American Idol set up a voting system relying on text messaging.

Thanks to Marian Croak and her teams throughout the years, communications have been dramatically and forever changed. She continues to lead in changing what the Internet is capable of doing at Google, making history every day.
Mathematics: Katherine Johnson
Katherine Johnson was one of the first African American women to work for NASA. She was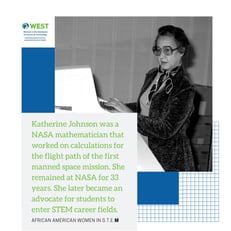 known as the "human computer" performing complicated calculations critical to the success of several space missions, including the first manned mission to space. Her contributions at NASA were crucial to the success of John Glenn and Alan Shepard's space missions, as well as the success of quickly finding the Apollo Lunar Module and command module on flights to the moon.

Johnson attended West Virginia State College, a historically black college, from the age of 10 years old, for her high school and college education. She graduated from WVSC with her degrees in mathematics and French at 18 years old. She was so dedicated to her math studies while at WVSC, that several classes were added just for her, and she was mentored by several professors. After the 1938 court ruling stating that white institutions had to provide for in-state education for African Americans as well, Johnson was one of three students, and the only woman selected to integrate the graduate school at West Virginia University.

Almost by happenstance, a family member mentioned to her that NASA's predecessor, the National Advisory Committee for Aeronautics was hiring mathematicians. After this mention, Johnson pursued the position and was hired in 1953. After being temporarily assigned to the all-male flight research team, Katherine's immense mathematical knowledge created great relationships with the rest of the team, to the point where she joked, "they forgot to return me to the pool." Her success with NASA lasted from 1953 until her retirement in 1986. During her time she calculated the trajectory for the May 5, 1961 space flight with Alan Shepard, the launch window for the 1961 Mercury Mission, and the 1969 Apollo Mission to the Moon.

Katherine Johnson proved that knowing your stuff and chasing your dreams can turn into the best career you could ask for, even when segregation was still a barrier. Her contributions have made for monumental leaps in space exploration and earned her the Presidential Medal of Freedom in 2015.
To Close Out African American History Month
We are honored to be able to highlight such amazing women, and to work alongside and support such a diverse community. WEST strives to offer programs, networking opportunities, and mentorship opportunities that continues to support equity and diversity in the STEM industries.
Thank you to all who followed along and engaged in this series. Knowledge and support of women of color in STEM fields is one of the first steps we can all take to continuing to support diversity and equity in STEM.