When you ask someone the best thing their boss can do for them, the answer is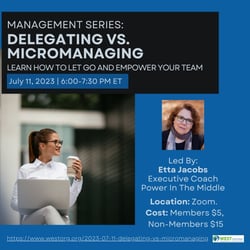 straightforward: "Tell me what is expected of me, present me with growth opportunities, give me clear deadlines, and trust me to do my job." If you ask them what's the worst thing their boss can do, the number one answer is: "micromanage."
What is the connection here? Trust. As Etta Jacobs, MA, PCC, told us: "A boss who micromanages, gives their direct reports the impression that they don't trust them to do the work." When an employee does not feel valued for their expertise and empowered to solve problems on their own, they begin to lose interest. This leads to the number one reason employees leave their job: a bad manager. If managers have such a huge impact on their employee's engagement and their team's success, you'd think their companies would provide ample management training. Sadly, this is too often not the case. Many companies provide tactical skill training with little training in people-management. Managers are often promoted on their tactical skills, not their relationship-management skills. This leaves many managers unprepared to lead their teams successfully.
Learning how to delegate is crucial to any manager's success. When your employees are presented with assignments that challenge them and make them feel valued, your team will be more cohesive and productive. Effective delegation also helps curb burnout for managers who've taken on more than they need to. When managers understand that delegating is a process that involves time and patience upfront, they quickly discover they have more time for the big-picture, strategic planning. They also find their team is more engaged.
Etta Jacobs is the Founder and Principal of both Power in the Middle and Hermespath. As an Executive Coach, she supports first-time, mid-level, and senior-level managers. Etta supports clients in corporate, non-profit, and educational organizations, including Beth Israel Deaconess Medical Center, Chief, Deloitte, Harvard Business School's Executive Education Program, Inari, Mersana Therapeutics, Microsoft, Novartis, Rapid7, Takeda Pharmaceuticals, and the Social Innovation Forum.
When she founded her companies, she discovered that "Many managers are just making it up, because they never had any people-management training." Seeing this need, Etta made it her mission to help mid-level managers develop the skills and perspectives to become compassionate, supportive, and empowering leaders.
WEST is thrilled that Etta, a past President of WEST's Board of Directors and a current member of WEST's Advisory Board, is bringing her expertise to our Summertime Management Skills Series. This series, spearheaded by Etta, will include four events, two of which Etta will lead.
Join us for the first event in this series: "Delegation vs. Micromanaging: Learn How to Let Go and Empower Your Team," on July 11, 2023, from 6:00 PM to 7:30 PM via Zoom. This will be an interactive workshop with periods of self-reflection, as well as one-on-one breakout sessions designed to support the confidential sharing of your experiences. With just a little time invested in your leadership development this summer, you will learn how to delegate and then really then watch your team and your career grow.
Etta will also be leading the second event in the series: "Giving and Receiving Feedback: How to Make These Conversations Easier- For Both of You!," on July 25, 2023. This will be an in-person workshop where you can meet members of the WEST community.
The series will continue, in August, with "Managing Up: Strategies to Confidently Ask for What You Need," led by frequent WEST presenter, Kim Meninger, MBA, PCC on August 8, 2023. We will finish the series with "Unlocking Your Team's Potential: Managing Performance, Promotions, and Development of Your Team," led by former WEST Board Member and WEST workshop facilitator, Alicja Januszewicz, PhD, on August 22, 2023.
If you've found yourself in a new management position and aren't sure where to start in embracing your leadership role, or you've been a manager for years, and are sensing burnout, this series is the perfect summertime gift to yourself! These workshops will provide you with direct training and the chance to have your questions answered by professional coaches who've held corporate management roles and have experienced the same challenges you're facing now.