I have been thinking deeply about how women in STEM can have more seats at the table and not the kiddie table where one goes to do tidying up and office housework. The table where their voices are heard, acknowledged, and acted upon. Working in tech myself, I notice particularly how women of color are under-represented and white men are over-represented. Is this a result of the ways in which women are conditioned since childhood? The subtle messages they receive again and again? Are women being excluded in important conversations and meetings? Are their thoughts discarded or ignored? Are they not being given credit for their contributions? Is a lack of mentorship and sponsorship the problem? Is the motherhood bias compiled in under-represented fields? Do women of color experience this even more than any other intersectionality? In many ways women are made to feel as if they don't belong and speaking up about it can come at the detriment of one's job and security. However, this narrative needs to change. If we want more women leaders and more of them at the top, we need to be able to approach these conversations calmly and strategically. We need a framework for having inclusive conversations and with that framework we need to use it as a piece of workplace culture that emanates throughout the rest of the organization.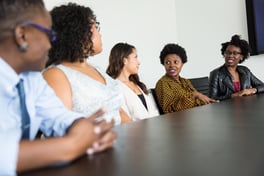 There is a saying that says, "Diversity is having a seat at the table, equity is having a voice and inclusion is having your voice be heard." I think there is also something to be said in questioning who is making the table, who is hosting the event and not just about who is invited. As female leaders, we need to be looking at the root cause of the problem and be able to have the tough conversations that result in progressing women and positioning them for growth. Where are the bottlenecks and how can we work through them? What are the issues that are holding women back? What can we do to support and uplift our most marginalized and help amplify their voices, needs and ideas?
The answer may be working with a DE&I practitioner. Lucky for you, WEST (Women in the Enterprise of Science and Technology) has an upcoming event on October 5 with one. Trish Foster is coming to WEST to deliver an engaging workshop called "The Power of Inclusive Conversations" on October 5, 2022 6:00pm-7:15pm ET.
Trish is a DE&I change agent, a sought-after DE&I speaker, advisor, writer, and workshop facilitator, and also a certified energy healing practitioner. She works in several facets of allyship including race, gender, inclusive leadership, psychological safety, intersectionality, sponsorship, mentorship, and gender equity. She works with employees at all levels and coaches senior leaders to help them navigate DE&I challenges.
I had the opportunity to ask Trish a few questions about her work, her research, and the details of this exciting event.
About the event
This event is going to be a high-impact, interactive virtual workshop on Inclusive Conversations. What are they? Honest, compassionate, respectful dialogues across difference. This approach to conversation across difference is one of the most powerful tools leaders and all employees can use to create cultures of psychological safety and inclusion. This type of dialogue is particularly valuable for people who want to serve as allies for others.
The goal of the program is to equip attendees with the necessary understanding and experience to successfully engage in an inclusive conversation. Using a framework, attendees learn how to assess when such conversations are needed and how to approach them. Participants explore the factors that influence the success or failure of conversations, including culture, power dynamics and conflict styles. They also observe and critique conversation demonstrations, and – if time permits – they practice their own conversations with real-life scenarios. Attendees leave the workshop with 1) a framework for inclusive conversation and 2) the confidence to initiate and receive such conversations to nurture trust, inclusion, and psychological safety.
What participants will come away with
During the workshop, attendees not only get a framework to help them prepare for and navigate challenging conversations, but they get to see a demo and, if time allows, practice with each other. We actually laugh a lot as we think about the assumptions we make, our normal approach to challenging dialogue, etc. We also talk about what we need to "unlearn," like wanting to win the argument.
Thinking about our default conflict style is also relevant and revealing. Are you conflict avoidant? What about the person on the other side of the conversation? This can have a big impact on how the conversation goes.
Participants will come together with other women to address shared goals and challenges and explore how to support each other as they navigate their career and life journeys.
The importance of inclusive conversations in the workplace
Why are inclusive conversations so important? Because most of us approach difference either by avoiding discussion altogether, or with a win/lose stance, rather than as an opportunity to understand each other and connect more deeply – all of which we have to do in order to create more inclusive and, ultimately, productive workplaces.
"I promise that, after the program and with ongoing practice, even folks who don't like to hold challenging conversations will succeed at them. It's a fantastic skill on an individual level, in our personal lives, and definitely in our organizations. I always tell attendees that, if they start using the inclusive conversations framework, they will become ambassadors for it in their workplaces, and this constructive, positive approach to conflict management will become part of their workplace culture."
– Trish Foster
A bit more about Trish's research
Trish has authored numerous research reports on topics ranging from disability inclusion and allyship to intersectionality and workplace culture. Her speaking engagements draw on this research. In all of her work, she emphasizes human connection, shared experiences, cross-cultural understanding, compassion, intellectual curiosity, and actionable recommendations.
Where can people go to learn more about Trish
Trish's programs can be tailored to organizations needs and can be in-person or remote. Formats include 1-hour briefings, roundtable discussions, or workshops ranging from two hours to a full day. Programs are often offered as a series, allowing for a more in-depth, sequential approach to DE&I culture change.
A few of the workshop topics include Making a Personal Connection with DE&I, How to Step Up as an Ally for Inclusion, The Power of Inclusive Conversation, How to Build and Nurture Psychological Safety in the New Workplace, Making a Difference– A Guided Gender Equity Conversation, Putting Intersectionality into Practice, Mentors and Sponsors - An Inclusion Imperative, Confidence - Overcoming the Gender Gap to Thrive, Creating Connections and Leveraging Mindfulness (to Prevent Team Burnout), Leveraging Employee Resource Groups to Advance DE&I and many more.
You can connect with her on Linkedin or at trish@trishfosterconsulting.com.
Conclusion
Trish expressed excitement to be doing this program for WEST because she has been committed not just to all DE&I for many years, but especially to gender equity. Before launching her own DE&I practice, she ran the Center for Women and Business at Bentley University, and immersed herself in women's workplace issues.
She is excited to bring her many years of experience to the women of WEST and looks forward to a highly engaging participatory program. You don't want to miss this. Learn more at https://www.westorg.org/2022-10-05-inclusive-conversations.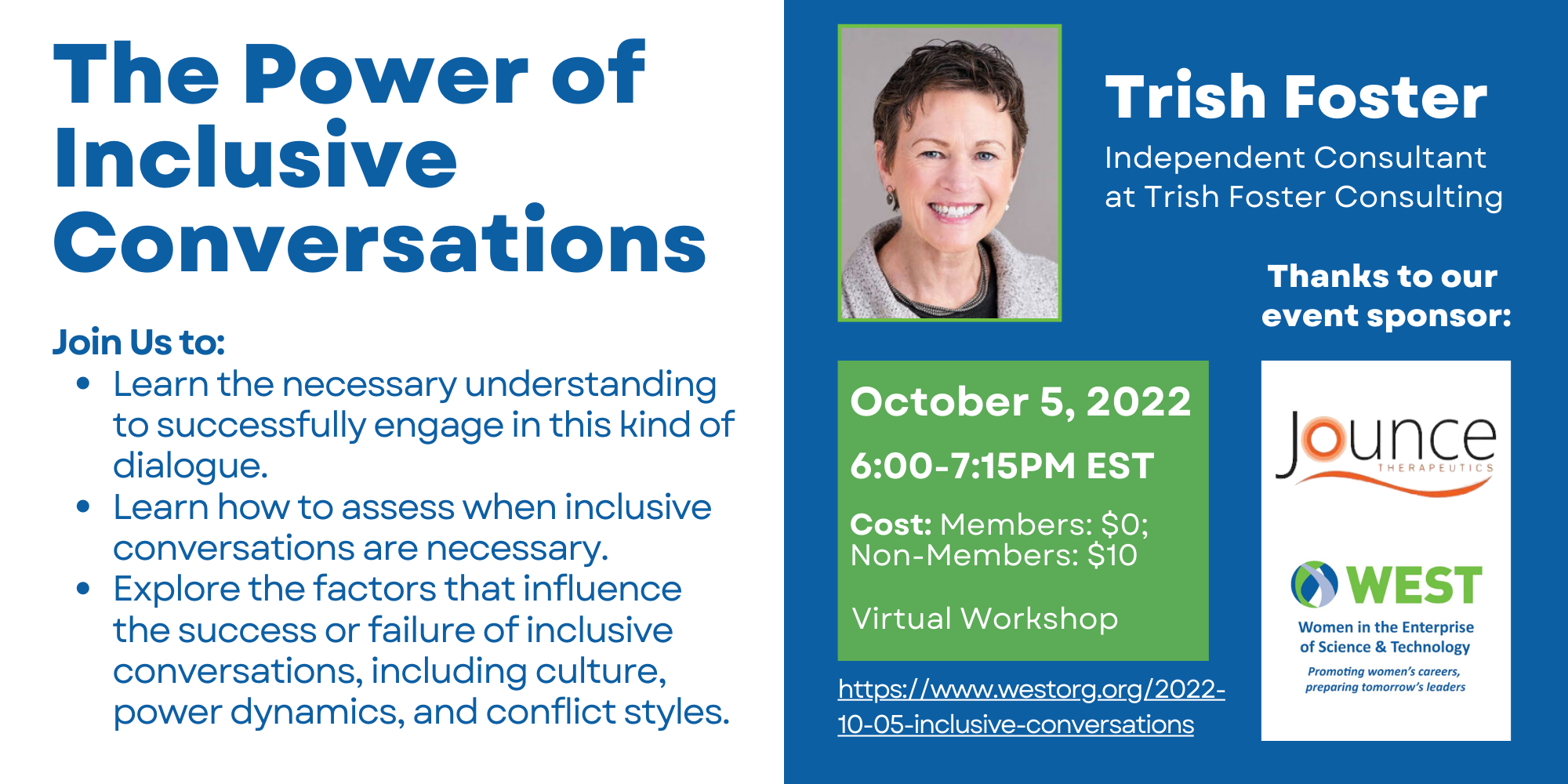 #WESTorg #WESTevents #networking #inclusion #communication