Everyone has a natural motivation, something that makes them get out of bed every day and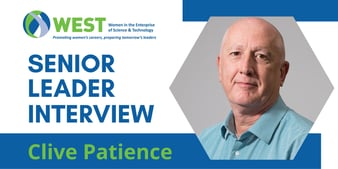 sparks their passion for their favorite things. Clive Patience is no different. As the Chief Technical Operations Officer at Agios Pharmaceuticals, Clive has a big role that covers a wide scope of day-to-day activities, but what drives Clive to love both his job and WEST is simple: the people.


While there are many reasons to love the STEM industries, Clive has found that in each of his roles throughout his career, the people that he gets to work with and the cultures he's gotten to help build in the support of patients waiting to be helped by new drugs are the biggest driving factors in what makes him love his work. The same is true for his involvement with WEST. From members all the way up through leadership, Clive has loved being part of a community that can be summed up in two words: kindness and enthusiasm. The kindness that members and leaders show to each other and the enthusiasm with which the WEST community strives to contribute to the STEM industries are the trademarks that reinvigorate Clive after every WEST engagement.


We got to sit down with Clive and learn more about his background, his love of his work, and his love of WEST. Below you'll find more of our conversation and learn so much about some of the beliefs that shape his effortless leadership and engagement with WEST.
1. Let's start by going back to the beginning, can you tell me a little about your educational background? What made you interested in your field of study?
Clive's educational background differs from many, even from his early days.
Clive was able to experience school education in the U.S. as well as in England. Originally from London, Clive and his family moved to the U.S. for 3 years, before moving back to the UK at the age of 10 for middle and senior-year schooling. In reflection, it was the differences in the educational systems that led to his first experience with unconscious bias.
During our conversation, Clive remembered that there were assumptions made about his potential and intelligence based purely on what the "typical" student should know. Clive recalled an example, "Because of my US-based education up until that time, I had naturally been taught US history, and no European languages. The absence of familiarity with these topics led to incorrect assumptions being made. In reflection, that was my first telling exposure to bias, and the negative effects that it can have on a person. Forty years later I still use this experience as one of the great teaching moments in my life. One I will not inflict on others."
Conversely, Clive recalled his interaction with a science teacher that provided encouragement. "I still to this day remember receiving my first piece of positive reinforcement from my science teacher. That was all it took to change the rest of my life. This too stays with me till this very day. I work by the principle that providing positive feedback, or a simple thank you, can go a very long way. As empathetic, caring people we can make the world a better place, one small step at a time."
Clive's higher education is also very different. Although able to, Clive made the decision to not go to university to further his education. Instead, he took the path of continuing his studies while working as a lab technician. Clive reflects that "The support that the employer showed to continued part-time education for its more junior people was critical in facilitating my ongoing education. Without that initial support, I could not have obtained my bachelor's degree. And even after leaving that employer, they sponsored my position in academia in which I ultimately achieved my Ph.D. in Virology. For me? Part-time education…it was certainly a long hard slog but one that I would not change for the world."

2. As you transitioned out of your academic pursuits and into industry, did you have any particular positions or experiences that sort of solidified for you that this is definitely the professional direction you wanted to go, piqued your 'why' so to speak?
"I'm passionate about the fact that I really haven't had a clear career path," Clive says. From the beginning, he's grown through his career truly one step at a time. He started working in a Lab Technician role that later allowed him to pursue a Bachelor's and further degrees. "I spent a total of 15 years completing my education, eventually working my way through my Ph.D. in Virology."
His Ph.D. research was focused on the risks of using pig organs in humans as temporary transplants until a human organ became available. After his research was published, the FDA decided to hold off on starting any new clinical trials of this process. "During my Ph.D. research, I realized that you and I can do research that really has an impact on the day-to-day lives of people," he recounts. "After this, I knew I wanted to do work that was more closely associated with patents than the bulk of academic research." It was this realization that made him constantly excited by the fact that science can change people's day-to-day lives for the better.
Clive recalled his father's advice: "Find something you enjoy because you're going to spend a lot of time doing it." His passion for being involved in the research and development of science that can affect people's lives in positive ways has been inspired every step of the way by this advice. Clive explains that he gets to work with extraordinary people on hard projects to develop drugs that help people, and that is what he absolutely loves, and he wouldn't change for the world.
Clive for many years was an avid field hockey player. After one particular game, conversations about careers began and the question was posed: "if you weren't doing your job, what would you do instead?" He recalls that every other player on the team would have changed careers altogether. To Clive, this wasn't something he was willing to accept for himself. As he's been inspired by his father's advice, he was the only person to say that he wouldn't want to do anything else. Thirty years later, the answer remains the same! He loves what he does, and every time he's been approached or applied for another position he's always done so with his own principles, skills, and values in mind. He accepted each of his positions because he felt that he would truly enjoy the work he would be doing and that it could have a positive effect on patients' lives, as well as the people around him.
This is the passion that has helped him to continually grow in subject knowledge, but more importantly, the soft skills that make him an excellent leader. Having a true passion for the work that he is part of, and the people on his teams that are working on these projects with him are what makes him so successful. His love of his job is what drives him to want to bring his best self every day, but also to bring the true, vulnerable, human side out and be honest when he's having one of those days when he's not his best self. We all have those days, but being vulnerable and honest can inspire others on the team to step up and be their best self as well as show their vulnerabilities, and that could be a big win for the team, and that team member.
Since transitioning into industry, Clive has had a constantly progressing career and found that what he loves as much or more than the actual work of his positions, is leadership and team building. Led by his father's advice, his own mentors, and his personal principles and values, he's become the kind of leader that you want to work for.

3. Your leadership has been described as "effortless." What experiences and lessons have you learned throughout your career that have made you such a respected, effective leader?
When asked about his leadership, Clive anchors his philosophy on life lessons and being cognizant of what each person can bring to the table. He believes that the most senior and the most junior persons on a team are equal in terms of the amount of respect, access, and support that they deserve. Regardless of title and experience, any person on a team could be the person to make a major contribution, help someone, solve a problem, figure out how to overcome a hurdle, etc. With that in mind, the core of his leadership is to value every person the same.
He reflects that the effortless nature of his leadership is more of a reflection of the natural and empathetic style in which it is delivered. "I know for sure it's not effortless. I've found that empathetic people-orientated leadership is a lot lot harder than command-and-direct styles. Both have a positive role in the workplace, and the best leaders understand how to use them both well. When I roll out the command and direct, it's acted upon, but importantly by people with whom I've already built trust and relationships."
Throughout his career, he has experienced a bit of imposter syndrome. He admits that there have been times when he hasn't been confident in his own ability to complete the work of a given position, but he believes that with the right culture, a team can accomplish anything. "If I can do what I can to bring the best out of the people on the team each day and nurture them, success will come," Clive says.

4. What makes you love being part of WEST?
"There's two reasons I really love WEST, the first is the members and the second is the board," Clive says. "Our members are there not because they have a need, but because they are genuinely interested in investing in themselves and supporting others in the STEM industries." Clive speaks highly of our members and extended community supporting each other and truly wanting to see each other grow. "I love seeing younger people that really want to grow, and seeing the impact that WEST can have in, on, and through this community. I'm always hearing offers to help support each other at WEST events."
Clive's description of the community and the culture within the WEST organization and at WEST events is nothing short of inspirational. As a board member that has spent plenty of time engaged with WEST members at various events, he is an integral part of the WEST culture but finds himself equally as supported by that culture. "WEST may play a small part in members' lives, but that can have a big impact on people that are growing themselves just to do good in the world through STEM careers."
The second reason Clive loves WEST is because of the board members. Clive says the board is "a jaw-dropping group of individuals that are dedicated to WEST." For each board member, "it's not about WEST itself, but about the impact that WEST can have," he says. The WEST board is truly invested in WEST not simply to grow the size of our community but to continue to grow its impact. Higher membership rates are a great way to increase that impact, but more importantly membership growth "represents a positive impact on people that then go out into the world and make a positive impact on others, and even others," Clive says.
The WEST board is full of members in various leadership positions within the STEM industries, and each "exudes massive passion to help members be the best versions of themselves. There is such a natural kindness and enthusiasm within the WEST leadership team," Clive says. Being as leadership is such an important aspect of Clive's life, it's not surprising that he has become one of our great leaders.

5. You spend your work days in STEM leadership, what drives you to want to be part of WEST leadership as well?
"I think it suits me. I'm a natural supporter," Clive says. He adds that he "gives so much energy to things like mentorship, committees, events, interviews and other things that to some it might seem like it's draining of their energy; but I'm always reinvigorated by being part of something so culturally positive and supportive."
The truth is when leadership comes so effortlessly to someone as it does to Clive, WEST finds itself culturally supported by his constant engagement and support for our members. It's not uncommon to find Clive at various events chatting with members, guests, and supporters about their careers and their lives, happily supporting them however he can. When hosting an event, he's the one serving the food and pouring the drinks.
When you rely on your principles and values, which have been shaped by your experiences with the kind of heart that Clive does, it's easy to see why he is such a great leader. Clive says that as WEST continues to grow, "we need to continue to be protective of our core principles and values to ensure that we are always striving to respect, listen to, and learn from our members." These are the kind of values that make Clive's leadership seem so effortless to his teams in his everyday work, but also to the members of the WEST community. "It's not about what WEST wants to be," Clive says, "but what people interested in a community like WEST need."
Closing Thoughts
After getting to talk with Clive, it's no surprise that his leadership is perceived as 'effortless.' Clive's heart is truly in leadership and team building. It really is about the people around him and bringing their absolute best out of themselves, especially when they don't believe they have it. Some of the words that Clive used when talking about his leadership experiences, like compassion, empathy, respect, and value just prove that when you have a solid foundation of principles to lead yourself with, leading others comes naturally.
WEST is lucky to have so many great leadership members to support and mentor its members, and Clive is no exception. He is truly someone that if you get the chance to meet and have a conversation with, you'll leave just as reinvigorated as he talks about leaving WEST events. Thank you to Clive Patience for taking the time to talk with us and share so much of his background, personal and professional growth, and passion for WEST with us.