There are many reasons why women should sit on a board, as this experience is highly beneficial to both the organization and the member. I had the pleasure of interviewing the three panelists for the upcoming "Get on Board Event" at WEST and I found some common themes I would like to share with you. In this blog, you will get a peek into the wisdom of women who have had the experience of sitting on important non-profit, private, and public boards, and hopefully, it will entice you to come to the event to learn more about how you too can get on board. The 12/15 panel discussion is free to WEST members.


Non-Profit Boards

There are two kinds of boards you can sit on, non-profit and for-profit/corporate. In the non-profit role, you are often sitting on a board as a volunteer without pay but in this case, your passion for a particular cause or organization drives the motivation to join and give back. Non-profit work is incredibly rewarding and can have some flexibility in terms of commitment and tasks.

Most boards have quarterly meetings that are required for members to attend. Both for-profit and non-profit boards require attendance at these meetings. Quarterly board meetings can vary between 2-6 hours in length and are scheduled well ahead of time. Often there are some additional areas of involvement and support particularly surrounding events or conferences. In a non-profit organization, fundraising support is expected whether you have the resources to contribute personally or can find donors to do so. These areas of support are somewhat time-consuming so it is reasonable to assume that sitting on only a couple of non-profit boards at a time would be recommended, especially if you are also sitting on a private board.

"At the heart of it, you really have to be passionate about making a difference and for serving for that organization." - Darshana Zaveri, Managing Partner at Catalyst Health Ventures, panelist

Darshana has sat on the board of Tie Boston (The Indus Valley Entrepreneurs, Boston chapter) that promotes South Asian entrepreneurship because it is something that she cares about and she wanted to make a difference and help develop leaders within that community.

"There is a big difference in the type of boards. Non-profit boards looking for a wide range of individuals for some sort of passion for a particular cause." - Ann Miller, Member Board of Directors at Inovio Pharmaceuticals, Puma Biotechnology, & Allena Pharmaceuticals, panelist

For-Profit Boards

Spots on for-profit boards are paid and come with some specific roles and responsibilities. In some cases, members who serve on a for-profit board do so as part of their job or career, or it can happen when retired. Private and public for-profit board positions are often paid in cash, equity of both. Paid for-profit organizations in the STEM area, like biotech, biopharma, and the like look for a very deep level of C-suite experience and seek members that can provide advice on strategy and governance within the specific industry or organization.

Getting on a board can be challenging but networking can help significantly improve your chances. There are executive recruiters who can serve as a point of contact but for many, it is the people you meet along the way that can attest to your expertise, work ethic, and character that help improve your chances in a public board seat. Ann Miller was proactive and took a course on preparing to be on a board and also created a one one-page "Board Bio" that distilled down her key capabilities and experiences to support her candidacy for board roles.

"Serving on a board is the highest governing entity in a company. You need to be able to focus on strategic outcomes but not be afraid to get in the details, get in the weeds. You need to be able to nudge management in the right direction. Ultimately your role is to add, not just to critique." - Sally Wang Liang, VP of Business Development, Head of the Global Business Unit at PepLib, panelist

Time commitment of a public board

When you sit on a public board you have to meet Securities and Exchange Commission

(SEC) requirements. In other words, there are tight regulations around how public boards do their job and are compensated. On all public boards, you have three statutory committees. You have an audit committee, compensation committee, and a nominating and governance committee. These meetings are determined ahead of time but there are also ad hoc meetings that can pop up at varying points depending on different variables.

Ann sits on a commercial advisory board for example, in addition to being on an audit committee. Committee meetings are 1-2 hours and happen in between board meetings. It depends on the topics how long these meetings run and how often and some preparation is often required.

Board meetings occur every three months and these meetings often communicate new company information, new data to examine, and allow for some strategic overview and updates on the operational side of things. Strategy includes advising on strategic options, strategic messaging, and choices surrounding that. The board is not about everyday operations, hiring and firing, and the like but provides strategy oversight for high level strategic choices.

"Serving on a for-profit board is a wonderful capstone for a C-suite career if that's what you are interested in doing." - Ann Miller

Some of the major strategic topics discussed lately in board meetings have to do with DEI, Cyber Security, executive compensation, human capital management. Women with these experiences should join a board, as these are highly desired areas of expertise.

Serving on boards can be a part of your job

Darshana always had an interest in STEM. She grew up in India and there was an expectation that she, like her parents would go into a career in STEM. Darshana's mother was a microbiologist and her father an engineer. Darshana majored in biochemistry and minored in cell biology in college. She then went to the US for grad school in biochemistry. This led to a career doing research in pharmaceuticals. After that, she decided to do something somewhat tangential. Darshana went back to Harvard to get a degree in public policy with the hopes of obtaining a position within a public entity that focused on the intersection of scientific research and public policy. However, she quickly realized that she had a real interest in finance. In her grad program, Darshana was able to network into the career she has today – venture capital and private equity. In her current role, she invests in medical technology startups within the healthcare industry. She is able to use her science background to evaluate potential investments and has sat on the boards there.

"There is a level of understanding that you need to help the companies grow and mature." - Darshana Zaveri

Darshana has been serving on boards since 2009 when she first started making investments in companies. When you make substantial investments in companies you take a board seat. The majority of times you take a full directorship although there are times you may play more of an observer. Darshana has spent most of her board experience serving on private company corporate boards. Her goal was not necessarily to go look for a board seat, it was to invest in good companies and board positions come with the package. Since 2009 she has served on 10 different boards and she finds the experience to be both meaningful and enjoyable.

"The primary responsibility of serving on a private company board is to provide a governance structure and to be a fiduciary for all of the shareholders. The board member is tasked with helping to set short- and long-term goals and to make sure those goals are adequately financed. The third important thing is to make sure the company is following all the rules and regulations appropriate for that organization." - Darshana Zaveri

Women belong on the board

Having a diverse Board of Directors positively affects the financial and strategic outcomes of an organization. Women in particular have much value to add. They can address some of the challenges of the company and contribute in ways to make the company better. Women are often more empathetic leaders. Sally takes a founder-friendly approach to her board work because she comes from an entrepreneur tech space, she can relate to the challenges founders have. Sally has deep experience in public policy, IP law, and technology which has made her a highly coveted candidate for private boards. She shares why women need to step into these roles.

"Women on the board can absolutely add value. Not only is there a moralistic reason to include women on the board but from a purely utilitarian reason, women have their own network…like WEST. With that kind of network, we can deliver advantages within a company. And we can add a different characteristic to the board. We also have different experiences and challenges that not all men necessarily have, for instance when a woman is the target customer that can be a valuable perspective to have on the board. In many places, diversity is even written into the law and it is our duty as women to step up and fill these roles and make it not just a law but also a reality." - Sally Wang Liang

Women are still underrepresented in the STEM area, it is their duty to step into these roles and onto board positions to help carve the way for future generations of young women who will come after them. Advances in science, technology, engineering, and math will shape the future of healthcare, public policy, business, and ethics. Now is the time to dive in, and make a difference. Joining a board will not only help grow your network and career while fostering lasting relationships in your industry but it will also be deeply gratifying.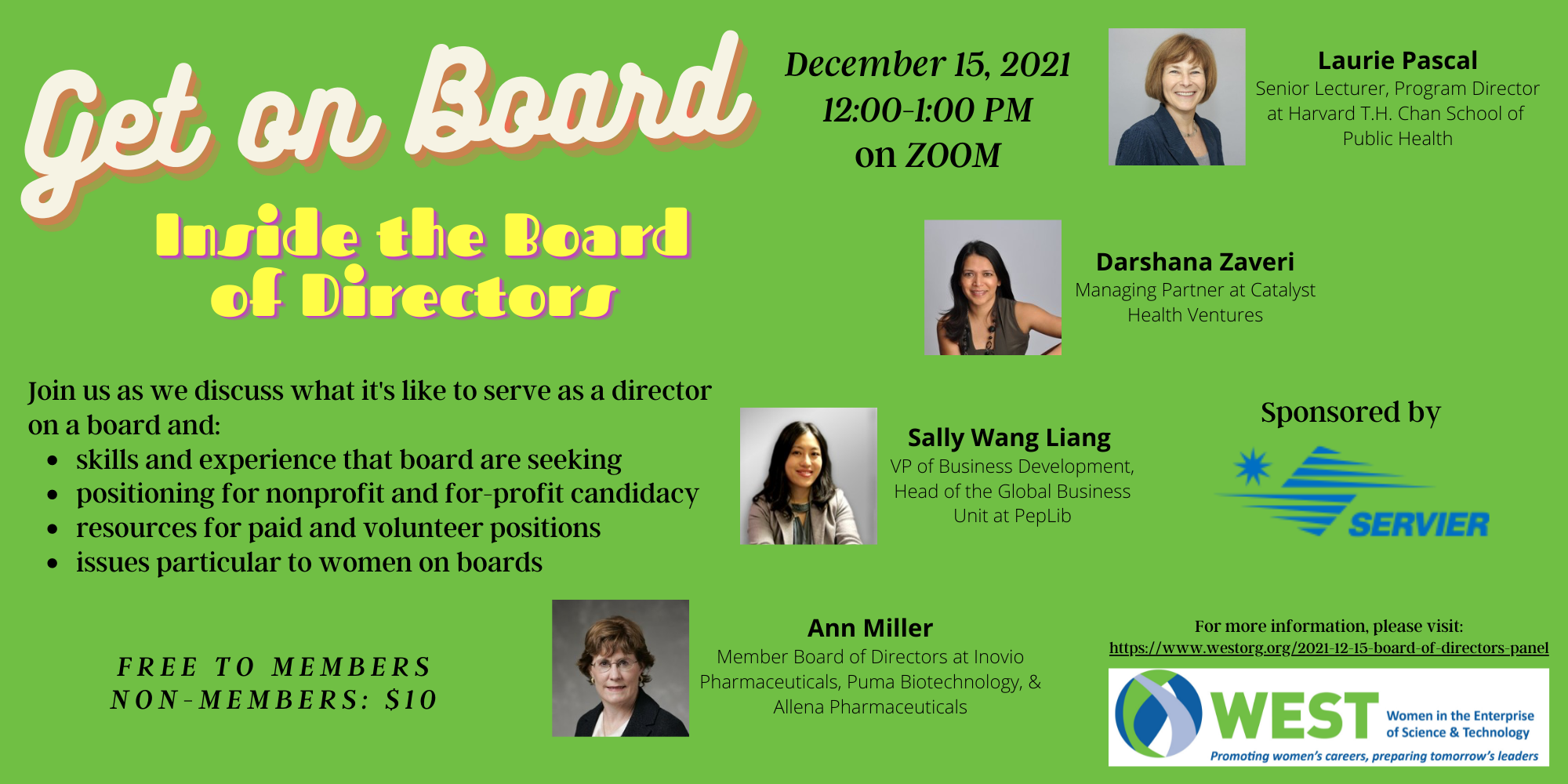 Please join WEST for their Get on Board: Inside the Board of Directors event on December 15th, 12pm-1pm EST.
If you would like to serve on a board, are already on a board, or work with a board, join us for Get on Board! The panelists are directors of both for-profit and nonprofit organization boards, and will address issues relating to service as directors, including the combinations of skills and experiences that boards are seeking, how to best position yourself for nonprofit or for-profit board candidacy, resources available to help you identify and take advantage of both paid and volunteer board opportunities, what it's like to serve as a director on a board, and issues particular to women on boards.
Location: Zoom
Cost: Members: $0; Non-Members: $10
Panelists:
Sally Wang Liang, VP of Business Development, Head of the Global Business Unit at PepLib
Ann Miller, Member Board of Directors at Inovio Pharmaceuticals, Puma Biotechnology, & Allena Pharmaceuticals
Darshana Zaveri, Managing Partner at Catalyst Health Ventures
Moderator:
Laurie Pascal, S

enior Lecturer & Program Director

at

Harvard T.H. Chan School of Public Health
Sally Wang Liang, JD, MPH is life sciences business executive and a multidisciplinary IP & Regulatory lawyer with over 15 years of healthcare and biopharma industry experience. She has been on the board of numerous life sciences companies and non-profit organizations. She is VP of Business Development, Head of the Global Business Unit, and a member of the executive team at PepLib, a peptide discovery and therapeutics company. She is actively involved in the biotech ecosystem: consulting as a Venture Partner for Viva Bioinnovator, serving on the Scientific Advisory Board of New Equilibrium Biosciences, as Expert-in-Residence at the Harvard iLab, and mentor with MassBIO. Previously, she was EiR at the biotech VC that focused on NewCo formulation. She has substantial operating, business development, and fundraising experience as a serial entrepreneur in digital health. As a lawyer, she practiced pharmaceutical patent litigation and IP licensing. She was also involved in national life sciences policy making at the FDA and the US Senate. She serves on the corporate boards of FuseBio and IpiNovyx and has been on a number of non-profit boards including SHARE cancer support, NY Legal Aid Society NLB, and the National Association of Asian American Professionals (NAAAP) Boston and New York chapters. Sally received an A.B. in Biology from Harvard College, a J.D. from Harvard Law School, and an M.P.H from Harvard T.H. Chan School of Public Health.
Dr. Ann Miller brings a unique breadth of commercial experience to the boardroom after decades of leadership roles in biopharma. As an accomplished executive with clinical training, she has built, launched, and scaled 20 products across multiple therapeutic areas, continuously applying "lessons learned" to optimize brands and manage portfolios. She has deep expertise in making "Where to Play" and "How to Win" strategic decisions that drive multi-year growth, as well as the pragmatic decision-making required to excel in operating roles. She has built and restructured commercial capabilities and has a passion for coaching leaders to grow world-class brands in the face of uncertainty. In her current board roles, Dr. Miller is recognized for her broad and deep commercial experience, providing relevant, board-level advice on commercialization, portfolio management, and brand strategy. Dr. Miller holds a BA in Chemistry and Medical Degree from Duke University; she trained in Internal Medicine at the University of Pennsylvania. She is a Maine Angel investor and member of NACD.
Darshana Zaveri is Managing Partner at Catalyst Health Ventures and a member of Catalyst's investment committee. Actively involved in all aspects of Fund Management including Investments and Capital Raising. Led Catalyst's investments in Augmenix Inc. (Acquired by Boston Scientific, NYSE: BSX), nVision Medical (Acquired by Boston Scientific, NYSE: BSX), Maxwell Health (Acquired by Sun Life Financial, NYSE: SLF), Lantos Technologies, Aria CV, Atacor Medical, Panther Therapeutix and Instylla Inc. Actively involved with prior portfolio company Allegro Diagnostics, Inc. (acquired by Veracyte, NASDAQ: VCT). She holds an MPA in Accounting and Finance from Harvard University, an MA in Biochemistry and Cell Biology from Boston University, and studied Biochemistry and Molecular Biology at Bombay University.