Mary Cheyne recounts sitting in a corporate meeting with approximately 25 other people, after a major issue with a project they had been working on. Every person around her had spoken up and provided their input, except her. She managed to leave the meeting without having shared any of her ideas, no matter how brilliant they may have been, because she was afraid of the judgment of everyone else in the room. Feeling ashamed, disappointed in herself, and unable to get out of her own way, she recognized something had to change.
We've all felt self-conscious, intimidated, fearing the judgment of those around us, and fallen prey to our own inner critic. We wonder, "who are we as the newbie in the room?" We've all been new at our profession, a skill, our job, something. That fear of judgment that we feel as someone just starting to learn something new is one of the biggest hurdles to get through before you can really experience a breakthrough in growth. Knowing that public speaking is an entire world of skills that can be learned from basic to World Champion levels, gives every single person the opportunity to overcome their own inner critic. It starts with simply having the interest to pursue being curious about what you don't know that you don't know.
That's what Mary Cheyne brings to the WEST community with her event "Speak Up & Be Heard: Speak Up at Work Without the Fear of Being Judged." She truly believes that we have it within ourselves to connect to our own confidence. She says that "confidence requires clarity and competence. Clarity of who you are, and competence, which is the skills, tools, and toolset that you can draw from." She will lead participants through developing tools to help build clarity of who they are, recognizing their own value, and recognizing and growing their competence in public speaking, by teaching several foundational skills. No matter where you are on your life path, you can learn the skills to become an excellent public speaker.
By looking at communication from a balanced, holistic perspective, one can learn to balance not only a concise communication style with an engaging, listening communication style, but also balance their interpersonal communication with their intrapersonal communication. How we communicate with ourselves makes a huge difference in how we communicate with others. By shifting our beliefs around communication to include how we communicate with ourselves, we have the ability to grow as a communicator, and more importantly, as a person. Mary offers a "new paradigm of thinking about communication. Offering a broader context of framing what communication is so that I can empower you to know yourself in a deeper way, and be able to claim your confidence…" That voice in your head that's been stopping you from speaking up at work, your inner critic, it's truly Mary's passion to help you overcome that voice.
Join WEST and Mary on September 22nd at 12PM EST to become a better, more confident public speaker. This is a virtual event, so all are welcome. We hope you'll register for Speak Up & Be Heard: How to Speak Up at Work Without the Fear of Being Judged and join us for this truly empowering event.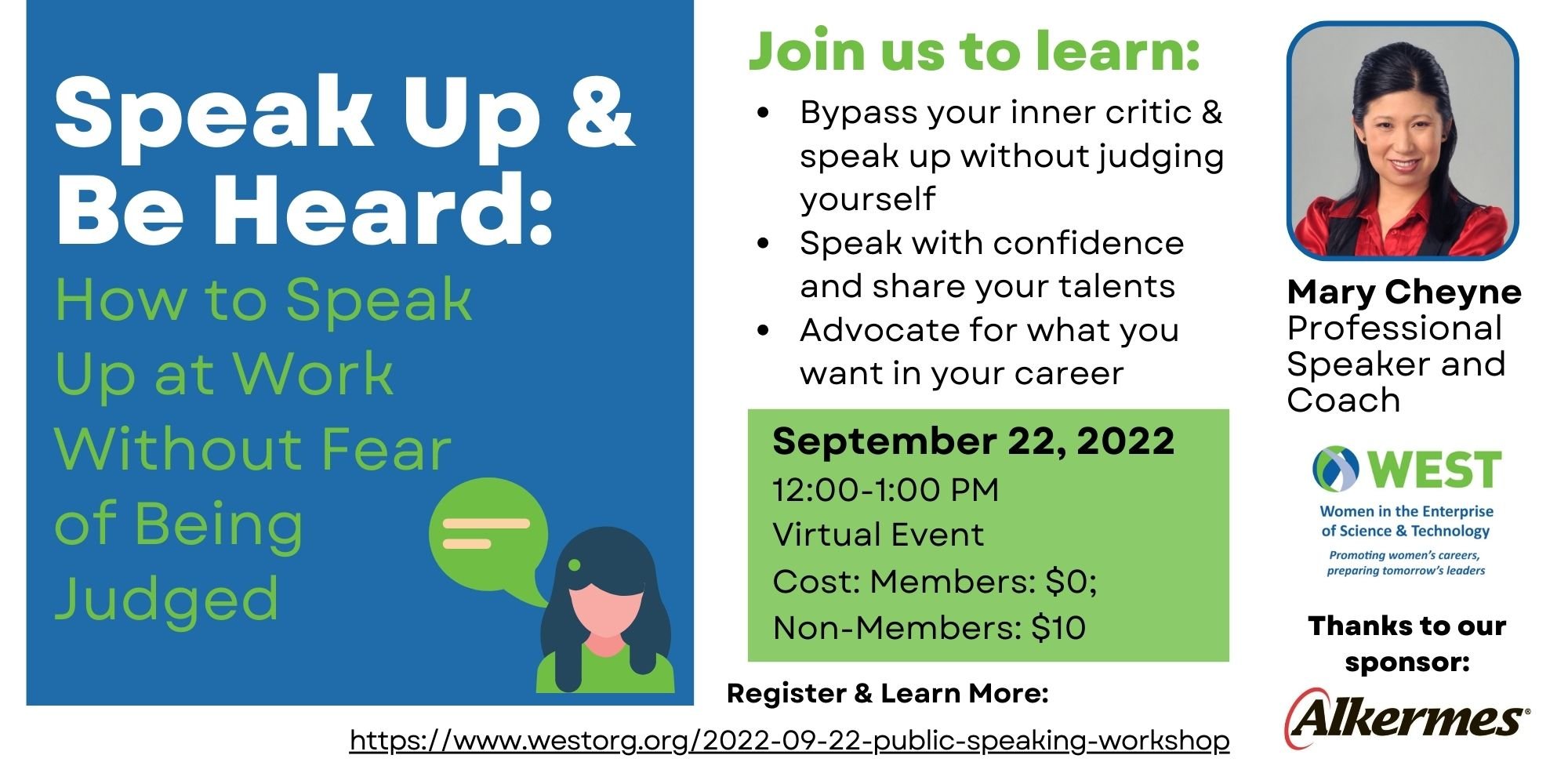 #WESTorg #WESTevents #networking #publicspeaking