Setting goals can be exhilarating and daunting. While you definitely want to approach goal-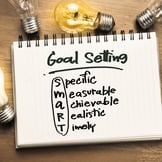 setting with a healthy dose of what's realistic for you, setting a goal that really challenges you will help you grow more than you could imagine. Imagine how life will be once you achieve your goal. As we talked about in the last goal-achieving blog post, will it be to become a pilot by 2025, or to earn a promotion at work? Regardless of what your goal is, achieving it should really excite you. As we continue our conversation with Alissa Brown, WEST member, on the topic of goals, it's important to start with her note that, "setting goals is the hard part because then you have a much clearer idea of where you want to go." Once you've set the goal, there is clear guidance and solutions to give you fairly in depth support; however it is best to have a straightforward process to determine how to actually achieve your goal.
Alissa shares that there are three key elements to achieving your goals: education, exposure, and experience. Some goals may require furthering your formal education with another degree or certification; while others may require you to gain exposure to a particular process, industry, position, etc., and even others may require that you simply expand your experience with the skills that it takes to achieve your goal. These three things are what you need to evaluate according to your goals in order to develop your action plan. "After you've set your goals, the first step is to do a sort of audit for yourself and your goals," Alissa says. The audit is a simple process, but can lead to some big tasks and even bigger accomplishments. To perform a goals audit, ask yourself these questions:
What are the skills I already have?

Which skills do I need to develop further?

Are there new skills I need to learn?

Do I truly know the skills I need for where I need to get to?

What do I need to do to get there? Education? Exposure? Experience?

What opportunities do I already have in my life to practice these skills?
The questions above are meant to act as a guide. One of the biggest questions to ask is: Do I truly know the skills I need for where I need to get to? The reality is, we don't know what we don't know. We might think that we can easily determine what skills are necessary to be able to achieve our goals, but we may only know from the outside looking in. We may need to chat with someone already doing what we hope to start doing and ask them what skills they use on a daily basis. If we've never been exposed to the day to day of the job or activity that we've set as our goal, we may not even know what we need to be successful in that position.
This is where networking can be a crucial part of achieving your goals. Having a professional network to lead, guide, and stand beside you as you work towards your goals can make a huge difference. You can leverage your network to ask someone what skills or education you might need to be able to get there, or you can find someone in your network that is a little ahead of you, and they might become a great mentor for you.
Alissa shares that you should, "find many mentors over your career who may not be the most obvious person." There is value in finding a mentor that you respect outside of their professional role, or that isn't necessarily the head of the department. If you're in a new position, and your goal is to earn several promotions, it can be valuable to find a mentor in someone equal to you but has been in the position for a while. It can be helpful to have someone who will help you master your current position first. You want to find someone who fits your current stage of development.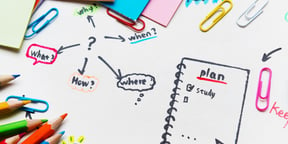 Once you've determined what skills you need for where you need to get to, you can start to put together your action plan. An important part of your action plan is giving yourself ample time to get that education, exposure, and experience. Getting just a basic understanding of new skills and then jumping into making that your everyday life can be overwhelming. "You don't want to jump straight from being the subject matter expert to the leader. Sometimes it can be more comfortable to learn in a safer space."
The process can be long. There will be days where you can see major progress through your action plan and you can really envision yourself achieving your goal. There will also be hard days that make you wonder how much you really want this goal. Sometimes constantly being challenged and stretched as you work towards goals can be exhausting and overwhelming. On those days, Alissa says, "give yourself a day to do things that are comfortable. No one is comfortable being stretched every day. I do like a day with a spreadsheet."
Sometimes giving yourself a day or two to really dive back into some skills that you know you're confident with can give you the mental break and refresher you need to get back to taking big steps towards your goals. Sometimes, the frustration can carry on further and make you really wonder about how successful you realistically can be. In this situation Alissa shares some self-reflection questions to help you determine how to proceed:
Am I in the wrong place to make this happen?

Is the organization big enough?

Have I looked for more applicable growth in a different department?

Does the organization's culture and goals align with my values?

Am I being valued? If not, why not?
The reality is, any goal worth achieving will take time to achieve, and in that time there will be good days and tough days. "Balance being impatient and realistic," says Alissa Brown. If you find you're having more tough days and you need to take a minute to evaluate where you're at, you can ask yourself "why am I not seen as the person for this?" You can talk with your co-workers, other colleagues, and your mentors. They see the outward showing of your development, so they may be able to help guide you into getting back on track in your goals.
Once you've been back on track for a while, the next big step, ideally, will be achieving your goals. This is the part where you can really take a step back and be proud of yourself. Some people take that as the chance to start planning for their next big goal, but Alissa shares, "It's okay to…enjoy this for a while." There is a difference between just achieving your goal, and really mastering your new position or skills. Taking the time to become an expert in your newly achieved status or position can serve you better than jumping to another position or goal even further ahead. "Get over the ladder approach," Alissa says, "it's got to be something you enjoy." If it's something you truly enjoy, you'll want to soak it in for a while and celebrate with your friends, family, and mentors and enjoy your new accomplishment.