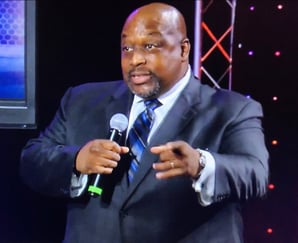 Let's get uncomfortable for a second. Have you ever noticed something about a perfect stranger that made you think a certain way about them? What about when you look in the mirror? There's so much to say about the things we focus on when we first meet a new person or see ourselves each day. If you stop and think about those thoughts, you'll notice what's called your unconscious bias. These are things you think, but don't necessarily know that often change your perception. Not all unconscious biases are prejudicial, but none of them help you to truly listen and know another person.
Those uncomfortable questions are just the tip of the iceberg. Kevin Coleman is bringing his 1-hour 'Conversations on Diversity, Equity, and Inclusion' session to the WEST community to simply start the conversation addressing unconscious biases within ourselves. One of his favorite examples highlights the fact that unconscious biases can be anything we are assuming without actually knowing. He recounts being invited to speak at an event, in tandem with another presenter. After being so sure he could lead the event on his own, but still being paired with another speaker, he was hurt that the host didn't believe he could in fact lead the event on his own, and sure it was because the host was doubting his abilities. After the event, he realized that it was never about doubting his abilities, but rather bringing multi-faceted value to the audience. He had a confirmation bias, and had to recognize this before he was able to move into being more open-minded to things outside of his comfort, or confidence zone. These same biases can affect each and every one of us, taking a toll on our self-confidence, as well as our openness to valuing and accepting those around us.
The truth about Diversity, Equity, & Inclusion is that recognizing these unconscious biases is only one step in the process of becoming a more equitable and inclusive leader in your community. Kevin's Diversity, Equity, & Inclusion event will give attendees an opportunity to see their unconscious biases in action, and learn foundational skills in recognizing and self-correcting these thoughts. At the end of the day, Kevin says, "the key is learning to self-correct." When you learn the foundational skills that this session walks through, you'll begin to be able to take control of your own unconscious biases, self-correct, and become a self-leader that can be a catalyst for change in your own community.
The changes that need to be made to have a more diverse, equitable, and inclusive community all start within each and every one of us, and each of us can take the steps to start leading ourselves into creating a more accepting and supportive community. The idea is to become a self-leader that will walk away doing more to help others, be a catalyst for change, and be open to changing mindsets, values, and organizational cultures for the better.
WEST is thrilled to have Kevin bringing this session to our community as we strive to always be leaders and builders of a diverse, equitable, and inclusive community for our members, friends, allies, and guests. We understand that everyone being equal seems great on paper, but we recognize that each of us is a unique individual that will benefit most from a community that provides more personalized, equitable professional relationship opportunities. This session will be one of our most engaging and exciting, and we can't wait to continue to learn new ways to grow together.
Kevin Coleman began professional coaching years ago, but found his passion redirected during the pandemic. After noticing some major social issues that he felt convicted and empowered to correct, he worked to become certified in Diversity, Equity, and Inclusion to begin leading coaching to address this specifically. He now has four different coaching sessions, of varying lengths, that he brings to companies of all sizes, non-profits, and government organizations. He also does one-on-one coaching through all aspects of professional growth.