March 1st marks the beginning of Women's History Month and what better way to celebrate the month than to attend a WEST Broadway event. Don't be left off stage.
It is not too late to join the first event on March 10th with award-winning Arena Theater artistic director: Molly Smith, and actors Nikki Renée Daniels who recently played Angelica Schuyler on Broadway's Hamilton and Pearl Sun of Broadway's Come From Away, If/Then. This will be an exciting interactive event that you don't want to miss. Tickets won't last long.
Learn more and register for the first event in the series
March 10th, 5pm-6pm EST
https://www.westorg.org/2022-03-10-art-science-writer-broadway
If you missed the first blog for the series you can read more about 3/10 and series creation at
https://info.westorg.org/blog/the-art-and-science-of-broadway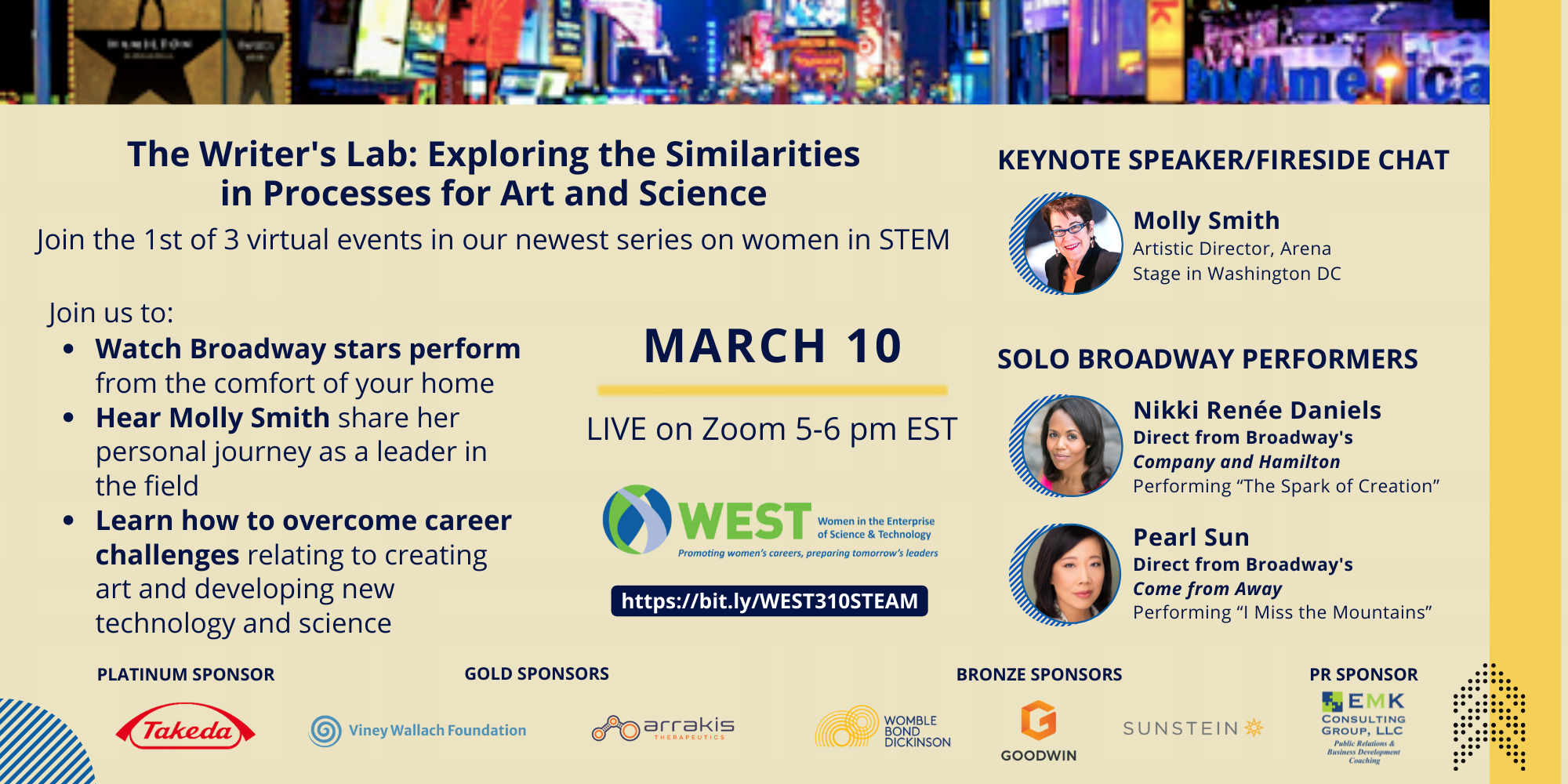 ------
The title of the second event is Engineering Art where you will learn more about the inspiring story and process of creating Radioactive, the musical about Marie Curie that is taking Broadway by storm. Radioactive's very own playwrights - Eric Price and Will Reynolds will be the keynote speakers in a fireside chat. Learn more about the play, the process, and more about the parallels of art and science. By attending this program, you will be treated to the song "Getting Closer", sung by Hannah Corneau who has graced the stage as Elphaba in Wicked, and as Edna St. Vincent Millay in the production of Renascence.
Additionally, in the second event, you will get to hear a second performance from Radioactive by Beth Malone who will be singing "Stir". Beth has had a career as the leading role of Alison in the award-winning musical Fun Home and as Angel in the Broadway play Angels in America.
Learn more and register for the second event in the series
March 24th, 5pm-6pm EST
https://www.westorg.org/2022-03-24-art-science-broadway-musical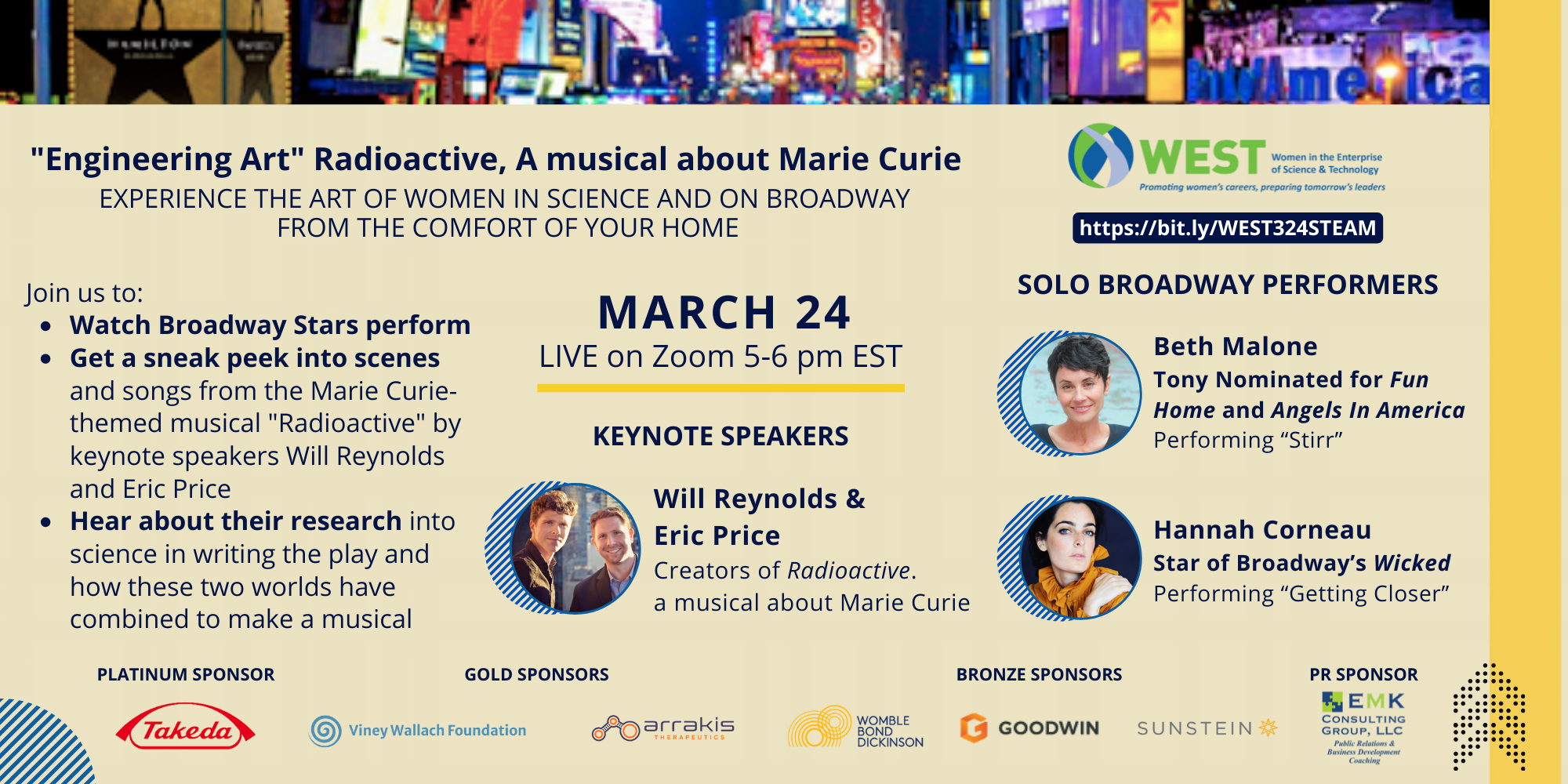 ------
If you can't make the first two productions, don't be left off stage for the last one in the series. What do broadway stars and women in science have in common? Turns out more than we thought. Come explore the parallels between artistic and scientific processes and learn how to use your creativity to unleash innovation in the sciences.
In the last event of the series, you will be engaged by keynote speaker Schele Williams who is currently directing the Broadway revival of AIDA and the upcoming musical version of Hidden Figures. Schele is a director, writer, and advocate and will share her experiences of being a female leader within these realms. You can find more information via her website: https://schelewilliams.com/
In addition to an inspiring keynote by Schele, WEST will also host performances by the incredible Denise Summerford who was in Broadway's Taboo, Rocky Horror Picture Show, Saturday Night Fever, and Grease. In this final event, you will get a chance to see Jennifer Leigh Warren of TV's Rent, and Broadway's Little Shop of Horror and Big River. To wrap up the exciting event there will be an additional Q and A session with performers Pearl Sun and Denise Summerford. You will also be treated to an interactive artistic exploration with a unique hands-on makerspace type of program where you can voluntarily contribute ideas to create a beautiful art collage that will sum up your experiences.
Learn more and register for the last event of the series
April 7th, 5pm-6:30pm
https://www.westorg.org/2022-04-07-art-science-broadway-creativity-voice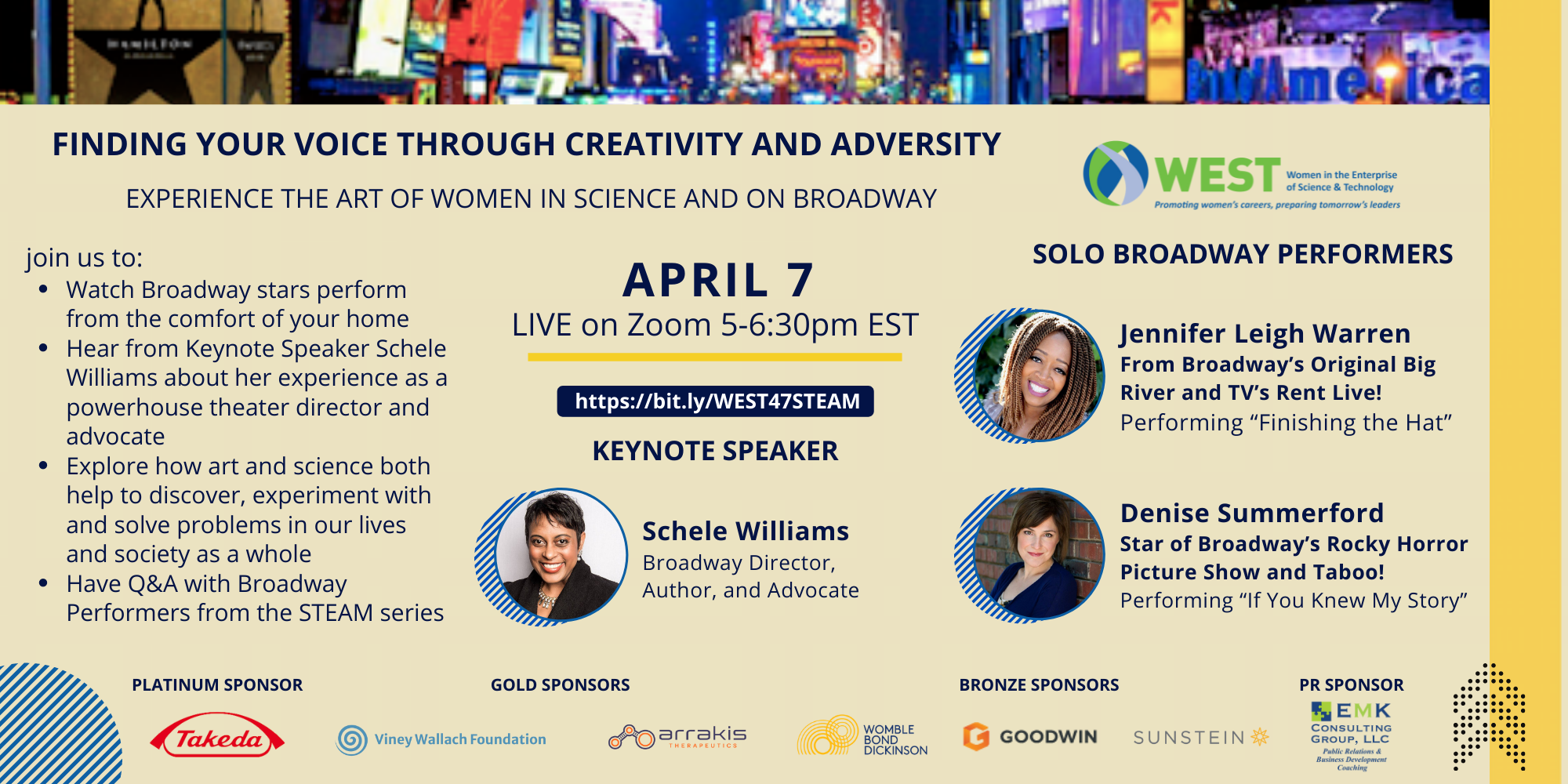 For a full list of upcoming WEST events take a peek here:
https://www.westorg.org/upcoming-events